Adam Ondra climbs Silence, world's first 9c at Flatanger in Norway
Interview with Czech climber Adam Ondra who on 3 September 2017 at Flatanger in Norway made the first free ascent of his Project Hard, a sport climb which the 24-year-old has graded 9c. Should this be confirmed, then the 45m line checks in as the first 9c in the world. The new climb is now called Silence.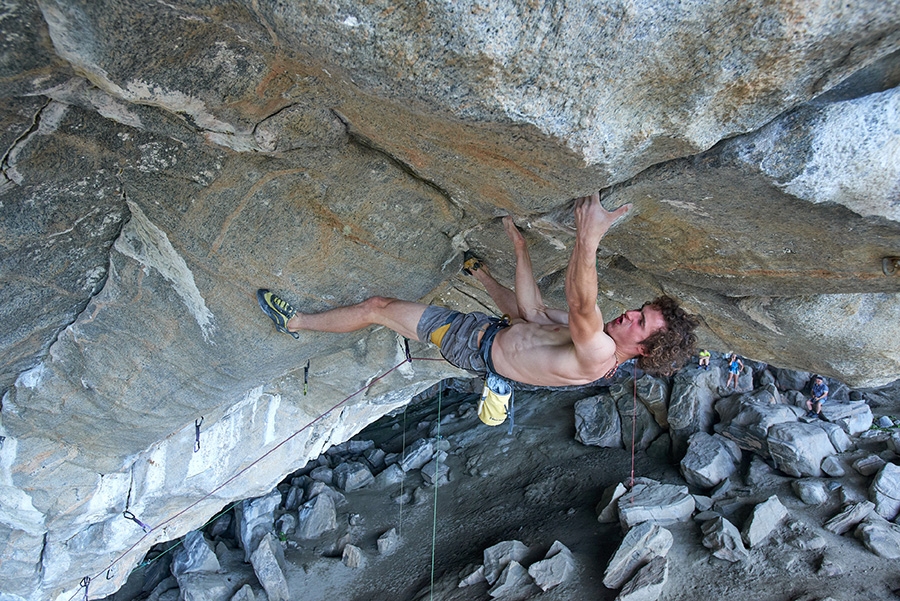 1 / 8
Adam Ondra climbing Project Hard at Flatanger in Norway. On 3 September 2017 the 24-year-old Czech climber freed the 45m route and graded it 9c, making it the hardest sport climb in the world. The climb is now called Silence
Pavel Blazek
"Project Hard is not a project any more…" With this short message Adam Ondra indicated yesterday that he had just freed his colossal project at Flatanger in Norway which, according the Czech climber, could have represented another unheard of step forward in sports climbing difficulties: 9c.
After having claimed the world's first 9b+ in 2012 having freed Change in the same Norwegian cave, now, five years down the line, the 24-year-old has freed what might well be the world's first 9c. It's clear that time will be needed for confirmation or corrections, but we know that this route is much, much harder than anything Ondra has climbed in the past. And that the path that led to this historic feat has no equals in this sport and passes by the world's other two 9b+, La Dura Dura at Oliana in Spain (freed in 2013 and the only one to have been repeated so far, by Chris Sharma) and Vasil Vasil at Sloup in the Czech Republic (freed in 2013, too). To those one obviously needs to add boulder problems up to 8C+ and a nigh endless list of climbs 9a or harder.
The climb - which currently has no official name - is comprised of three distinct boulder problem cruxes: an 8C sequence is followed by an 8B and then a 7C+, and these three are reached by 20 meters of 8b climbing and series of knee-bars which required extremely specific training. After seven trips - four last year and three this year - the sought-after redpoint of this 45m line came about yesterday. As Ondra told planetmountain.com, when he clipped the chain the emotions were so strong that he failed to scream. Instead, he just sat there and felt the tears of joy as they swelled in his eyes.


Adam congratulations! After so many days and months trying and training, did the first free ascent when it finally came yesterday surprise you?
Umm, maybe it surprised my crew! I actually really, really believed I could do it that fast because straight away from the first day of this trip I felt that something was totally different. Either it felt like a different route, or I felt like a completely different climber, whatever… all of sudden the project began to feel more and more realistic!
The route is comprised of three distinct boulder cruxes, an 8C, followed by an 8B and then a 7C+. You told us in your previous interview that you knew you could do all those, but weren't sure how much the first 20 meters of 8b that lead to the cruxes would add to the difficulties...
On the third day of this trip I made my first try ever from the ground and it was then that I realised, wow, it's possible. In truth I wasn't expecting to get it the next day, yesterday, because I was a little more tired and conditions weren't really the best because of the high temperature, but it was very very dry and in the end it didn't matter at all that it was relentlessly warm!
When did the send come?
On the first real try of the day yesterday. I'm pretty sure there's no way I could do two decent tries on the same day, mainly because of sore legs and calf muscles.
Sore legs on an ultra-overhanging sports climb!
Yes, because of all the knee bars. I knew I had to take advantage of all the rests, and these definitely made my legs really tired. Despite training my legs specifically, on a second attempt I kew I wouldn't have been able to rest on the knee-bars as perfectly as on my first attempt.
Tell us more about that specific leg training. At first glance it sounds strange that for an ultra-overhanging climb you need to train your legs.
Well Project Hard has about seven positions where I place a knee-bar and hang upside down. Hanging upside down is crucial as it's the only moment when 99% of my body can be relaxed, except of for my calf. We're talking about staying at a knee-bar for a couple of minutes, this is really intensive on just one muscle and so I did some special exercises that enabled me to stay longer at the knee-bar and give my arms a better chance of recovering.
You also worked on your flexibility, too
That is correct. With my physiopherapist Klaus Isele we focused on other things as well, not only my calf muscle, but also my side abs and my ability to turn upside down and throw my foot into a footjam as high as possible. Then of course flexibility for the heinous dropknee in the crux.
You mentioned that straight away this trip you noticed that things were completely different.
I'd secretly been hoping that things would be different, because things had gone well during the last days of the previous trip and so when I returned home I did some really smart training. I totally excluded power endurance and never did more than 15 moves in a row. I just focused on raw power, on the campus board, bouldering through the same steepness as the project, on similar holds, no crimps at all, just slopers, underclings and cracks.
No endurance? For a 45 meter route?
The only thing I did do is what I call fitness training. I needed to make sure I'd be able to climb for a certain amount of time, get to a knee bar and then recover as much as possible in a couple of minutes. So I did a lot of interval training, many boulder problems in a row followed by a short rest. This was exactly the fitness I needed for the project. I think excluding endurance training is one of the reasons I felt so much more powerful, already at home, and so on my first day this trip I jugged up to the crux and pretty much did the 8C boulder problem as a warm-up...
OK, OK… yes things were completely different!
Yeah. That was pretty much the moment I knew I'd send it this trip. It felt surreal.
Did that put you under pressure?
No, not yet. Had it taken longer, then yes, for sure. I'd have started to worry about the conditions of the route, about my physical fatigue, all those sorts of things.
Then suddenly the redpoint...
You know, yesterday I really didn't feel that it was going to be the redpoint day. Looking back on it, I think this helped me a lot. When I got to the last knee-bar before the crux #1 I thought I'd have to change from "relaxed mode" into "fight mode", but actually during the ascent this didn't happen! I'd thought this would be a mistake, as I was sure I'd fall off the last move of the crux. But somehow I was so precise, 150% precision on every hand and foothold, and somehow I made it through. Actually, being in this relaxed mode meant that I didn't get dead tired!
And then?
There's a toe-jam where you lock your foot into the crack and do a massive drop-knee. I could feel that the toe-jam stuck like never before and it was in that moment that I suddenly realised where I was and that I really should't let this opportunity go!
Ahead of you was crux #2, an 8B sequence
Actually there's a knee-bar just before that, where I spent a lot of time, perhaps between 3 and 5 minutes, I'd need to check. I knew that physically I wasn't that tired and stood a real chance of finishing the route. I was afraid of both crux #2 and also crux #3, a 7C+ boulder, but in the end it was fine. I was definitely very nervous on the last section but somehow things clicked together!
So did you clip the chains with some energy to spare?
Ooh, well after crux #3 there is a huge jug where all you have to do are five moves of 6C boulder. I'd always thought that when I reach that jug I'd be completely relaxed and start celebrating, but actually when I got there I was extremely tired in my legs, they'd gone numb because I'd taken myself to the limit at the last knee-bar. So instead of celebrating I was serious as hell, absolutely composed because I was afraid that because of my numb legs I'd fall making the last big reach from the undercling. I took another minute to rest and then finished it off.
You mentioned in the past this is a possible 9c
I have the courage to say that this is the world's first 9c, because I simply feel it's much much harder than any 9b+ that I have already done. Of course, there's the question if hard 9b+ could be 9c, and yes, it could. I'm not 100% sure that it's 9c but let's just say that I truly and honestly think it is 9c if I consider all the ingredients that make the route what it is.
Of course Adam. You're in the fantastic and also difficult position where you put forward a grade and it's clear that your's is an extremely honest suggestion, one can't ask for more. Out of interest, what happened when you finally clipped the anchor? Was this followed by your huge trademark Adam Ondra scream?
No, not really. Actually it was more like silence. This has never happened to me before! I just clipped the chain and then, then there was so much joy and relief and psyche that were about to come out but somehow all these emotions got stuck. All I could do was hang there on the rope and feel the tears swell in my eyes.
So what does this climb represent to you? Have you even had time to take it all in a bit?
For me it is definitely the most important achievement in my climbing career. It's what I value the most, the route I've put the most effort in, where I've had to dig the deepest. Now that it's finally come through it's just incredible. An experience which is very rare and intense.

Adam Ondra climbing the second crux of Project Hard


ADAM ONDRA 9B and 9B+
03/2010 Golpe de Estado, Siurana, Spain, repeat
02/2011 La Capella, Siurana, Spain. 9b, first ascent
03/2011 Chaxi Raxi, Oliana, Spain. 9b, first ascent
04/2011 Chilam Balam, Villanueva del Rosario, Spain. 9b, repeat
04/2011 La Planta de Shiva, Villanueva del Rosario, Spain. 9b, first ascent
10/2012 Change, Flatanger / Hanshallaren, Norway. 9b+, first ascent
02/2013 Fight or Flight, Oliana, Spain. 9b, repeat
02/2013 Dura Dura, Oliana, Spain. 9b+, first ascent
08/2013 Iron Curtain, Flatanger / Hanshallaren, Norway. 9b, first ascent
08/2013 Move, Flatanger / Hanshallaren, Norway. 9b, first ascent
12/2013 Vasil Vasil, Sloup, Czech Republic. 9b+, first ascent
02/2014 First Round First Minute, Margalef, Spain. 9b, repeat
11/2015 C.R.S., Mollans, France. 9b, first ascent
02/2016 Stoking the Fire, Santa Linya, Spain. 9b, repeat
10/2016 Robin Úd 9b, Alternativna stena, Slovakia, first ascent
02/2017 Pachamama, Oliana, Spain. 9b, repeat
02/2017 Mamichula, Oliana, Spain. 9b, first ascent
04/2017 Queen Line, Laghel - Arco, Italy, 9b, first ascent
04/2017 Lapsus, Andonno, Italy, 9b, first repeat
09/2017 Project Hard, Flatanger / Hanshallaren, Norway. 9c, first ascent

Info: www.adamondra.com, Instagram Adam Ondra, www.lasportiva.com