Adam Ondra resolves La Teoria del Gesto at Sperlonga
During a brief visit to the Grotta dell'Areonauta crag at Gaeta in Italy Adam Ondra made the first ascent of the 9a sports climb La Teoria del Gesto.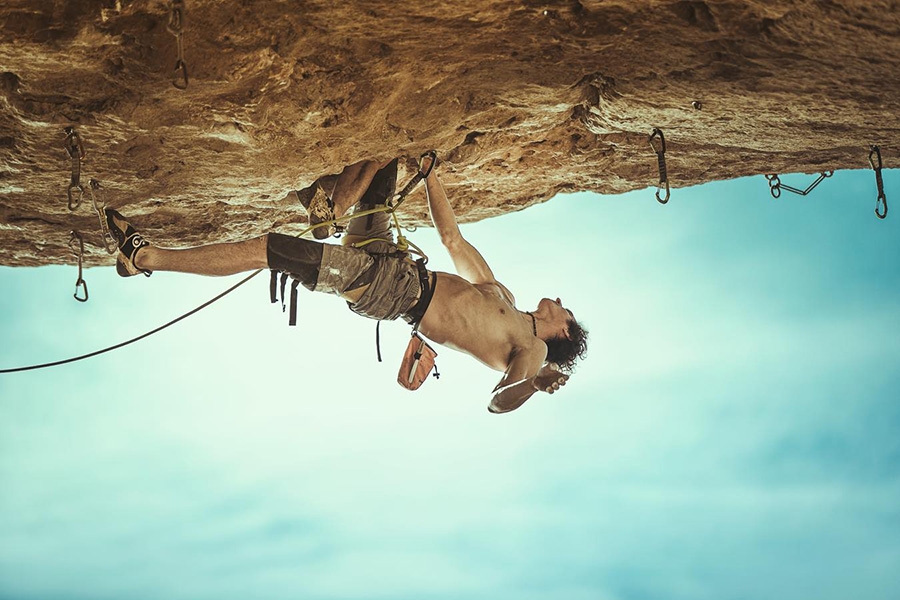 1 / 19
Adam Ondra making the first ascent of La Teoria del Gesto 9a at Grotta dell'Areonauta, Gaeta, Italy
Tyler Nardone
21 climbs 9a or harder. Of which Silence at Flatanger in Norway is the crowning accomplishment, seeing that it's the world's first 9c. This is the incredible 2017 synopsis of Adam Ondra who, after his annual two-week break from climbing, ended the year with a short Christmas trip to Gaeta in Italy. In 2005 the Czech climber had visited the area and left his mark with his repeat of the 8c Mascherina; he was only 11 at the time…
It was perhaps in that precise moment that people first began to realise that the future was well and truly on its way, unstoppable and in full force. Now the 24-year-old has freed a new testpiece in the cave, La Teoria del Gesto. The climb follows much of Grandi Gesti before finishing up the last section of Cavalieri Selvaggi, and this new ultra-overhanging linkup is now graded 9a.
During his trip Ondra also repeated Grandi Gesti, the beautiful climb freed in 2009 by Gianluca Daniele who trained at 7:00am in the morning before going to work. Some have felt Grandi Gesti to be slightly easier than the suggested 9a, and the climb has now been officially downgraded by Ondra after his quick repeat. 8c+ therefore and some "awesome climbing" for one of the most beautiful testpieces in Central Italy.



ADAM ONDRA 9b - 9c
03/2010 Golpe de Estado, Siurana, Spain, repeat
02/2011 La Capella, Siurana, Spain. 9b, first ascent
03/2011 Chaxi Raxi, Oliana, Spain. 9b, first ascent
04/2011 Chilam Balam, Villanueva del Rosario, Spain. 9b, repeat
04/2011 La Planta de Shiva, Villanueva del Rosario, Spain. 9b, first ascent
10/2012 Change, Flatanger / Hanshallaren, Norway. 9b+, first ascent
02/2013 Fight or Flight, Oliana, Spain. 9b, repeat
02/2013 Dura Dura, Oliana, Spain. 9b+, first ascent
08/2013 Iron Curtain, Flatanger / Hanshallaren, Norway. 9b, first ascent
08/2013 Move, Flatanger / Hanshallaren, Norway. 9b, first ascent
12/2013 Vasil Vasil, Sloup, Czech Republic. 9b+, first ascent
02/2014 First Round First Minute, Margalef, Spain. 9b, repeat
11/2015 C.R.S., Mollans, France. 9b, first ascent
02/2016 Stoking the Fire, Santa Linya, Spain. 9b, repeat
10/2016 Robin Úd 9b, Alternativna stena, Slovakia, first ascent
02/2017 Mamichula, Oliana, Spain. 9b, first ascent
04/2017 Queen Line, Laghel - Arco, Italy, 9b, first ascent
04/2017 Lapsus, Andonno, Italy, 9b, first repeat
07/2017 Move Hard, Flatanger / Hanshallaren, Norway. 9b, first ascent
09/2017 Silence, Flatanger / Hanshallaren, Norway. 9c, first ascent
11/2017 One Slap, Laghel - Arco, Italy, 9b, first repeat

Info: www.adamondra.com, Instagram Adam Ondra, www.lasportiva.com