Mark Thomas, Mike Turner are Thunderstruck on Kichatna Spire in Alaska
British mountaineers Mark Thomas and Mike Turner have made the first ascent of Thunderstruck on the East Face of Kichatna Spire in Alaska. The stunning 1200m big wall was established after 12 days of hard and bold climbing.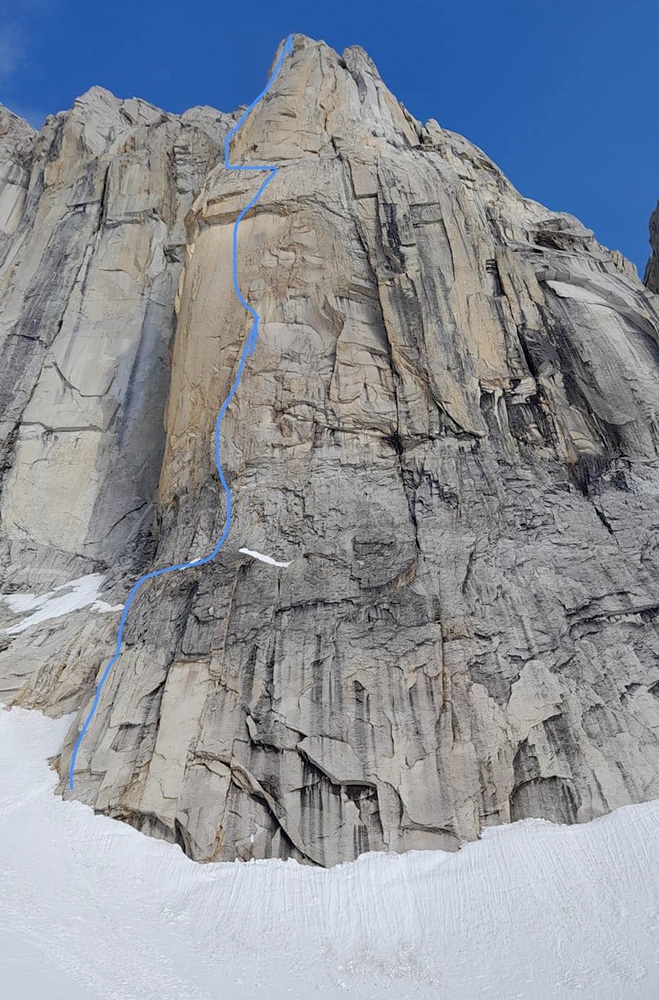 1 / 9
The 1200m big wall climb Thunderstruck on the East Face of Kichatna Spire (Kichatna Spires, Alaska), first ascended by Mark Thomas and Mike Turner in June 2022
Mark Thomas / Mike Turner
British Mountain Guides Mark Thomas and Mike Turner have just returned to civilisation after climbing in what they have called the "Patagonia of the US", namely the Kitchatna Spires in Alaska, where over 12 days of constant, hard climbing they established a fine new route up the East Face of Kichatna Spire. Enjoying what Turner has described as the "best weather in 22 years of Alaskan climbing", the pair climbed the obvious huge crack above the Shadow Glacier to produce Thunderstruck.
Writing to planetmountain.com, Twid as he is affectionally referred to, explained "I had attempted this fabulous pillar in 2000 with Stuart McAleese, but at the time we backed off due to loose rock and instead went on to establish a new route on the Citadal.
This year we were back again and found the 30m of loose rock now on the glacier! The climb followed a fantastic corner crack up the pillar on the right side of the face. The second pitch took 2 days to climb through some blank and loosish rock over a huge roof to reach the corner. Once in the corner/crack it led pretty much direct up the left side of the orange pillar that led to alpine mixed rock and snow climbing to the summit ridge.

The pureness of the top half was pretty special. The climbing was over 12 long days of consecutive effort. Most of the climbing was completed with the use of aid or french free, in the mix of freezing and warm conditions. The weather was stellar throughout the whole period except for a thunderstorm one day which was quite spooky. We fixed the first 400m to a good ledge, then pulled up the ropes and we spent the next 6 nights spent biving on a small ledge."
Thunderstruck is protected mostly with nuts, cams and beaks, and while no pegs were placed, every now and then a bolt was added to back up the belay anchor where necessary. The 33-pitch outing equates to VI A3+A4 6c and, more importantly, in Turner's words "one of my best big wall routes out of the 35 years of big walling."
Info: www.miketurnerguide.com