Grandes Jorasses East Face new climb by Jérôme Sullivan, Jérémy Brauge, Victor Saucède
French alpinist and mountain guide Jérôme Sullivan reports about Mad Max, a new route up the East Face of Grandes Jorasses in the Mont Blanc massif established from 8-9 July 2020 with Jérémy Brauge and Victor Saucède.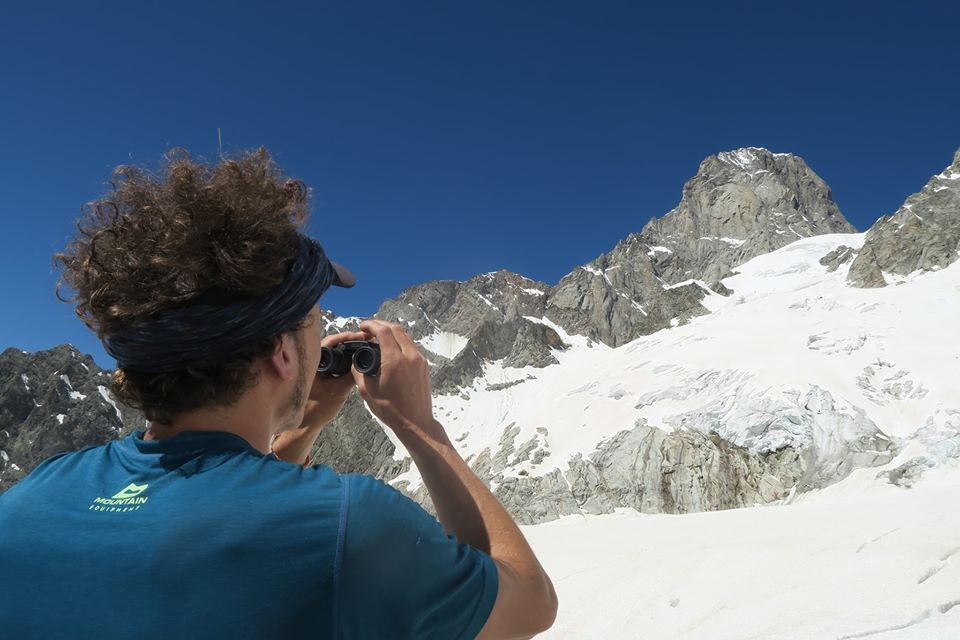 1 / 15
Grandes Jorasses East Face: making the first ascent of Mad Max (Jérémy Brauge, Victor Saucède, Jérôme Sullivan 08-09/07/2020)
Jérémy Brauge, Victor Saucède, Jérôme Sullivan
On 8 and 9 July 2020 Jérémy Brauge, Victor Saucède and I climbed a new route on the legendary East Face of the Grandes Jorasses, Mad Max (800m/ED+/7a+).

The route takes a line between the classic and futuristic 1942 route put up by Giuseppe Gagliardone and Giusto Gervasutti and the line Little big men established in 2006 by Philippe Batoux and Lionel Daudet. The name of our new route refers to an inspiring alpinist, Max Bonniot, who left his mark on this face (Free Groucho Marx and Borat). It's also a great movie about survival in a hostile environment!
The line climbs generally excellent granite. The first part is composed of steep cracks and slabs that are often hard to protect. The 8th belay is shared with the Gervassuti route, but where this climbs A2 aid, we trended right and climbed the crux of our line, an exposed 7a+, brilliantly led by Victor! The route then crosses the Tronchey Ridge line at the next pitch and then, following cool cracks and slabs, continues straight up to the top of the third tower
What a complete adventure: a long approach, a remote wall, the finishing ridge and nasty descent (down the normal route of the Grandes Jorasses).
It's worth noting that once the first snowfield is reached, the route is protected fairly well from the regular rockfall on the right-hand side of the wall. Mad Max was first ascended ground-up and climbed with nuts and pegs, except for one hand-placed bolt at the 2nd belay.