Ashima Shiraishi claims first female 8C boulder with Horizon
Bouldering: thanks to her ascent of Horizon at Mount Hiei in Japan, the 14-year-old American climber Ashima Shiraishi has become the first woman in the world to climb an 8C boulder problem.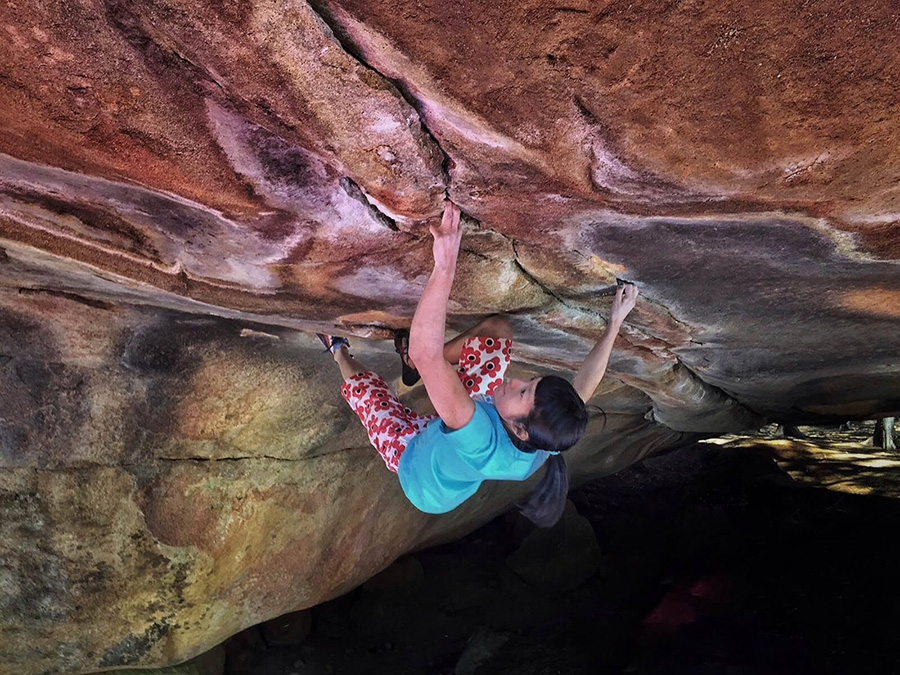 1 / 14
14-year-old American climber Ashima Shiraishi becomes the first woman to send an 8C boulder problem with her repeat of Horizon at Mount Hiei in Japan.
Brett Lowell / REEL ROCK
First female 8C boulder. There it is: what until only yesterday seemed like an important yet distant goal, all of a sudden is no longer an elusive dream but concrete reality, materialised thanks to the "usual", smiling Ashima Shiraishi who for a number of years has been redefining the parameters of sport climbing. The young New Yorker pulled off the historic feat by repeating Horizon, a boulder problem in Japan, the very same country from where her parents emigrated towards the East Coast of the USA back in 1978. The problem is a 25-move roof at Mount Hiei, Kyushu, freed in 2015 by Dai Koyamada, unrepeated until yesterday but described by Koyamada as one of his hardest sends ever.
Shiraishi had attempted Horizon during her Christmas holidays at the end of 2015 and at the time came tantalizingly close to the send, falling three times off the last wet hold but indicating that the horizon of the hitherto impossible was within grasping distance. Now, after another three days of work during the school spring break, she has come up trumps with an ascent that could once again raise the bar of female bouldering. Could - conditional - is obligatory seeing that hers is the first repeat and the problem will need further confirmation in the future (just like Patxi Usobiaga when, in 2007, he pulled off the world's first 8c+ onsight). But Koyamada is known for giving "stiff" grades. And prior to achieving this feat Shiraishi has come a long, long way, forging ahead like no one before her: 8B boulder at a mere 10 years of age, and in the meantime at least five 8B+ boulder problems… the last of which was sent at Christmas, after a mere 30 minutes. Add to this her ascent of the 9a/9a+ sports climb Open Your Mind direct at Santa Linya, as well as further demonstration of her immense talent proven during the Youth World Championships 2015 at Arco when she left all her rivals in her wake winning both the Lead and Boulder categories.
So it seems as if female 8C boulder is no longer a dream. The first to fling the doors open in this direction was another Japanese climber, Tomoko Ogawa, who in 2012 repeated Catharsis at Shiobara demonstrating that women were well and truly capable of sending 8B+ , too. In the ensuing 4 years various other women have managed to breach this difficulty, such as Shauna Coxsey (New Base Line, Magic Wood, Switzerland), Alex Puccio (Jade, Rocky Mountain National Park, USA) and Isabelle Faus (Amandla, Rocklands, South Africa). Now, 16 years after Fred Nicole famously suggested 8C boulder for the first time with his ascent of Dreamtime at Cresciano, a 14-year-old girl has dragged female bouldering up half a grade. Bringing it, as it happens, to within half a grade of male bouldering.