Alexander Megos climbs Hubble. The Raven Tor interview.
Interview with German climber Alexander Megos who on 31/05/2016 repeated Hubble, the climb first ascended by Ben Moon in 1990 at Raven Tor, UK, hailed as the world's first 8c+.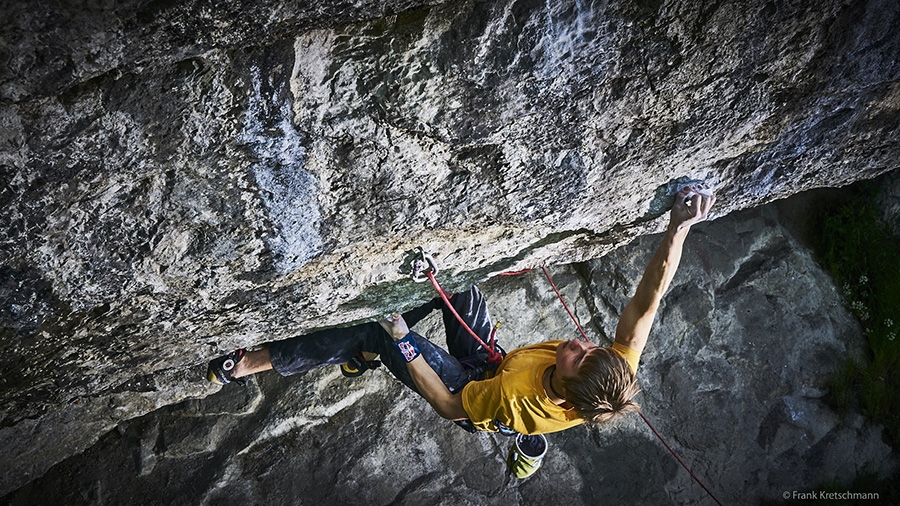 1 / 14
Alexander Megos repeating Hubble, first ascended by Ben Moon in 1990 at Raven Tor, UK, hailed as the world's first 8c+.
Frank Kretschmann
On Tuesday Germany's Alexander Megos repeated Hubble, the world's first 8c+ sport climb put up by Ben Moon on 14 June 1990 at Raven Tor in the UK. Megos' ascent is of huge importance because despite its nigh 26 year history, this is the first time the extremely bouldery testpiece has been repeated by a foreign climber. In the past this 8m line rebuffed all contenders apart from a handful of British climbers, namely Malcolm Smith, John Gaskins, Steve Dunning, Richard Simpson (whose ascent has been questioned) and Steve McClure, and a repeat by a visiting foreign climber has been long-awaited.
Hubble's revolutionary intensity heralded a new era of difficulty at the start of the 90's and over time its aura has grown steadily, giving rise to speculation that it may actually be harder that Moon had originally suggested. Possibly even 9a. Hence the need for further repeats, ideally from strong climbers from abroad who have sufficient background experience to provide careful comparison. And few other candidates could be as suitable as 22-year-old Megos. His track record of hard climbs is second to none; repeats of sport climbs up to 9b, boulder problems up to 8C, first ascents up to 9a+/b, 9a+ redpoints in a matter of hours and the world's first 9a onsight place Megos in a unique position to provide important insight into a line that, for over a quarter of a century, has been a reference point for the best of the best.
Alex - congratulations are in order!
Thanks!
So where should we start?
You tell me! Where would you like to begin?
Hmm, let's start at the very beginning. Hubble, climbed by Ben Moon with his famous dreadlocks, way back in 1990. It was a massive ascent.
I was -2 at the time… So I can't remember much! But over time I obviously heard a lot about the route, and know that it's one of those really historic milestones in sport climbing.
Especially in the UK
Yeah. I have to say I've been really surprised at people's reactions after my ascent. The news spread like wildfire, everyone's been incredibly positive, I hadn't realised it meant so much over here. It's really cool to see how a route can inspire so much.
So tell us about your redpoint. You'd tried it previously, hadn't you?
In March 2014 I had a quick session on it after the CWIFF competition I'd competed in at Sheffield. We were at Raven Tor for only 3 or 4 hours, and first I climbed Martin Atkinson's classic Mecca the Midlife Crisis. This took me 3 goes, which only left me with about an hour and a half to try Hubble. I checked out the moves, and actually did quite well: I fell relatively close to the end, off the 4th hard move.
And then?
I returned to the UK in 2015 but didn't try it, and now I'm back in the UK because I just wanted to come and climb here. I like the atmosphere, the people, the climbing…
And Hubble was on your list
Yeah, it was pretty high up there. Firstly because it's simply such a historic route. And secondly because I hadn't managed to climb it before. I had some business that needed finishing.
Ben Moon once described it as a boulder problem on a rope
That's a pretty good definition. It's only about 8m high. You have the first two quickdraw pre-clipped, make two moves to get off the deck, and then it immediately kicks in with 4 hard moves. This could be 8B boulder I reckon. After which it's pretty much over, from the last hard move it gets significantly easier to reach the top.
Which you really mustn't mess up!
No, absolutely. It's about 7c/7c+ to the top, but you never know! I remember Ben telling me that on the day before his birthday he actually got through the crux, and was so startled that he fell off the moves above. Then he took a rest and climbed it the day after his birthday. So when I did the crux I thought to myself "this is it, make it count!"
On a route this short, presumably the sequence is pretty much the same for everyone?
Well those are the only handholds going, so there's not much you can do different. There is a small intermediate hold which some use, but that didn't work for me. The footholds can be used differently though, depending on what suits you best.
There's been word about a kneebar?
Personally I'm not a great fan of kneebars, I don't use them often and the moves worked well without so I just stuck with my method.
Did you train specifically for this climb?
No, not at all. But compared to two years ago, I felt significantly stronger. And I suppose I also got lucky. You know, so much depends on how you grab the hold on the first hard move. If you get it just right, then you can move slowly, almost statically to the next hold. And if the skin on your fingers is good, then you can carefully control the long move from the undercling to the sloper. The intensity is enormous, and it's all over in probably less than 30 seconds!
Half a minute of fun?
Yes, certainly! The moves are cool, the climb is completely different from what you usually find elsewhere. Only four hard moves, of which three are tiny undercuts. And after 4 meters it's all over.
So how long did Hubble take?
In total? Well two year ago I probably did about 10 attempts. I did it on Tuesday on my 5th go, in about an hour and a half.
As you know, in 1990 it checked in as the world's first 8c+. Some have suggested it may be 9a, which would make it the world's first 9a since Wolfgang Güllich climbed Action Directe in 1991.
What I'm about to say could make you laugh, some might be upset or angry, but the more I think about it, the more I realise I have no idea about the grade. You know, so much depends on whether a route suits your style or not. A route that suits your style can feel easy, one that doesn't can feel totally impossible.
Did Hubble suit your style?
It's not my absolute ideal style of climbing. I'd say tiny crimps and long moves, more than pocket climbing, are my style, but Hubble did seem to suit me. Let's just say I've climbed some 8c+ that have felt a lot harder. And I've climbed some 8c+ that have felt a lot easier.
Grades aren't an exact science
No, and to get a better idea more climbers will have to repeat it. Six really isn't very much. Perhaps the following will help you understand what I meant before about style. Yesterday I climbed another two 8c+ at Raven Tor, Kaabah and Evolution. I got on Keebah immediately after Hubble but didn't get up it, so I sent it yesterday, then did Evolution in 3 attempts. If you ask me which of the three felt hardest, I'd say Kaabah. Which is funny, because it's the one that has got the most repeats, the one that most feel is the easiest. It just goes to show how much style matters and how difficult it is to grade something.
Hubble is a little piece of great rock
Let's be honest, the route isn't the most beautiful. There are plenty of other routes that are more inspiring to look at. It's a matter of fact, unfortunately that's the way it is. However you don't climb this route for it's beauty, but for it's name. For it's awesome history. And this reminds me of what Adam Pustelnik once said after climbing Action Directe, his first and only 9a. If he had wanted to simply climb 9a, he could have tried many, many other routes. But he didn't want to just climb 9a. He wanted to climb Action Directe. And the same holds true for me: I wanted to climb Hubble. Regardless of its grade.