Kajsa Rosén and her perfect climbing state of mind at Oliana
Interview with 19-year-old Swedish climber Kajsa Rosén who, with T-1 Full equipe at Oliana in Spain at the end of March, carried out one of the most difficult female onsights of all times.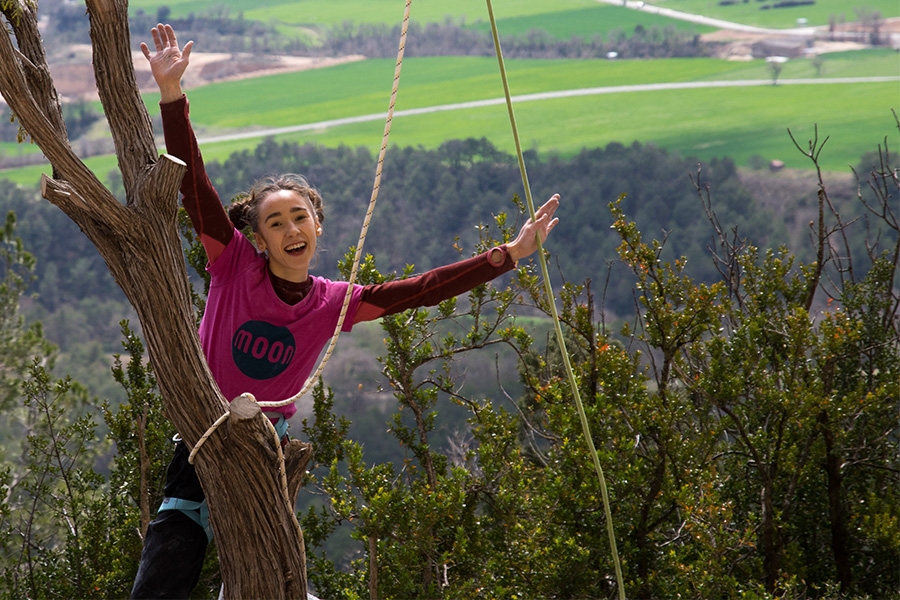 1 / 18
Kajsa Rosén at Oliana in Spain
Stefan Ösund
Given the date, you could have been forgiven for thinking that it was an April Fools joke. But on closer inspection the groundbreaking climb that was making headline news was carried out on 30 March and the ascent was dead serious: the relatively unknown 19-year-old climber Kajsa Rosén from Sweden had managed to onsight T-1 full equipe, a 35m sports climb at Oliana in Spain bolted by Victor Fernandez and graded 8b+ by some, 8c by others.
8c female onsight, possible 8b+. As is the norm in the game of climbing, time is still needed for the grade to settle and a consensus to be reached but, regardless of this, as things stand Rosén almost unwittingly clinched one of the hardest female onsights of all times. If not the hardest. In the past, Charlotte Durif from France made headline news in 2010 with her ascent of Les rois du pétrole at Pic Saint Loup but although this route was originally graded 8c, it has subsequently been downgraded to 8b+ by some. Slovenia's Maja Vidmar onsighted the 8b+ Humildes pa casa at Oliana in 2010, while the first woman to break into this realm of difficulties was Josune Bereziartu a decade ago, on Hidrofobia at Montsant in 2006.
Rosén's ascent came about in quite particular circumstances: she'd climbed her first 8c and flashed an 8b+ a few days beforehand, that evening the conditions at the crag were absolutely ideal and half an hour earlier she redpointed her hardest climb ever, an 8c+. These factors paved the way for an ascent reminiscent of Alexander Megos' ground-breaking 9a onsight at Siurana in 2013 - with few expectations and little psychological pressure to burden her down, Kajsa climbed ever upwards, in the purest of styles, chasing the simple joy of climbing.

Can you briefly introduce yourself? We have to admit - sorry about this - that currently we know little about you
No worries! My name is Kajsa Rosén. I'm 19 years old, a climber from Stockholm, Sweden. I come from a climbing family so I've been climbing for as long as I can remember. I do both bouldering and lead climbing, outdoors and competitions.
Was this your first trip to Oliana? Tell us about routes you climbed
Yes, my first time at Oliana. I was extremely psyched for it, had dreamt about going there for years! Do you want a list? Here it goes: Mishi, Fish eye, Humildes pa casa, Mind Control, La Marroncita (L1+L2), Mon Dieu, Gorillaz en la Niebla and a route without a name.
And of course T-1 full equipe. Tell us about this. Did you set off thinking you wanted to onsight it?
Haha, yes, more or less. The plan was to try China Crisis (8b+) onsight. But then Aleksandra Taistra, who I luckily got to know at the crag, recommended I try T-1 full equipe instead since the quickdraws were already on it and she personally thought it was a much cooler line. I didn't really consider the grade all too much, I just went for it.
Just to put things into perspective, what was your hardest redpoint before onsighting T-1 Full equipe?
My personal best was Mind control (8c+), just half an hour earlier. Before that I had redpointeded two 8b+, Scottlinjen and Breaking into heaven, both located in Stockholm, while my best onsight was the 8a+ Mordillo at Voralpsee in Switzerland.
How did it go? And were you completely at your limit?
Well, it went good! As I just mentioned before, half an hour earlier I'd achieved my personal best.. Consequently, I didn't feel much pressure and I was already way beyond feeling satisfied. I guess I got into what you can call the "perfect state of mind". I also had good conditions just before sunset. In truth I don't remember much of it, more that that the start was quite hard and intense, and that the rest of the route felt really good. In answer to your second question no, I don't believe I was at my complete limit, since the route suited me quite well. But it goes without saying that it did challenge me.
Now that you're back at home and have had time to think about the ascent, what springs to mind? Can you put it into some form of context
Well, since I'd only done one 8c before (Fish eye, that same week), I don't really have much to compare the route with. So I can't really tell if it's a full-blown 8c or not. I've mostly climbed on Swedish granite, and I believe this is much harder to onsight, so I'd never dreamt about doing anything this hard. In truth, even while I was in Oliana I didn't know others might interpret my result as being so "good". I was just thrilled about having done something new for me and it feels a bit strange to have gotten so much attention for this climb. Having said that, what's important to me is that I just try just to climb and have fun, and this was certainly fun!
Out of interest, how much time do you spend training?
A lot! I mostly spend my whole day at Klättercentret, Telefonplan. Right now I train around 8 times a week.
8 times? How's that possible?
Three days per week I train twice, while on 2 other days I train once. This leaves me with 2 rest days ;-) I follow a training plan, and my "main" trainer is Daniela Ebler but I also get help from Stefan Eklund and Minna Almqvuist.

How are competitions going?
Some of the better competition results: I was 3rd at the New Caledonia World Youth Championships in 2014, 4th in 2015 at Arco. At Imst in the senior Lead World Cup 2015 I placed 9th and last year I also won the Nordic bouldering and Lead championships.
So how much time do you spend on rock?
When I get time and when the weather is good, I prefer going outside to climb on rock. Unfortunately Sweden doesn't offer as much good climbing as other parts in the world, and the weather is quite rough as well. Now and then I do some traveling, but at the moment only as much as school allows.
What are your plans now?
First of all I'll be graduating from school in June. I don't have any plans to study further this year. Hopefully I'll get time to climb even more and do more travelling. I've also been given the opportunity to work as a route setter at Klättercentret. But first, the competition season starts. My plan is to do some Lead World Cups, one Boulder World Cup and also some junior competitions since it's my last year as a Junior. But most importantly I need to get a driving license….at least if I want to realise my "living in a campervan" dream.
Kajsa Rosén wishes to thank her sponsors: MOON, Klättercentret, Five Ten