Jacopo Larcher climbs La Rambla at Siurana / Interview
Interview with Italian climber Jacopo Larcher after his repeat of the legendary sport climb La Rambla 9a+ at Siurana in Spain.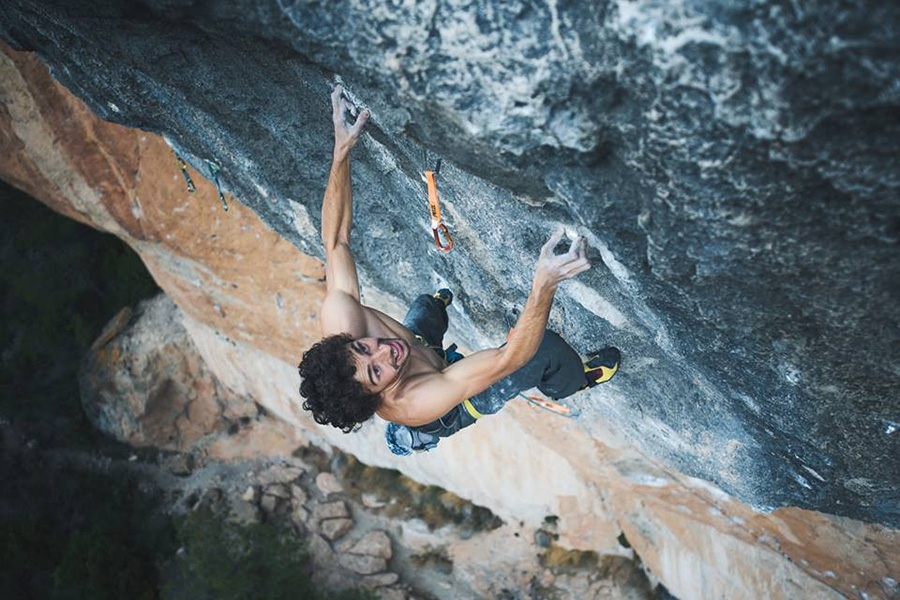 1 / 52
Jacopo Larcher climbing La Rambla at Siurana in Spain
François Lebeau
Well, yes actually. After Stefano Ghisolfi's fast repeat of La Rambla on Monday, on Tuesday another Italian climber managed to send these famous 40m at Siurana in Spain. 27 year-old Jacopo Larcher from the South Tyrol stepped out of his usual big wall and trad climbing vest and after after spending a few weeks in the Spanish sun redpointed the route on his last attempt on the very last day. Established by Alexander Huber in 1994 and extended by Ramón Julián Puigblanque in 2003, La Rambla is Larcher's hardest sport climb to date and is the icing on the cake of a perfect climbing trip to Siurana, during which his partner Barbara Zangerl managed to send Chikane, her first 8c+.

Last attempt, last day... you really hung on in there, right to the bitter end Jacopo!
Haha! Anyone who knows me knows I always do everything last minute! Seriously though... I kept falling at the top, still fairly fresh, because I continued to miss the famous two-finger pocket. It almost became a sort of mental block. I felt I was close to getting the route, so I didn't, couldn't, give up! Fortunately on my penultimate attempt I found some better beta for that move, and this gave me the confidence I needed on my final attempt. It's always nice to succeed, but doing so just before time runs out is even more exciting.
La Rambla is your first 9a+. And what a 9a+! How come this route in particular, far away from your home in Bludenz, Austria?
In all honesty I hadn't planned it in advance. We haven't gone just sport climbing for two years, so we decided to go cragging for a month in Spain; we tried to decide where to go and then ended up going for "classic" Siurana. I'd already climbed a lot there before, but I'd never tried La Rambla so decided to give it a shot. It's a historic climb, one that I've always held in awe. I never thought that one day I'd be able to climb it but since I quickly ticked the other routes I wanted to climb I decided to give it some serious attempts… and much to my own surprise things felt good right from the outset.
After you started trying it, the route then got wet, is that right?
in actual fact we were super lucky with the weather! It only rained on one day and the route remained damp only for a few days afterwards. The main problems were my skin and the heat. I split a finger and since I couldn't do the move with a taped finger I chose to climb some other routes for a few days. Last week there was no wind and things got really humid, which meant that the route could only be tried early in the morning or late in the evening. And because it's so long, and because 5 of us were attempting it, I only got one or two attempts per day.
Then Stefano Ghisolfi sent it fourth go ...
Honestly speaking, when I saw Stefano climb it so quickly… well, I felt a bit "old"! His ascent was really impressive. I tried not to think about it too much though. On the penultimate day I was very stressed out, because I really wanted to do it before leaving. But then on my last day I was surprisingly calm. I just wanted to climb, had no pressure at all, I just wanted to enjoy the moves. I visualized the sequences and set off, without thinking about the consequences, without any hesitations. And when I reached the last rest I felt completely calm, I'd totally forgotten that this was my last chance before driving home, I sort of entered into the pure pleasure that climbing can give.
So what does this climb represent?
It's hard to say. I suppose I like to see it as another piece of my "climbing puzzle". Although my climbing is more orientated towards trad climbing projects and big walls, I'm obviously happy that I can still push my limit at the crags, too.
Your success crowned an outstanding trip, even Babsi sent her project!
Yeah it really was a great trip. Babsi managed to send Chicane (8c+) and also onsight her first 8b, a route called Bonobo! It's hard to keep up with her ;-)
The two of you also saw Margo Hayes try La Rambla, shortly before she made the historic first female ascent of a 9a+.
We had the fortune, and pleasure, of watching her on one of her attempts. I was very impressed by her calm and determination. While she was climbing one could understand how much she really wanted that route. She's a really nice girl, someone who manages to share her positive energy with everyone else. She's a superb ambassador for our "sport"!
Big wall, trad, sport routes. If you stop for a moment Jacopo: where is your climbing leading you?
For me it's really important to experience all forms of climbing, it's the best way for me to remain motivated. I enjoy trying to push my limits in each individual discipline, and hopefully one day I'll be able to fit them all together in one single climb. My dream is to find a big wall in a remote location that is at the very limit of all different disciplines I currently concentrating on. A route as hard as La Rambla and protected like Rhapsody... but 1000 meters high! This will probably remain a dream... but as the Italian proverb goes, hope is the last thing that dies, right?!

THE CLIMBS
Barbara Zangerl: Chicane 8c+, El mon de Sofia 8b+, projecto Moro 8b+, Bonobo 8b o.s., flash Enemigo 8a+ os, Negocie 8b, Final de la rambla 8a/+ flash
Jacopo Larcher: La Rambla 9a+, A Muerte 8c+/9a, Chicane 8c+, L'odi Social 8c+ (after a hold broke), El Rastro 8c+, El Membre 8c, Migranya Profunda 8b+, Negocie 8b flash, Cronica 8b o.s.