Jacopo Larcher: interview after climbing Free Zodiac up El Capitan, Yosemite
Big wall climbing: interview with South Tyrol's Jacopo Larcher who last autumn, together with Barbara Zangerl made the third free ascent of Free Zodiac up the SE Face of El Capitan, Yosemite.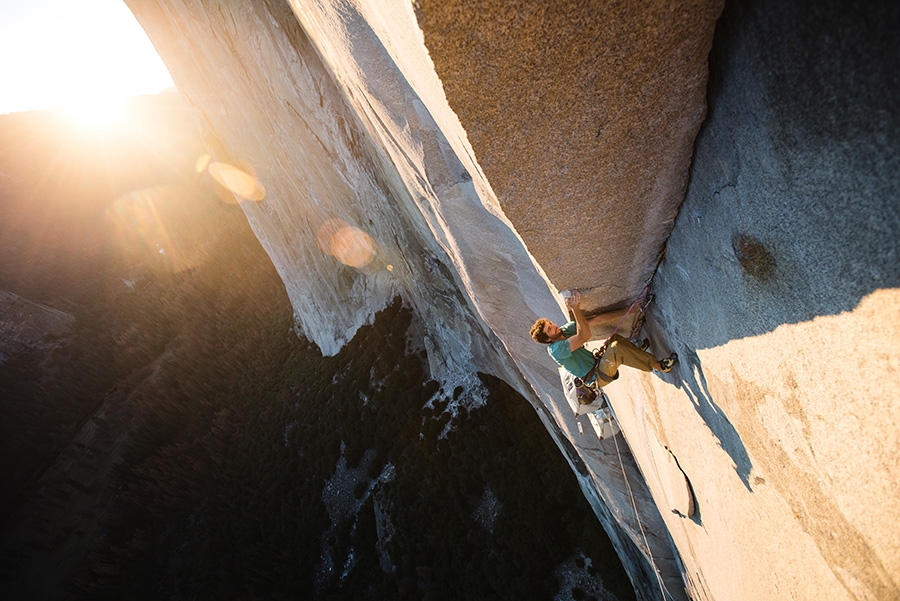 1 / 13
Jacopo Larcher and Barbara Zangerl making their free ascent of The Zodiac, El Capitan, Yosemite
François Lebeau
Last autumn Yosemite seemed like the center of the big wall climbing universe, with numerous teams gunning for important free ascents up El Capitan. Adam Ondra on Dawn Wall, Jorg Verhoeven on Dihedral Wall, Sébastien Berthe on Heart Route, Pete Whittaker on Freerider… And also Barbara Zangerl and Jacopo Larcher who pulled off only the third free ascent of the historic Zodiac route, forged solo in 1972 by Charlie Porter up the SW Face of El Capitan. Prior to this recent success there were only two known free ascents: Thomas Huber and Alexander Huber managed to free the line in 2003 with difficulties up to 8b, while a few weeks later Tommy Caldwell checked in with the route's first free repeat.

Jacopo, what you know about this route?
To be honest not that much in the beginning, apart from the fact that it's one of the most famous aid routes on El Capitan, freed by the Huber brothers. I imagined it hadn't had many free repeats seeing that one never hears much about it, but I hadn't reckoned with the fact that before us it had only been repeated once!
So how come you chose this route?
Our initial plan was to go and try the Pre Muir, but we heard about other teams who had this in mind so we looked about for a second option. I came up with Zodiac and suggested it to Babsi, who of course accepted immediately. We started to read up about it a few days before leaving since we had to decide what gear to take… and that's when we discovered it had only been repeated by Tommy Caldwell in 2003, and since then it had been attempted unsuccessfully by various other teams. This discovery frightened us a bit, but at the same time it also intrigued us.
Why not The Nose for example? In 2015 you repeated El Nino.
The Nose is certainly the symbol of El Capitan and one of the great chapters in climbing history: climbing it free one day would be a dream come true! Unfortunately, given his reputation and aid climbing difficulties, it's always super crowded and we really didn't want to end up "stuck in the traffic". It seems as if Yosemite is experiencing a second heyday; in October the valley was full of people and at night, when we looked up at the Nose and Salathe, you couldn't distinguish the stars from the head torches! But we'd love to come back out of season and try it ... perhaps as early as next year :-)
Let's get back to the Zodiac, a mere 16 pitches high. Short and intense?
Actually the free version, Free Zodiac, is comprised of 21 pitches. The route is far shorter than the other lines up the central face of El Capitan, but it is also much more overhanging. Apart from the second pitch (5.13a), most of the difficulties are concentrated in the so-called White Circle section, a dazzling series of smooth corners which end with the famous Nipple pitch. After two very steep pitches (The Mark of Zorro and Devil's Brow), the difficulties ease off and the route continues up a series of obvious dihedrals and cracks to the summit. The central section is really smooth and impressive , so much so that all belays are hanging belays!
You made a team free ascent, both climbing all the difficult pitches free. Tell us how you prepared for this?
We knew the route was difficult and so we chose to work the individual pitches before making a proper ground-up attempt. After reaching the beginning of the famous White Circle, we set up a static rope and abseiled off. We jugged back up after a day of rest with all the necessary gear, and spent the next 5 days working the crux pitches. After an additional rest day we climbed back up and tried the pitches again for another 3 days. We felt ready for the push, but since we still wanted to perfect some sequences and stash some the water we climbed back up one last time to the end of the White Circle, where we spent another 3 days on our portaledge.
What about the weather?
We got really lucky!It almost never rained in 20 days and the only problem was the heat. The crux pitches have some very dodgy moves on almost "non-existent" holds which require good conditions (read cold and dry). This forced us to climb at night and at dawn, using headlamps, and to relax during the day. That's how we got around the heat issue, but this also slowed us down.
Then you were set for your "final push", your ground-up attempt
After two rest days we started our first "redpoint" attempt. We only had 10 days left before our flight back, so we decided to take all we needed in order to spend the rest of the time on the face, since we knew we wouldn't have enough time for another attempt. We decided to swing leads on the easier pitches (of course we both climbed them free), and to both lead all pitches harder than 5.12+. We started before dawn and managed to climb the first 5.13a in good conditions, and we reached our portaledge at the start of the White Circle in the early afternoon. After having rested, we continued climbing at night up the next 5.13c.
And then?
We spent the second day on the portaledge, waiting for the sun to set and try the hard pitches. That night we immediately climbed the next 5.13a which led us to the most delicate and hardest pitch of the entire route: a smooth and bouldery corner graded 5.13d. After several attempts we both managed to send and so we called it a day. On the third day we rested once again until nightfall, and moved our portaledge to the base of the next pitch, the famous Nipple Pitch.
The last crux ...
Yes. Babsi preferred to rest completely, whereas I decided to give it a go. After a short warm-up I managed to climb it free, and this took a huge weight off my mind!
What about Barbara?
Babsi did the same at dawn, and then we quickly continued up the next pitches (5.12b, 5.13b ?, 5.13c), which fortunately turned out to be less difficult than expected. We were now at the end of the difficulties, but still 6 pitches below the summit. We rapped back down to the portaledge and packed everything togther because we wanted to try to climb as much as possible despite the scorching heat. However, the next pitches were harder than expected; an "innocuous" 5.12 slowed us down a lot and in the end we stopped for the night two pitches below the top. We reached the summit the next morning, after having spent 5 days on the wall.
A hugely satisfying moment?
Yes, extremely satisfying! Despite the grade being not too extreme in theory, in practice it actually turned out to be quite a challenge; the climb is very complicated and the pro is often quite poor (peckers, copperheads, ...).
Yours is only the third known free ascent after the Huber brothers and Tommy Caldwell, right?
Apparently so. We know that in the past it has been tried by many, but for one reason or another, it seems as if no one managed to repeat it free. I hope our ascent will motivate others to try it, because the route is amazing! A word of advice to those thinking about repeating it thpugh: when talking to Alex Honnold we discovered that The Mark of Zorro is much harder now since he broke one of the key holds while trying that pitch ... in fact it felt really hard for 5.12d!
You mentioned it before: Yosemite this autumn seemed like the place to be!
Yeah, it appears as if Yosemite is really in vogue once again. The valley was full of climbers and the locals said they'd never seen so many teams trying to free climb the routes. Obviously (and quite rightly so) all eyes were on Adam Ondra, but this autumn there was a real "boom" on many of the valley "free climbs"! I think this is really positive sign and I hope in the future more climbers will discover that El Cap is actually a huge "playground" for free climbing. The only thing that puzzles me a bit is the confusion surrounding the valley climbing ethics. Everyone is of course free to interpret climbing as they wish, but I reckon it would be important to define some guidelines that "regulate" the style of the various repeats (yoyo, no hands, clipstick, returning back to the ground, abseil from above, etc ...). I'm sure that the real free climbing boom in Yosemite is only just about to begin, and perhaps the time has now come to discuss these things :-)

RELATED NEWS
16/11/2016 - Zodiac Free on El Capitan by Jacopo Larcher & Barbara Zangerl
16/10/2003 - Alexander and Thomas Huber free the Zodiac