Scottish winter climbing kickoff / Greg Boswell, Guy Robertson add Local Hero to An Teallach
Winter climbing in Scotland has begun in earnest with the first ascent of Local Hero at An Teallach by Greg Boswell and Guy Robertson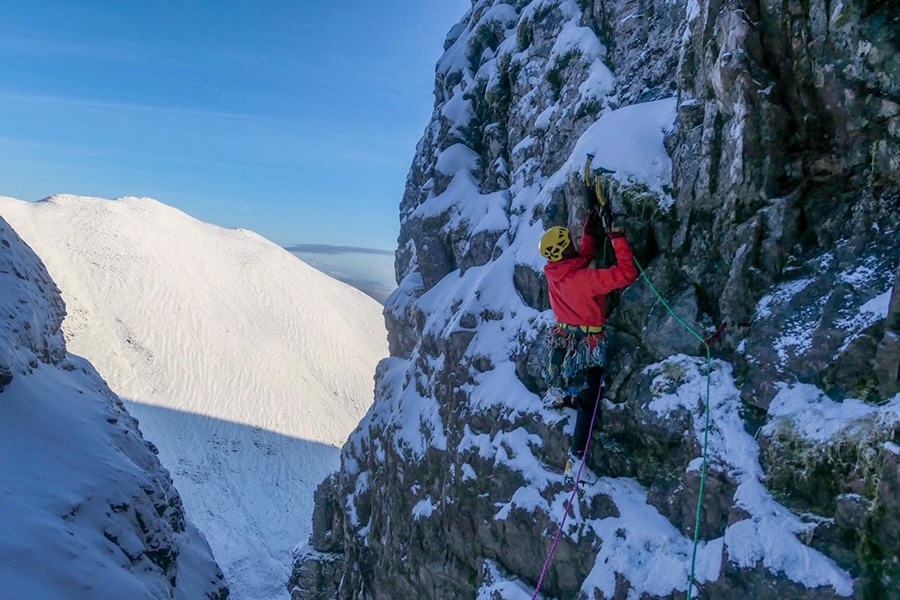 1 / 4
Winter climbing in Scotland: Greg Boswell and Guy Robertson making the first ascent of Local Hero at An Teallach.
Greg Boswell
The Scottish winter climbing season has officially started with a number of teams bagging some new lines across the country. One of the first to make the most of the cold snowy weather was the formidable Greg Boswell - Guy Robertson partnership that added Local Hero VIII 9 to An Teallach in NNW Scotland where at the end of 2018 they had established the extremely testing The Forge. Boswell send planetmountain.com the following report from the Highlands.

Local Hero by Greg Boswell

Guy and I headed over to An Teallach in search of some high up winter conditions. We had spied some cool unclimbed lines in the area when we did the first ascent of The Forge last winter. Thankfully we found our intended line in condition and decided to give it a go.
The route was three pitches and linked two obvious groove/corner systems together via some funky climbing. On first impressions it looked like the line would be fairly straightforward and an good warm-up for the start of the season, but it actually turned out to be very steep and engaging, with two grade 9 pitches back to back! But despite the difficulty, the climbing was as good as it gets and we both really enjoyed the route.
We called it Local Hero in memory of our friend, Martin Moran, who was lost in an avalanche earlier this year in the Himalayas. He was local to An Teallach and had put up many new routes in the area, along with most of Scotland.
We sat on the ridge after the ascent and watched the sun set over the beautiful Scottish mountains and it really was the perfect way to start the season.
Links: FB Greg Boswell, IG Greg Boswell, gregboswell.co.uk, FB Guy Robertson, www.scottishwinter.com
SCARPA, Grivel, Outdoor Research, RAB