Hervé Barmasse and David Göttler, 13 hours up the South Face of Shisha Pangma
On Sunday, May 21, 2017, Hervé Barmasse from Italy and and David Göttler from Germany climbed the 2200m southwest face of Shisha Pangma (Tibet, Himalaya) in just 13 hours and in pure alpine style.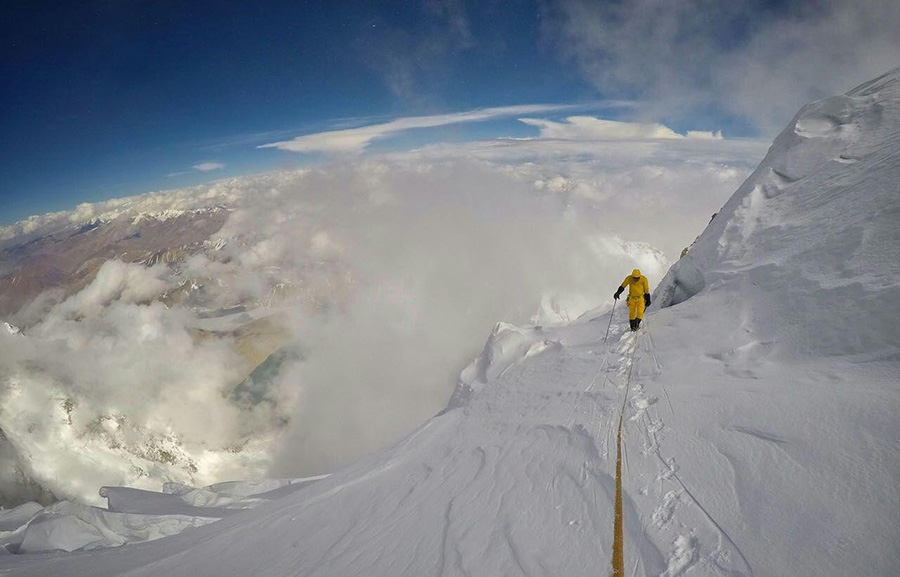 1 / 6
David Goettler ascending the south face of Shisha Pangma (8027m) on 21/05/2017, via the Girona route together with Hervè Barmasse
Hervè Barmasse, David Goettler
They started out from 5,850 meters at 4:45 on Sunday morning. They reached 8,024 meters at 5:45 pm the same day. 13 hours precisely to ascend the southwest face of Shisha Pangma without supplementary oxygen, without fixed ropes, without pre-installed camps and of course without the help of high-altitude porters. In short, a 2200 meters "sprint" in pure alpine style. Those who achieved this were Italy's Hervé Barmasse and Germany's David Göttler who pulled off, it has to underlined immediately, a great ascent. Regardless of the fact that they stopped - due to avalanche danger - 3 meters (yes, 3 meters!) shy of the summit. Perhaps this even adds a little something. If nothing else, for it highlights their extreme honesty! Because it has to be stated clearly: they made the right choice and the quality of their climb cannot be measured, should not be measured, by those missing three meters.
But let's start at the beginning. The two raced up, in 13 hours, the Girona route first ascend in 1995 by the Spaniards Josep Permañé and Carles Figueras. The duo choice this line because the weather window they decided to make the most of had predicted less than 24 hours of stable conditions, while the new route they had originally planned on climbing wouldn't have been feasible in such a short timespan. The British Route was laden in snow while the lefthand gully led to the Central Summit from where the famous an almost always unclimbable knife-edge ridge leads to the Main Summit.
In short: there was little time for a blitz up the mountain to carry out a (we repeat) noteworthy ascent. Yet that's exactly what the two did! Thanks also to the training and a way on interpreting mountaineering they also shared with Ueli Steck. Last March in fact they trained together with the unforgettable Swiss ace who perished, as many will remember, just over two weeks ago on Nuptse. One mustn't forget that last year Steck had attempted a new route up Shisha Pangma with Göttler. It goes without saying that this twist of fate affected their ascent; setting off, after what had happened, after their friend Steck had died, cannot have been easy. Steck who, as an explorer of a new form of alpinism, had climbed Shisha Pangma solo and in just 10 and a half hours in 2011.
It must be underlined that what Barmasse and Göttler achieved follows in the footsteps of a new way of interpreting mountaineering. A way for which Swiss mountaineer Erhard Loretan was a precursor (just think his ascent of Shisha Pangama in 1990 with Jean Troillet and Voytek Kurtyka, and then solo on the same mountain in 1995), and Ueli Steck a true master. Just to get an idea of their "fast and light" approach: on Shisha Barmasse and Goettler climbed with one tent, one sleeping bag for the two of them, a 500 g gas stove, one pot , 4 energy gels, 4 energy bars, some chocolate, 5 herbal teas, 2 ice screws each, 2 ice axes, 25 meters of rope, 6 carabiners and ... nothing more.
"The most beautiful moment" said Hervé Barmasse "was when we were close to the summit, when we glanced at our watches and realised how quickly we'd ascended. Not for a record, but for having managed to make the most of the few hours of good weather and our physical and mental commitment." These are words of happiness. A well-deserved happiness that continued even shortly afterwards, just below the summit, when they were forced to turn back due to the risk of triggering an avalanche.
"High avalanche risk made us decide not to complete the last meters." stated Göttler via FB. "But for Hervé Barmasse and I after all those hours and more than 2000 vertical meters up the Girona route we felt happy and satisfied. We enjoyed an incredible view into Tibet and I felt the spirit of my friend Ueli. The loneliness up there was overwhelming. We were two small humans lost in the wide and wild space between Shisha Pangma and the sky."
Yes, it cannot have been easy and, at the same time, it must have been beautiful! What a great first 8000er for Hervé Barmasse.