Antarctica success for American exploratory expedition
Climbers Conrad Anker, Jimmy Chin, Savannah Cummins, Alex Honnold, Anna Pfaff, Cedar Wright and Pablo Durana have concluded their expedition to Queen Maud Land in Antarctica. The American alpinists succeed in climbing numerous routes, including the first ascent of a big wall established up Ulvetanna by Chin and Anker.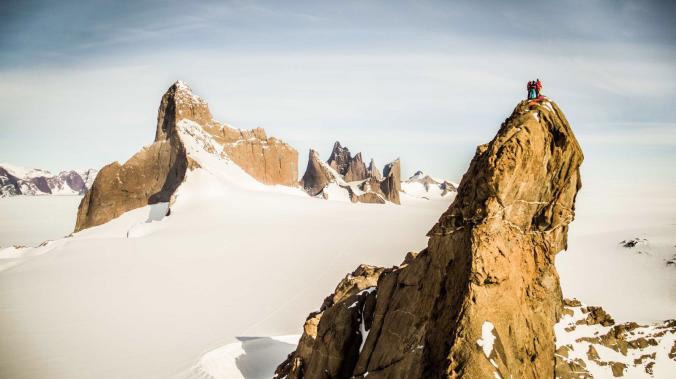 1 / 2
Savannah Cummins, Alex Honnold, Anna Pfaff and Cedar Wright on the summit of The Penguin, Antarctic. The southwest face of Ulvetanna is clearly visibile in the background.
Pablo Durana / The North Face
While waiting for more details to sicker through, it's worth noting that the "dream team" American Antarctic expedition comprised of Alex Honnold, Cedar Wright, Conrad Anker, Jimmy Chin, Savannah Cummins, Anna Pfaff and cameraman Pablo Duran has come to successful end.
The alpinists had travelled to the FenrisKjefeten mountain range, more commonly referred to as Wolf's Jaw instead of the original Norwegian name given by the early explorers, in order to climb the peaks around the famous Ulvetanna tower.
The big news is that the NW Face of this complicated granite cathedral has been breached by "veterans" Anker and Chin who established a big wall during an ascent described as "epic". The mountain is taller than El Capitan and located just over a thousand miles from the South Pole.
The expedition managed to climb 13 summits and establish 7 new routes, one of which, as previously reported, up a spire called The Penguin by the first ascentionists Honnold, Wright, Cummins and Pfaff. This is featured in the spectacular clip below.
Link: www.nationalgeographic.com
Instagram: Alex Honnold, Cedar Wright, Conrad Anker, Jimmy Chin, Savannah Cumins, Anna Pfaff, Pablo Durana