#Norwegianstyle, new trad climb on Norway's Preikestolen
On 13/06/2016 Jon Egil Auestad and Øyvind Salvesen made the first ascent of #Norwegianstyle, a new trad climb up Preikestolen (Pulpit rock) in Norway.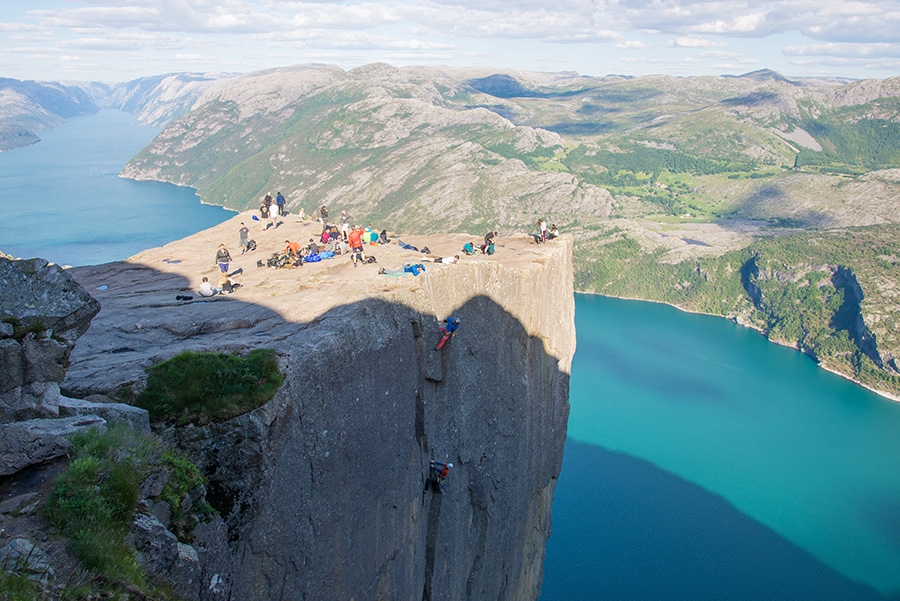 1 / 17
Jon Egil Auestad and Øyvind Salvesen making the first ascent of #Norwegianstyle (200m, 7a+), Preikestolen, Norway
Mari Salvesen
The tourist icon "Pulpit rock" formation (Preikestolen) in Rogaland Norway saw it's first complete climbing ascent on Monday the 13th of June 2016 by local climbers Jon Egil Auestad and Øyvind Salvesen. The two climbers rappelled about 200m from the plateau to the base of the rock formation and free climbed back up to the summit following superb crack systems, placing natural protection only. The route named #Norwegianstyle was climbed in five pitches, with grades 6a, 6b+, 6b, 6b+ and 7a+.
The ascent comes at a time with controversy surrounding the area as a result of the recent bolting of the new route Thor, carried out by Polish climber Marcin Tomaszewski. Despite being a highly accomplished big wall climber that Norwegian climbers deeply respect because of his first ascents on the Troll Wall and Kjerag, his actions upset the Norwegian climbing community by placing bolts on Pulpit rock and climbing the top 20 meters of the feature.
The local climbing club BRV - Bratte Rogalands Venner (Friends of the steep Rogaland) has published an official statement concerning the issue which, although admitting that in the past bolts had been placed on the summit by commercial film crews, states clearly that bolts should not be placed on lines which are possible to climb with natural protection, and that prior permission must always be sought with the land owner. Working closely with the local climbing community, Tomaszewski has agreed to remove the bolts in the near future and plans are, if possible, to lead the route in trad style.
Commenting after the ascent of #Norwegianstyle, Salvesen explained "Even though our project was conceived before Marcin placed his bolts on Pulpit Rock, his actions gave us extra motivation to finish it and we would like to send a clear message to climbers visiting Norway in the future. Please leave your drill at home and, if in any doubt, contact the local climbing communities who will be pleased to help."

Full details of the official statement can be found here: brv.no