Martina Cufar climbs her second 8c at Bionnassay
Slovenian climber Martina Cufar has redpointed her second 8c sports climb, 'Max power' at Bionnassay, France.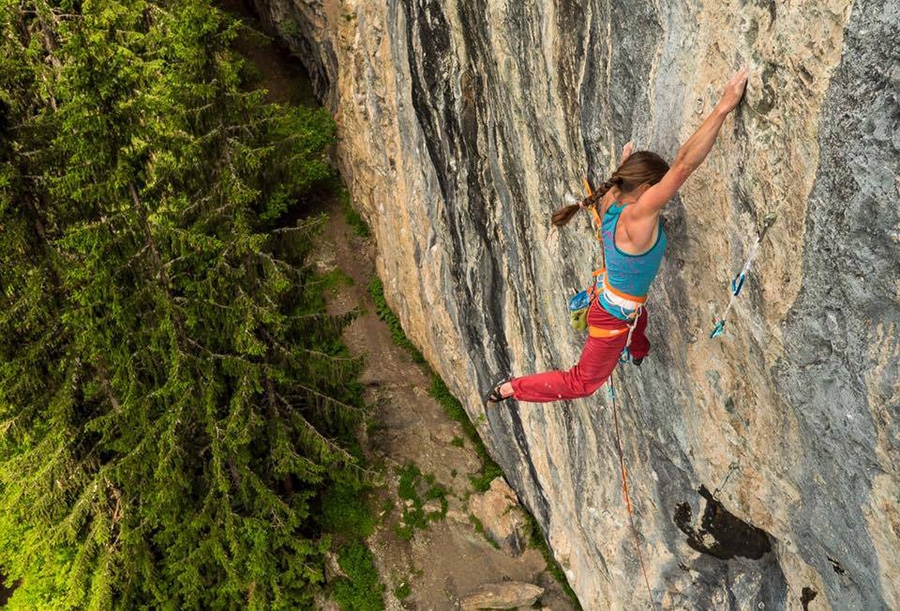 1 / 9
Slovenia's Martina Cufar climbing 'Max power' at Bionnassay, France.
Francisco Taranto Jr.
Martina Cufar from Slovenia has proven, once again, that being a mother is no barrier to difficult rock climbing. The 39-year-old, mother of two and former Lead World Champion recently redpointed Max power, an 8c at Bionnassay in France, doubling her takings after having climbed her first 8c at Misja Pec in Slovenia over a decade ago, in December 2005. At the time Cufar was only among a handful of women to have climbed this grade, together with Josune Bereziartu, Marietta Uhden, Beth Rodden and Alexandra Taistra. And Liv Sansoz, who happened to hold Cufar's ropes the other day.
Cufar told planetmountain.com "I am not somebody who particularly loves "long-term" projects…I prefer on-sighting or getting on routes that I can do fast. But this 8c is special. It's the 8c that my husband Nico Potard did the first ascent of in March 2011, a month after his good friend Maxime Bonneville perished in a crevasse in the Vallee Blanche. I often belayed Nico on this route, but didn't try it since I was pregnant with Tommy. When Nico did it, he said I should be the first women to do it, but there was a move at ¾ height that felt really impossible for me, when the guys dyno. Once a year I'd try to find a solution, but to no avail. I'd already accepted that I would never be able to do the route, it certainly wouldn't be the first where the holds are simply too far apart (and where I'm not good enough…I am sure Janja Garnbret would find something, but I am not as strong as her ;-) But then last December, when I "cleaned" the Bionnassay sector, doing all the routes except for that 8c, I thought it's a pity not to have anything else to climb at this nice crag. Located at an altitude of 1500m, you can climb all year long, even in the winter. Plus it's near our home, just a 30 minute drive followed by a 30 minute hike, and it fits perfectly around the school time ;-)"
Cufar inspected the route more thoroughly and discovered a new sequence using a tiny set of razor-sharp crimps. Unfortunately the weather deteriorated at it wasn't until this summer that Cufar could try the route again. At the start of September conditions were ideal and the Slovenian surprised herself in sticking the crux, only to fall off the subsequent hard section. Pressure mounted as she was due to return to Slovenia shortly, but on Sunday 25 September she found in her former competition rival Liv Sansoz the perfect climbing partner and she finally redpointed the line.

She concluded "It feels good not to have climbing projects anymore for a while and not to be stressed if it rains - the route can be wet for months now. I have some other projects now, Sylvie Drouillat and I are organizing a yoga & climbing session at Buoux in October. I would like to share my two passions with others!"

RELATED NEWS
27/06/2007 - Martina Cufar: rock climbing in Yosemite, Indian Creek and more
27/12/2005 - Cufar sends 8c!