Manolo, climbing and Il Mattino dei Maghi: first repeat in 35 years
On 7 December 2016 Maurizio Manolo Zanolla, belayed by Daniele Lira shortly before his 59th birthday, made the second ascent and first repeat of Il Mattino dei Maghi, the legendary climb first ascended in 1981 by Manolo at the crag Totoga (Pale di San Martino, Dolomites) and, until now, unrepeated.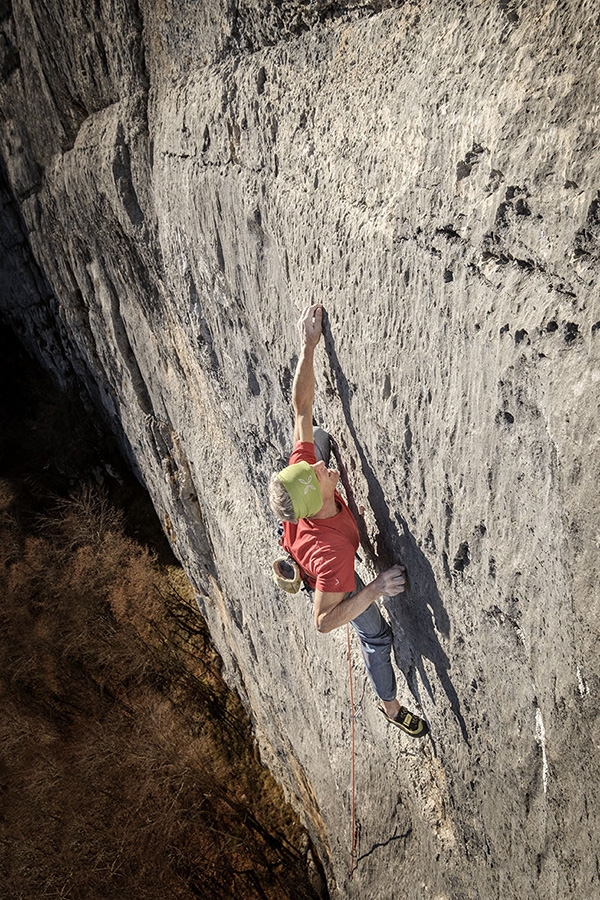 1 / 6
Maurizio Manolo Zanolla in 2016 making the second ascent and first repeat of Il Mattino dei Maghi, the legendary route he first ascended at Totoga (Pale di San Martino, Dolomites) in 1981
Daniele Lira
Of course, it's not every day one gets the chance to make a 35-year step back in time. This, in short, is perhaps what happened to Italy's Manolo on 7 December: he made a dive, body, soul and mind, into what he had experienced more than half a lifetime ago. The opportunity arose during his (first) repeat of Il Mattino dei maghi, the famous rock climb he established and first ascended at "his" crag, Totoga, precisely 35 years ago. namely between spring and summer 1981. For the benefit of those who haven't heard about Il Mattino, i.e. The Morning of the Magicians: it's an absolutely legendary climb. One could even go as far to say that it's completely unique, and not only because during all these years it has never been repeated.
At the time the talk was about a stellar, better still, an elusive 7c+. But the grade in itself - as always - doesn't suffice to help explain, let alone comprehend. Because, as Manolo told planetmountain.com: "It really is impossible to take stock of everything that has happened in these 35 years. So many changes have occurred during these all these years that it's difficult to try and explain. At the time 6c was the maximum limit for almost everyone and Il Mattino dei Maghi was simply in another dimension... ". It was certainly an "extraterrestrial" dimension, above all possibly because of the way it was conceived and climbed. As a result it became a landmark climb in Manolo's personal development. A milestone in that particular path he has followed until today, and without which this return into the past might seem incomprehensible to most.
In his early days Manolo ventured, as a mere 17-year-old and almost completely unaware of mountaineering techniques and its history, up his backyard mountains (Monti del Sole, Vette Feltrine e Pale di San Martino).Then, almost immediately, he chose to climb in sneakers instead of the canonical boots and, above all, he refuted aid climbing. Between 1976 and 1978 he was driven by "free ascents of big mountain routes. Such as Bonatti on Grand Capucin, Spigolo Strobel and Navasa at Rocchetta di Bosconero, Via Carlesso and Via Cassin up Torre Trieste, Costantini-Apollonio up Pilastro della Tofana di Rozes, routes up Lavaredo and the NW Face of Civetta. All climbed not only, as I said, free, but also with extremely few pegs for protection." Manolo did this, in his own words "To understand, to get to know and respect the great climbers who had established these climbs in different eras and with other means." Manolo did so by embarking on an absolutely personal journey, traces of which can be found in many of the new climbs he forged during those years. Such as on that extremely exposed section, with few very pegs indeed, on the route I Piazaroi that tackles the North Face of Cima della Madonna (Pale di San Martino).
At this point - in 1979 still - he took his first trip to the Verdon Gorge. This proved to be a fundamental stepping stone in his development: apart from onsight ascents of Mangoustine Scatophage and Dingomaniaque, it opened his eyes to the first bolts and a way a climbing that seemed far less risky than then one he had been accustomed to. In short, it was his first experience into a "sport" dimension of climbing. It's worth noting though that those early "sport" days were far removed from what we're used to now at the crags. And it's also worth noting that not everything was clear to Manolo yet. For example: "that some of those bolts were placed by abseil, or placed while aid climbing." It was in that same year that he discovered Totoga, the beautiful limestone barrier above Primiero that, for many years, became his climbing "laboratory". The first route came to life on this virgin wall in 1979: Lucertola schizofrenica. A nigh 200m line which Manolo established rigorously ground-up, free, "protecting" himself with runout pegs and graded 6c/7a even by today's standards. One thing is certain: Lucertola had little to do with the adjective "sport" which we're so used to now at modern sports crags. But that's how things stood at the time and there was still a lot of "alpinism" (or "risk" if you prefer) in Manolo's climbing. And, as we will see, his approach, better still, his experiences in the future needed to be expressed in grades not only of… difficulty.
A year later, in 1980, Manolo teamed up with Piero Valmassoi and made the first ascent of the famous Supermatita up the South Face of Sass Maor. 1200m high, protected by 7 pegs and with 6b/c maximum difficulties, it underlined just how much the new form of sport climbing and mountaineering on big rock faces still touched upon each other. Then, in 1981, along came that famous day of 35 years ago. Up in Totoga once again. Manolo was "still obstinately convinced that climbing was about starting from the ground and reaching the summit (or some other part) without abseiling in from above, but above all free and absolutely without bolts." After some scary climbs that were increasingly dangerous and poorly protected, he dreamt of a new line. And, at the same time, of a new and unknown difficulty.
His first attempt against the greatest difficulties ground to a halt. Everything seemed too impervious, simply too dangerous as no normal pegs seemed to protect that compact limestone, so devoid of holds and cracks. Beaten by these difficulties and bearing in mind what he had learned in the Verdon Gorge, Manolo surrendered and, for the first time, rappelled from above. On those smooth, vertical slabs he placed what he calls 3 "pressionelli", which are nothing more than three pressure bolts, i.e. those which used to be used in aid climbing, to clip an etrier into or to pull on while doing some A0 aid. Put into simple text for the youngest readers: although a hole is drilled, the result is completely different from modern bolts…
So Manolo rapped in. Placed 3 "pressionelli" (his first time ever and, as it happens, he didn't do a good job of it since he was inexpert and listless), to which he added a wooden wedge at the start of the short traverse on the upper section of the route. Then, belayed by the unwitting Paolo Loss (also known as Bulo), he set off into the unknown. It goes without saying that success, just like the difficulties, could not be taken for granted. On the contrary! But in the end Manolo walked away unscathed; this is how, on an unspecified day in late spring (or early summer) in 1981, Il Mattino dei Maghi came into being.
For 35 years this climb remained a myth and, above all, the only route intentionally left with its original gear; no one ever climbed it, until Wednesday 7 December. The man who did so, who redid it, was Maurizio Zanolla, alias Manolo, once again. "I have always considered this climb a really defining moment in my development - something which I'm trying to recount in the book I'm writing" the Magician told us. "I wanted to return to that dimension, not to relive what it is no longer possible, but to comprehend it completely, because I believe it was a moment that marked the end of an entire generation."
"The idea that tempted me was to repeat the route without those three pressionelli bolts. This would have been a way, after all this time, to make up for what until now I had always considered my 'weakness' and inability at the time. I wanted to climb it in the most perfect way possible, i.e. without the pressure bolts I had drilled into the rock. So last spring I inspected the climb by abseil, removed the tufts of grass, checked the belays and examined whether I could hammer some normal pegs into that avid rock face. But I realised that nothing had changed on that part of wall and that rock pegs simply can't be driven in with dignity… all this, combined with my physical condition and the rock quality which isn't totally cast-iron, indicated I should make do with attempting to repeat it with those three pressionelli bolts."
And so at 12:00 last Wednesday, belayed by Daniele Lira, Manolo pulled re-climbed, and made the first repeat of, Il Mattino dei Maghi. Two ascents which, perhaps absolutely uniquely, were carried out the very same person.
"The first part of the route to a small niche is relatively easy" Manolo told us "then there's a somewhat technical and delicate section to reach and climb past the first 'pressionello' bolt, which is fairly difficulty for both fingers and feet. This is followed by a central section (where you climb past the second 'pressionello' bolt) which is easier and less continuous, but the moves nevertheless require attention. Then there's an excellent breather that leads to the 3rd 'pressionello' bolt. This is where the real difficulties begin, and you near the crux protected by two normal pegs, placed during the first ascent ground-up… I didn't have the courage to hammer them in too much, because the crack they're in tends to open up. This section is followed by the easy 4-5m traverse (protected now by an excellent thread) that leads to the final, short, but not particularly easy wall below the belay. When you reach the ledge you need to climb a couple of other pitches to complete the route, and these are by no means trivial and full of surprises."
Our story could end here, were it not for the fact that there is still one question left unanswered: what did it feel like, to tread in your very same footsteps 35 years later' "I didn't manage to see myself. Up there… I didn't encounter even the shadow of that youngster 35 years ago, full of folly, with those few, miserable pegs for which had the courage, or unawareness, to embark on this one-way journey. But it was fantastic and the emotions I felt up there, between those holds, almost bowled me over. Il Mattino dei Maghi changed things for me. It changed my way of climbing and my way of thinking about climbing! I believe the only way to get close to understanding that particular moment is to climb the route it the same manner, ground-up, onsight and with the gear that was in there at the time, like now. Even if these 35 year gap that separates then and now is unbridgeable."
Manolo thanks Montura and La Sportiva and, above all, Daniele Lira who after having seen the gear struggled ethically about whether or not to belay someone who is no longer the youngest on this route.