Chulilla in Spain, thoughts about this world-class climbing destination. By Maurizio Oviglia
Politically incorrect thoughts after a climbing trip to Chulilla, Spain, one of the best rock climbing destinations in the world and currently extremely popular among the climbing community. By Maurizio Oviglia.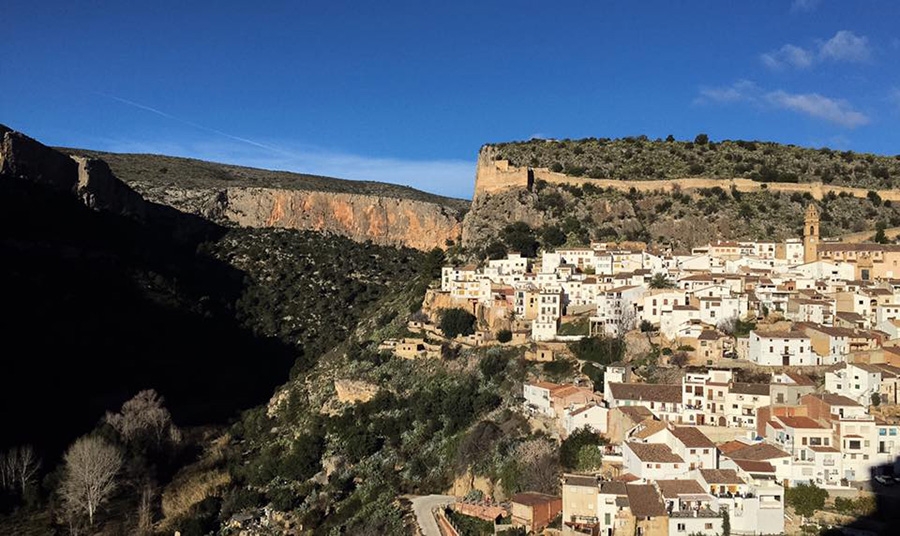 1 / 5
Climbing at Chulilla in Spain, one of the best rock climbing destinations in the world
Maurizio Oviglia
Having parked the car just outside Chulilla, a beautiful village deep in Spain's Valencia county, we wasted little time in realizing that we were standing opposite one of the world's premier climbing destinations. It was mid-January, vans were parked everywhere, a varied and cosmopolitan group of climbers had only just woke up and was wandering around the car park with cups of tea in their hands; vague, understanding smiles seemed to whisper: "Welcome brothers and sisters, we'll share this place for a while, perhaps we'll frequently bump into each other, perhaps not…"The bar , with its free wi-fi, livens up, while some prefer to venture to the edge of the cliff to get a better view of the first rays of sun. The only certainty everyone has is that they don't need to do anything, except perhaps post some photos on their social networks, before going climbing… What more can those who work in an office all year desire? In good company of those who do nothing else in life but travel from one place like this to another? Chulilla, I have to admit, really does look like heaven on earth!
After crossing the village on foot, we identified the only two shops that were open without too much difficulty: the baker and newsagent. The baker, while handing us one of her baguette, immediately asked us where we were staying and pointed out, while handing us her business card, that she also rents out "rural" apartments. On the counter, in front of the bread and pastries, was a proud display of a large variety of typical climbers' food which certainly wouldn't be sold in bakeries in other villages: rice cakes, whole wheat crackers, fruit juice, tuna, beans, milk... It 's true, there were no protein supplements, but these could certainly be found in the well-stocked pharmacy (by the way, have you ever noticed that in Spain there are as many pharmacies as bars in Italy? A nation of hypochondriacs?). The newsagent nearby wasn't useful for cigarettes, but rather for the guidebook, absolutely essential to understand where the crags were and how to get there. Even if some climbers (as we saw later) preferred to follow "those who know" and then wander around at the base of the limestone wall with an iPad, occasionally typing in a name to find out precisely where they happened to be…
In the introduction to the guidebook - written by Pedro Pons (winner of the Bouldering World Cup in 2000, editor's note), who runs a "guesthouse" here together with his girlfriend - Pedro succinctly (in little more than one page) traces the history of this area and the chronology of the development of the various sectors. It's the only page in the guidebook with some text, so you might as well read it, flipping from Spanish to English just as you do when browsing though an inflight magazine. Pons explains when the local climbers realized that they had not just any old crag, but a "spot internacional". Since that day they bolted new routes like mad and even the "gobierno", the government, intervened and paid for some of the work. This is how Chuilla came to life, in effect one of the "world's best climbing destinations" and currently one everyone's lips. Fine, but what exactly is a "world-class climbing destination"? Simple: a place where everyone goes and somewhere everyone wants to go to simply because everyone else goes there. Somewhere where you can try some hard routes without having to move about too far, where the climbs are well bolted and close to each other, where you can stay for 15 to 20 days and think about nothing else but climbing and resting (between one route and the next), meet lots of people from different countries who all share the same love, watch top climbers in action and maybe even take a selfie with them. In short, a beautiful, beautiful place, beautiful, but above all somewhere trendy…
I've never been a regular visitor to Spain, nor in general in the world's premier sport climbing hotspots. I visited Ceuse, Kalymnos and Siurana in the early days, before they became as famous as they are now, and subsequently spent my holidays in most exotic, less crowded destinations in the Middle East or exploring places in Britain. I admit it: in doing so I missed out on the incredible development that these destinations witnessed in recent years, and was curious therefore to see Chulilla for this reason! The Spaniards, perhaps the first, have been outstanding at understand what ingredients are needed to transform a common cliff into a world climbing mecca of, where everyone would like to visit at least once in their lives, thanks also to the particularly mild climate in winter. While most climbing areas are made up of an archipelago of smaller crags, the Spanish are extremely lucky and have huge cliffs, as long as the Great Wall of China: all they had to do was adorn them with routes, one climb running parallel alongside the next. But that's not all, because while in France the difficult crags were frequented only by a small elite, the Spaniards have miraculously managed to standardize the extreme, exponentially increasing not the easy routes, but the difficult ones! The Greeks, for their part, have imitated the Spaniards and added their sea... but that's another story which we can discuss next time!
The striking thing about Spanish crags is the sheer amount of hard routes, while the easy ones are few and far between and definitely polished. Perhaps only in Spain can you come across more that a hundred routes 7c or harder, almost all already occupied by a climber! If you're not that strong, there's no point coming here on holiday, you'll probably end up belaying! The fairly close bolts, the relatively soft grades, the not particularly strenuous approaches and nearby villages where to stay, rather, survive for days on end, did the rest.
We head down to the cliffs: at the start of the path a sign warns us about what we can do and even recommends we do as cats do, any bury our call of nature. At least 200/300 meters away from the path, even if in the next sentence we're warned never to leave the path, otherwise the cliff might collapse one day! You never know! Well, it's natural that when a crag becomes enormously popular, certain rules are needed: when will Rangers patrol the area, just like in Yosemite? Unlike those who always interpret the invasion of us climbers as something positive, also for the local economy, I cannot help wonder about what the local populationrealty thinks about the fact that their remote village has suddenly transformed into "WCD". I'm not entirely sure they're happy to accommodate all this cosmopolitan and colorful bunch of people running around their fields, sleeping on the side of the road, wandering through the streets in evening, beer in hand. Certainly Pedro is happy, as he's made his living from this, as is the baker, perhaps the bar and maybe even the newsagent who, in addition to cigarettes, also sells some guidebooks (less and less). But who else? Surely the airlines and car rentals... but these certainly don't fuel money into Chulilla's pockets! As to all the rest, and I'm speaking on a completely personal note, in addition to the annoying stench that can be smelt along the approach paths, I felt an air of routine which has never particularly intrigued me. Perhaps it's because I'm not used to taking a number and queuing up, just like at the delicatessen, perhaps because I'm too much of a snob and not strong enough to appreciate this kind of holiday... but I'm really not particularly sorry that "my" small areas closer to home will perhaps never become a WCD. And on the contrary, that the sea and the prices of the ferry will continue to inhibit the invasion of climbers from German and the East to Sardinia. As to the English... well that depends on the politics of Ryanair... we're in their hands!
I know, climbing can not maintain today that romantic ideal it had in the eighties, when with motley colored leggings climbers migrated to discover distant lands such as the Verdon Gorge, who developed into the first-ever WCD. Nowadays I find it hard to relive those emotions at the crags, which increasingly resemble huge indoor climber walls, enormous climbing centers where where performances can be accumulate, indoor walls that develop in the opposite direction and diverge more and more from what's actually out there Maybe, I think to myself, what's happening is nothing more and nothing less than what's occurring in our cities, where small shops are destined to die out, swallowed up by enormous shopping malls. And what about the future? Probably great places will be rediscovered, where no one will go any longer... and that's where I want to go! It 's a wheel that continues to keep on turing, and there where there's imagination, human creativity will never fail.
PS: Chulilla really is extremely beautiful, but the world is full of great places to see, even if they are not world-famous, and the time give to us is always too short! ;-)

by Maurizio Oviglia

Info: www.chulillaclimbing.com