Torre del Formenton, new rock climb at Passo di San Pellegrino, Dolomites
Marco Bozzetta introduces Occhi d'acqua (7b, 210m), a new multi-pitch rock climb established ground-up in September 2015 together with Costante Carpella up the south face of Torre del Formenton, Val Fredda, Dolomiti. Dolomites.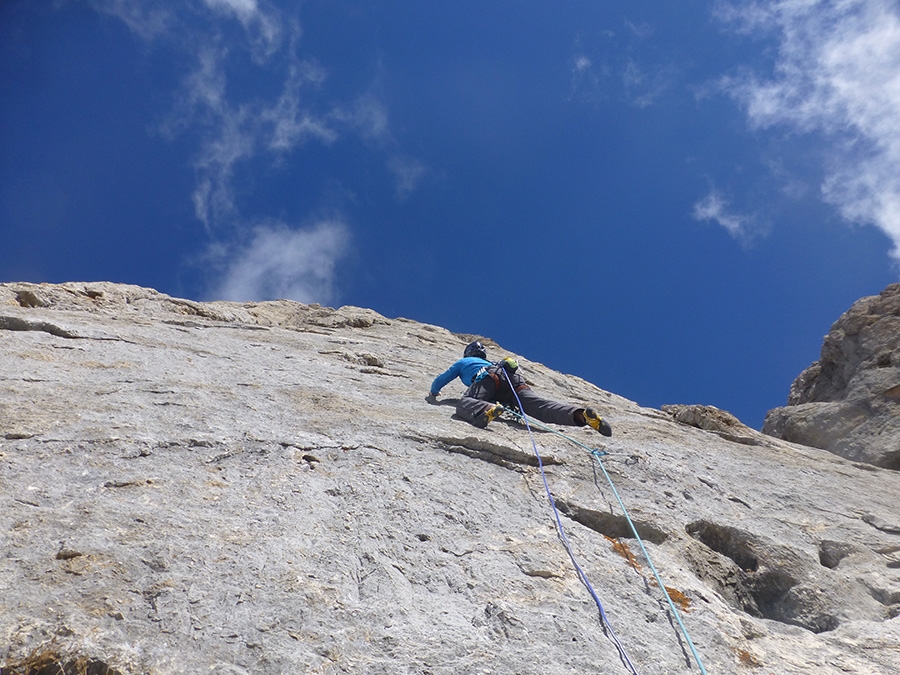 1 / 10
Occhi d'acqua (7b, 210m, Marco Bozzetta, Costante Carpella 09/2015), Torre del Formenton, Dolomites
Marco Bozzetta
The Fuciade basin and Val Fredda have always given me a sense of great tranquility, in whatever season I've been there I've always felt a sense of belonging. As you ascend in winter climbing towards Forca Rossa on skis or with snowshoes you're inevitably taken in by the rare beauty of this area, with its gentle, sunny slopes wedged up high between the dell'Ombretola rocks. And in summer, as you walk through the old shepherd's village and horse farms, you can still savor times gone past.
Despite not being very popular in mountaineering terms, every since I was a boy I've been drawn to those rocky peaks. I climbed Torre Enrica del Zigolè via the route Fessura Gialla in 1999 with Riccardo Dezulian and Torre del Formenton via the Alessandro Gogna route; this was the first solo winter ascent back in 2002. Since then I've returned to the Fuciade basin on numerous occasions, doing no more than looking at those faces from down below with satisfaction as my thirst for adventure up there had been fulfilled.
I became interested in climbing something there thanks to a good friend, Costante Carpella who while walking below those peaks with his wife must have felt what I did so many years ago. Fascinated by those walls, one day while climbing at Arco cliffs he showed me a photo and said: I've noticed a fantastic grey slab above Fuciade, it looks beautiful, shall we climb a new route there? In the picture was Torre del Formenton, that same tower I'd climbed in winter fourteen years ago. It really was fantastic, maybe more so than I had remembered!
Thanks to Costante enthusiasm we began a new adventure in a magical place, which once again managed to surprise me and provide moments of great joy up in nature, together with a true friend.
This is how Occhi d'Acqua came into being. The route is dedicated to Costante, a truly special persion, and tackles a line in the narrow gap between the Gogna route and the route put up by Gigi dal Pozzo which we crossed on pitch 2. Was this a final act or the start of something new? Who knows. Life holds many more surprises in store.
Thanks to La Sportiva for the technical support


TOPO: Occhi d'Acqua, Torre del Formenton, Dolomites