Rolwaling valley in Nepal, a family expedition. By Maurizio Oviglia
The Rolwaling valley in Nepal, Yalung Ri (5630m) and an expedition with family and friends to enjoy an adventure, a journey, nature and friendship. By Maurizio Oviglia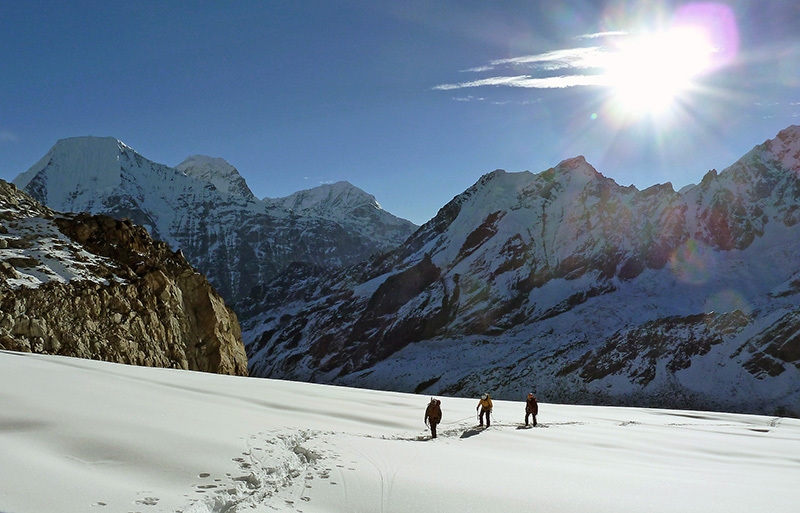 1 / 25
First rays of sunlight on the glacier.
Maurizio Oviglia
It all began a few years back when I interviewed my friend Patrick Gabarrou. During our chat I was particularly struck by something he said about his daughter Heidi. For her 18th birthday he had given her a trek to Nepal, a journey together in the Himalayas! This seemed like a beautiful present and, for a father who happens to be an alpinist, incredible fortune to be able to share an adventure like this with his daughter! At the time of the interview my eldest daughter was only eight years and had never seen the mountains before, apart from on skis. More than a dream, a journey of this sort seemed like true utopia, especially considering the fact that we live in Sardinia, close to the sea... But I never stopped dreaming!
In the meantime Sara grew up and, inevitably, she was introduced to climbing. Surprisingly though, instead of sport climbing, she was immediately drawn to the mountains and adventure in general. And so, when she was 15, she reached the top of her first 4000er where, if truth be told, she felt better on the summit than I did. It also happened to be the first day she put on a pair of crampons. From Breithorn's western summit a knife-edge ridge led to the central summit. We could descend down there, I said, without weighing my words and ignoring my inner feelings... just be careful you don't trip over your crampons, under no circumstances can you fall. Because if you do, Daddy will jump onto the other side, got it? Yeah, yeah, I know, com'on let's go... What goes through the mind of a young father in moments like these can't be said. I know full-well that her mother wouldn't have approved... but these are decisions that should be made on the spur of the moment, instinctively.
Time flies and Sara turned 18 and she finished school. In these times of crisis enrolling at university is no longer so compelling, perhaps a year off abroad, learning English, would be better. And anyways, autumn is ideal to realise that old dream of yours, remember?
And so here we are in Kathmandu, with her mother and two friends, Marco and Valentina, who we asked if they wanted to join us. Our goal is the Rolwaling valley because right from the outset I chose to exclude the Khumbu valley and Annapurna region. I wanted something different! Thanks to my friendship with Chhongba (whom I'd met back in 1999 at Dhaulagiri) we planned to climb a 6000er. This is certainly an ambitious goal for those who, like us, live by the sea and don't do much walking for most of the year! Sara and Cecilia are in to martial arts (!?!), the most I walk is during approaches to the rock climbs (?!?), while Valentina and Marco boast some new boots and crampons... they basically prepared the trip just a month ago... In short, we're not on form by any means, but we'll give it a go nevertheless!
Chhongba can't join us, he has to stay and work in Kathmandu, so instead he's placed us in the hands of his cousin Kancha. Although not with us physically, the organisation is perfect and we immediately warm to the Sherpa in our group and then with the Tamang, what truly wonderful people! Rolwailing is a really beautiful valley: despite no longer being as it was 20 years ago (since it was considered holy, it was closed off to tourists for a long time), it is still relatively wild and off the beaten track. We meet very few other tourists and the impression we get is of being in a Nepal that has not yet been invaded by trekkers. These are the days immediately after the terrible Annapurna blizzard, so there's still lots of snow and in the afternoons the mountains are completely shrouded in mist. I get the feeling that we won't succeed in climbing anything! Phurba, the 24-year-old "high altitude" Sherpa who should accompany us to the summit, and who's already climbed Everest, Makalu and Cho Oyu, does nothing but sleep all the time. Wherever we stop, he falls asleep. Maybe he'll wake up when we ascend above 4000 metres and,... A Na, the base camp at 4200 metres, we pitch our tents next to the yaks. It's a truly magical place! In the morning, when the sky is clear, we're surrounded by stunning peaks, many of which are virgin or which have only recently been climbed for the first time. Gaurishankar towers sacredly above them all, and for us it's impossible to even dream of climbing such a difficult and immense mountain!
The snow conditions and the weather bother me, but there's no point sharing my doubts with the Sherpas. Strangely, they don't seem to know the area well and often get the mountains mixed up, even muddling up one flank with another. As to the weather, they simply don't care. I decide that climbing the 6000er we'd originally planned on is too much of a gamble, there's just too much snow and no beaten track, so we settle for Yalung Ri, 400 meters lower, a peak that seems both easy and popular. Phurba tells me he'd heard that someone, despite the snow, had summited a few days ago. And it seems like the only peak that can be climbed. OK, let's give it a go!
We ascend to Camp 1 and pitch our tents in the freezing cold and in the snow: normally up hhere are still green meadows! Having said that, we'd started wearing our duvet jackets at an altitude of 2800m... so what did we expect at 5000m? Something snug and cosy?? But apart from the ritual headaches and the fact that we hadn't even rested for a single day, we were still up to it. Half an hour before sunset a porter, a youngster aged 17, starts to feel unwell. Cecilia is a doctor and visits him, his pressure is normal, he seems to only have nausea. She give him her first eve intramuscular injection. He trembles, overcome with cold and fear, Cecilia feels as if the needle will break since he's got such a powerful build! I lend him my gloves, 10 minutes later he feels better again and the Sherpa send him back down to valley, armed with just a headtorch... 900m descent, almost in the dark, down icy terrain! We'd worry about him until we'd finally see him again, perfectly healthy, back at Na...
It's 3 in the morning when we set off towards the summit, following the lights of our headtorches. The sky is starry, the cold is paralysing. Dawn seems to take longer than usual, but the first rays of sun on the glacier, are something we'll remember for the rest of our lives. Just like the last 300 meters below the top, extremely steep, in deep snow, with our hearts that seem to explode. Phurba runs back and forth, as we'd expected he's now woken up! I'm amazed at his ability with crampons, ice axes and rope maneuvers! The time when we taught them how to climb mountains is long gone! Phurba, tell me, did you use supplementary oxygen on Everest? Phurba lowers his head a bit and nods; "but until 8200m no, I'm fine without!" All six of us reach the summit, we hug each other, a few teardrops run down our face. Because, at times, dreams do come true. And also because some of us thought they might not succeed but they kept it together, showing great character. Well that's how things go, we are sea farers, live for limestone crags and juniper bushes, we're ceratinly not avid ski mountaineers! The view is stunning, sweeps from Manaslu across to Langtang, from Gaurishankar Cho Oyu. What a pity that Everest is out of view, behind another mountain close by. We feel great on the summit but we've still got to descend, ideally intact. Exhausted, we take care not to make any mistakes during the descent: we'd like to reach Na tonight, to lose as much height as possible.
As often happens when you've got little holiday, we skip some stages on our way down since we don't need to acclimatise any longer. I get slightly angry with the Sherpa, at first they think I'm joking, then they apologise profusely. I try to get them to understand that, in short, we're not like them! After 10 days on the trot, we're exhausted! We all end up laughing... And then, after all that hustling and bustling, we finish three days ahead of schedule... now what? With Kancha we therefore plan an alternative route, touching on some villages that tourists normally don't visit. Since the maps are a little vague, we'll be guided by some of the Tamang porters who live there. And since there are no lodges or places for camping, we're forced to pitch our tents in the meadows of the school playing fields, in truth somewhat overrun and dilapidated. The children look at us as if we we're from outer space, they haven't ever seen anything like it, not only tents, but also our cameras! The teachers welcome us and are surprised to learn that Cecilia is a doctor and that Mark is an engineer: there's much need for you here, they say! These are certainly the most rewarding and authentic days of our entire journey…
Cecilia gives Chhongba all our emergency medicines. With the money we give him, he'll send his children to study in India: studying is important, he says. And what remains after having paid the Tamang, as always, will be used to build bridges and to help the people in his village close to Namche. He proudly shows us photos of the bridge under construction, taken during the monsoon. "Many" continues Chhongba - "think of coming here and not needing us. The only use us to ask for permission from the government, then they go off on their own. We don't even know where some go, can't help them if they're in trouble. This is what happened a few days ago at Annapurna ... Not to mention the fact that I risked going to prison when a European climber asked me to get permission for a 6000er, only to then join a group that climbed Annapurna. He reached the summit, but had an accident during the descent. We rescued him nevertheless, but I then got a phone call from the Ministry saying: "you've now in real trouble." They wanted to close the agency and put me in prison! While he was in hospital we seized the alpinist's money to pay for the fine and try to prove that I wasn't part of it all. I paid for the rest of it, the alpinist promised me he'd pay it all back... they will give back... So" says Chhongba placing the traditional flower necklace around his neck - "even though you might be able to manage without us, take heart knowing that with your journey you have helped our people towards a better future." Namaste, Chongba, I think to myself as the place takes off. Maybe we will meet again for Elena's 18th birthday, who knows…