PukaNaka, new rock climb up Sas Tamersc, Fanes, Dolomites
Manuel Baumgartner reports about PukaNaka (7b+, 325m) a new route he climbed with Martin Baumgartner and Toni Oboles up the SW Face of Sas Tamersc (Fanes, Dolomites).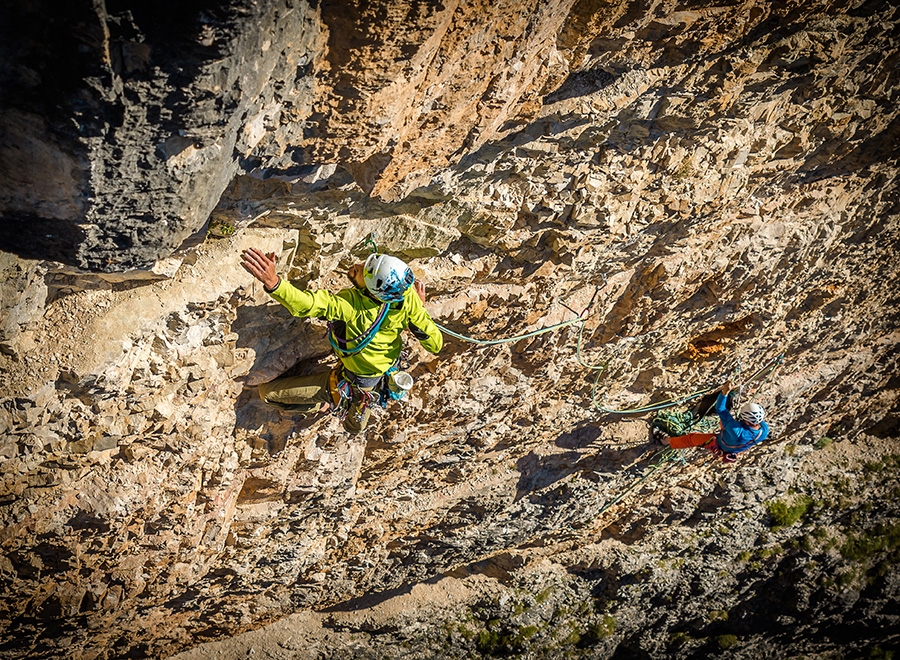 1 / 10
Making the first ascent of PukaNaka (7b+, 325m) up the SW Face of Sas dai Tamersc in the Dolomites (Manuel Baumgartner, Martin Baumgartner, Toni Oboles)
Toni Obojes and I had started PukaNaka back in 2014, but due to lack of time we managed to complete the route only this year. Toni works as a mountain guide and is often away, so I finished the last three pitches with my cousin Martin Baumgartner.
The route starts about 5 meters right of Gratta e Vinci, put up in 2012 by Christoph Hainz and Simon Kehrer. The wall faces south-west, is ideal therefore for spring or autumn. The line climbs past rock which is friable at times, however many sections offer interesting climbing, and the 15 minute approach make it quite an attractive proposition.
After the eleventh pitch the angle eases off and vegetation abounds, so we decided not to continue to the summit but, instead, to allow for an easy abseil descent. The summit book is on the wide ledge on pitch eight. The descent is carried out via 6 abseils, and the last one uses the belay of Gratta e Vinci.
Many thanks to Christof Ursch and Evi Gritsch, the first repeaters of the route, for the beautiful photos.
Manuel Baumgartner


Manuel Baumgartner thanks Edelrid


TOPO: PukaNaka, Sas dai Tamersc, Fanes, Dolomites