Becca di Monciair - Little Matterhorn of Gran Paradiso
Giulia Monego and Yannick Boissenot ski down Becca di Monciair in Valsavarenche, also known as Little Matterhorn of Gran Paradiso. Davide Capozzi provides the background information.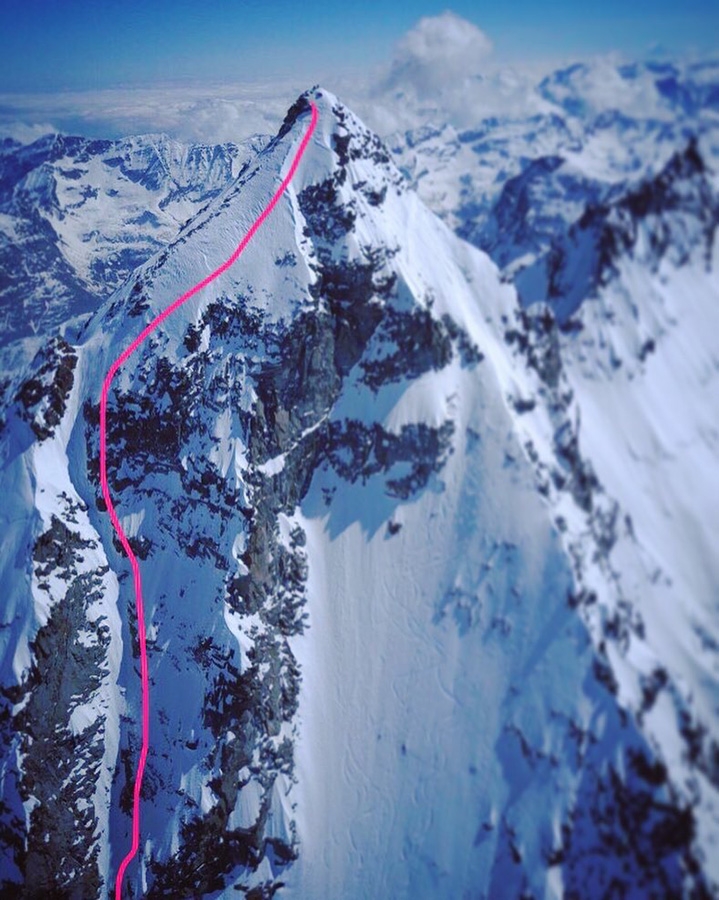 1 / 1
Becca di Monciair, also known as the small Matterhorn of Gran Paradiso in Valsavarenche, and the line skied by Giulia Monego and Yannick Boissenot
Yannick Boissenot


The Becca di Monciair is a beautiful 3544m peak located in the Valsavarenche in the Gran Paradiso massif. Due to its shape it's reminiscent of the Matterhorn, but in miniature version; yes because its northern face is only 350m high.
The mountain can be seen clearly from the parking lot at Pont in Valsavarenche and even better from the hut Rifugio Vittorio Emanuale. Its north face is one of the easiest in the area and, from an aesthetically point of view, it's perhaps the most beautiful.
As to the skiing, the most interesting descent is the North Face (45° with a short steep section at the top), which is rarely accessible from the summit without the help of a short abseil or downclimb.
Another descent that is normally skied down the north side is the NE Couloir (40° - 45°), accessed directly from the top of the mountain. This partly follows the normal ascent route up Becca de Monciair.
Between these two routes lies a more direct and exposed gully, skied last Sunday by Giulia Monego and Yannick Boissenot. It's hard to say whether they were the first, but it certainly isn't a descent which receives much attention, because of the rocky section that protects the the base which obliges (except in very snowy winters) you to make a short abseil or downclimb.