Simone Moro and Tamara Lunger, Manaslu Base Camp interview
Interview with Italian alpinists Simone Moro and Tamara Lunger, currently at Manaslu base camp where they are hoping to make the first winter enchainment of the Main summit (8163m) with the East Pinnacle (7992m).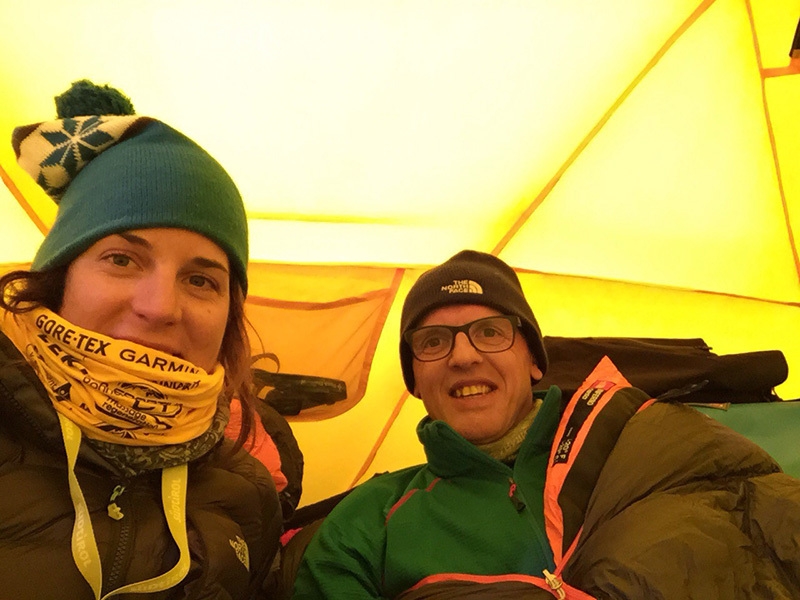 1 / 9
Tamara Lunger and Simone Moro in Manaslu Base Camp
archivio Simone Moro
Simone Moro and Tamara Lunger are already at Manaslu Base Camp, intent on climbing the eighth highest mountain in the world in winter. And, furthermore, to enchain the main summit (8163m) with the East Pinnacle, the "secondary" peak, or rocky pinnacle, that rises to 7,992 meters, climbed for the first time on 10/11/1986 by two mountaineering legends: the Poles Jerzy Kukuczka and Artur Hajzer. In short, this is a project that is by no means easy nor usual, also because the two reached BC two days ago and have little more than thirty days (31 to be exact) to fulfill their mission. On 21 March the winter season comes to an end... By the way, should they be successful then this would also be the first ascent of Manaslu carried out completely in the winter, since the first winter ascent carried out by the Poles Maciej Berbeka and Ryszard Gajewski was completed on 12 January 1984, but the expedition reached base Camp on 2 December, and on 21 December (the first day of winter) there were already at Camp 3. Details some will say... Perhaps so, but it's just as true that in mountaineering in general, and on ascents such as these, details are important. Someone who knows a thing or two about this is Simone Moro, obviously the brainchild behind this project as well as being a reference point for winter ascents of the Himalayan giants seeing that he has made three first winter ascents: Shisha Pangma (8027 m) with Piotr Morawski, Makalu (8463 m) with Denis Urubko and Gasherbrum II (8035 m) with Urubko and Cory Richards. Moro has opted to share the Manaslu adventure with Tamara Lunger, the 1986 born alpinist from Bolzano who became only the second Italian female alpinist (after Nives Meroi) to summit K2 without oxygen. Choosing to team up with Lunger is both interesting and also beautiful, which gives credence to the strength of this young woman, to her stubbornness and her innate love for the mountains. This is certainly a great team... and time will tell whether they'll be successful. In the meantime, while snow falls onto Manaslu BC, here are the first impressions "hot off the press" (so to speak) from Moro and Lunger.

Simone, Tamara, I've read that you're in Base Camp already... after catching sight of Manaslu for the first time, what did you think?
Simone Moro: The first view was good, the East Pinnacle looks like a large. But I saw too much snow, here at BC it's already two meters high.
Tamara Lunger: I looked up, I felt the temperatures and hugged Simone, saying: "I think we really stand a chance!"
If I've understood correctly, you'll first attempt a winter ascent to the main summit of Manaslu and then decide whether to go for what appears to be the "icing" on the cake: the East Pinnacle… Can you give us an idea of ​​the commitment? Simone, can you put this in perspective by comparing it to your other winter ascents?
Simone: Exactly. That's the plan. But I thought we'd set off immediately, right on our arrival at BC, but the addition 50cm of fresh snow and lack of gear has forced us to wait a bit. Also because it started snowing just a few hours after we arrived here. Comparing this winter ascent to others is difficult. I don't know this mountain. It doesn't appear very difficult technically, but this year we will have to wade through the snow and I hope we won't risk too many avalanches…
Tamara: We'll try to do both, but success doesn't only depend on our willpower and dreams.. For me certainly it will be a battle against the cold!
The project doesn't seem easy in the slightest. Simone, in order of importance, what are the things that you're worried about most?
Simone: Avalanches are certainly what worry me most! Then the cold and the wind, but avalanches are top of the list. We've been told that it hasn't snowed so much for 22 years…
Out of interest: why did choose Tamara for this trip?
Simone: Instinct... after having introduced her to Himalayan climbing in 2099 and joined her on some other projects, I observed her carefully and thought that she is strong enough and mature enough to attempt a winter ascent.
Tamara ... what was your initial reaction? Did you immediately say yes or did you take your time and think about it?
Tamara: I said yes right away, because Simone had already asked me the previous year. I was very pleased, proud and happy, because I saw it as an importante step in my climbing career.
Preparation ... how have you "trained" for this expedition? And Simone, what do you consider most important in these "adventures"
Tamara: I train by doing ski mountaineering, running, rock climbing and ice climbing or cycling. Apart from this though, the mental preparation is the most important aspect
Simone: In all honest, for years, decades even, I've never stopped training. It's part of my daily life now, a personal discipline. For this expedition I ran a lot and did exercises to build up my muscle bulk. Obviously climbing remains a constant for a mountaineer, and when I want to improve technically I train on my board at home, alone, thinking about what lies in store. Ridges and gullies are where I train regularly and the Orobie, my backyard mountains, are perfect for this.
Logistics, gear, communication... I imagine you've planned everything in minute detail. But what can't you do without?
Tamara: My lucky charm and the trust from the people I love.
Simone: This is my 53rd expedition and by now I could organise everything in my sleep. But I prefer to reamin wide awake and check my notes that I jotted down during previous expeditions. The only thing I would never do without are my good spirits and my climbing partner. I hate drawn faces or those who have to be downbeat.
What do you expect from each other, in short, what sort of team (and mountaineers) do you want to be?
Simone: I think Tamara is a bulldozer and therefore her I expect to see a turbo diesel engine at work. As for myself, I hope I can count on good health (I had the flu the week before we left). I hope we'll be lucky with the weather and that the snowpack will be OK.
Tamara: I want to just be myself, maybe with the ability to suffer a bit, like the Poles; - ... Then all we need is to get on well together and will give our dreams some wings! ;)
What about the timing, apart from the end of winter... talking of which there isn't much time left ...
Simone: Yes, we have time until 21 March 21... let's see.
Tamara: If good weather comes we'll give it all we've got, then we'll see further! I'm not an expert in winter climbing;-)
Now that the adventure has really began, deep down in your hearts, what do you hope most of all?
Simone: I reckon it's time for it to stop snowing and let us give it a go ;-)
Tamara: The best would be for us to summit. But the most important thing is that we return home safely, and with a lot more experience under our belts.