Shauna Coxsey and Alexey Rubtsov win Meiringen Bouldering World Cup
Britain's Shauna Coxsey and Russia's Alexey Rubtsov have won the first stage of the Bouldering World Cup 2016 at Meiringen this evening at Meiringen in Switzerland. Melissa Le Neve and Martin Stranik took silver, Megan Mascarenas and Jorg Verhoeven bronze.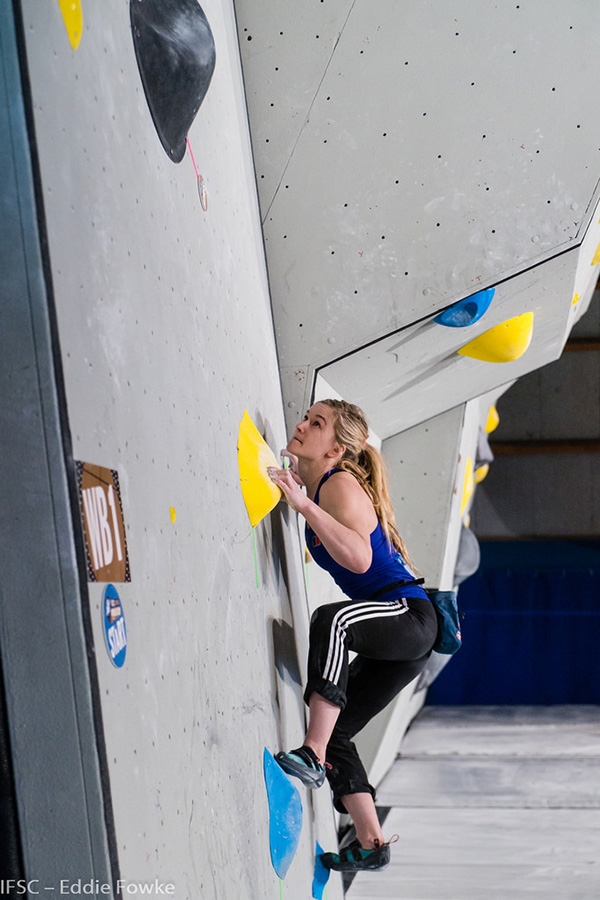 1 / 4
Shauna Coxsey during the first stage of the Bouldering World Cup 2016 at Meiringen, Switzerland on 15-16 April 2016
IFSC - Eddie Fowke
The opening event of the Bouldering World Cup 2016 took place in Switzerland's Meiringen yesterday and today and was won, after an extremely tight competition in particular in the men's event, by Russia's Alexey Rubtsov and Britain's Shauna Coxsey.
Coxsey qualified last for the finals but absolutely dominated the decisive round, flashing two problems and sending one third go, to beat Melissa Le Neve, who trailed by one problem, and America's Megan Mascarenas. The remaining three finalists, Akiyo Noguchi, Janja Garnbret and Clement Kaiser all failed to unravel any of the four final problems, and finished 4th to 6th respectively.
In the men's event, Rubtsov beat Martin Stranik and Jorg Verhoeven by the smallest of margins: all three sent 2 problems and were therefore separated by the number of attempts and bonuses. Alban Levier, Jakob Schubert and Tyler Landman finished their runs 4th to 6th but all stood an excellent chance of standing on the podium right to the very end.
A full report will follow in due course.

IFSC Climbing Worldcup (B) - Meiringen (SUI) 2016
Men
1 Alexey Rubtsov RUS 2t6 3b10
2 Martin Stranik CZE 2t6 2b6
3 Jorg Verhoeven NED 2t7 4b10
4 Alban Levier FRA 1t1 2b2
5 Jakob Schubert AUT 1t3 3b14
6 Tyler Landman GBR 1t3 2b4
7 Gabriele Moroni ITA
7 Mickael Mawem FRA
9 Jan Hojer GER
9 Kokoro Fujii JPN
11 Tsukuru Hori JPN
12 Rustam Gelmanov RUS
13 Jeremy Bonder FRA
14 Jernej Kruder SLO
15 Rei Sugimoto JPN
16 David Barrans GBR
17 Jongwon Chon KOR
18 Tomoa Narasaki JPN
19 Kipras Baltrunas LTU
20 Sean Mccoll CAN
WOMEN
1 Shauna Coxsey GBR 3t5 4b6
2 Melissa Le Neve FRA 2t4 4b6
3 Megan Mascarenas USA 1t1 3b3
4 Akiyo Noguchi JPN 0t 3b7
5 Janja Garnbret SLO 0t 2b2
6 Clementine Kaiser FRA 0t 1b3
7 Fanny Gibert FRA
8 Michaela Tracy GBR
9 Stasa Gejo SRB
10 Petra Klingler SUI
11 Leah Crane GBR
11 Jessica Pilz AUT
13 Sol Sa KOR
14 Miho Nonaka JPN
15 Chloé Caulier BEL
16 Katharina Saurwein AUT
17 Alannah Yip CAN
18 Margo Hayes USA
18 Vera Zijlstra NED
18 Alizée Dufraisse FRA