Stefano Carnati climbs Cornalba's Goldrake 9a+
On Sunday 20 March 2016 at Cornalba, Italy, Stefano Carnati made the third ascent of Goldrake, the 9a+ sports climb freed by Adam Ondra and repeated so far only by Gabriele Moroni.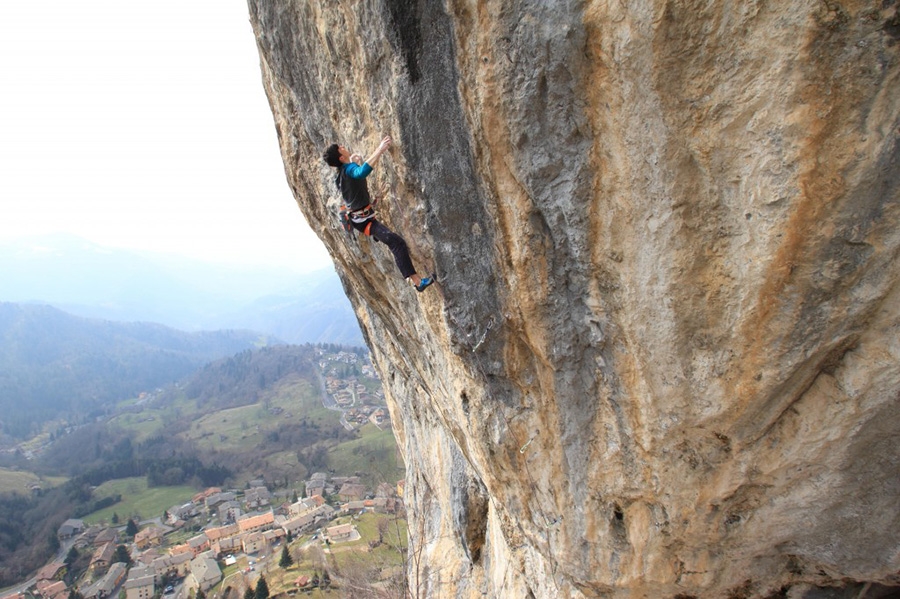 1 / 10
Stefano Carnati making the third ascent of Goldrake 9a+ at Cornalba, Italy, on 20 March 2016, after Adam Ondra (2010) and Gabriele Moroni (2014)
Adriano Carnati
Those who browsed Instagram late last night or, better still, who happened to climb at the historic Italian crag Cornalba yesterday, saw the important news: Stefano Carnati repeated Goldrake, the most difficult sports climb on that fantastic grey limestone mushroom high above Val Brembana. Goldrake was bolted years ago by the late Bruno Tassi, nicknamed "Camos", who had realized that the line was climbable yet futuristic, so much so that it had to wait until April 2010 to be freed by Adam Ondra. At the time the 17-year-old suggested 9a+, making it one of the hardest sports climbs in Italy, while in 2014 Gabriele Moroni pulled off the first repeat.
Yesterday it was 17-year-old Carnati's day: the climber from Erba and member of the Ragni di Lecco youth squad managed to link all the moves without making the slightest of mistakes. Proof that Sunday was special comes from another ascent carried out just a few hours later: the 8c C'era una volta in America, an enchainment of the two pitches of Feedback (8b & 8a+) bolted by Bruno Tassi and freed in 1993 by Beppe Dallona that, even today, has seen only a handful of ascents. These include Stefano Alippi in 1998, Cristian Brenna in 2001 and Yuri Parimbelli in 2003.
The fact that Carnati managed to redpoint Goldrake isn't all too surprising - in November 2015 he sent his first 9a, Coup de Grace in Val Bavona, Switzerland - but the speed with which he dispatched his first 9a+ is truly astounding: a mere 13 attempts spread out over 5 days. Just before starting school this morning he told Planetmountain.com:
"Yes, the redpoint was truly unexpected! On my previous attempts I kept falling off just before the crux moves. Yesterday I managed to climb past my previous highpoint and even now I don't know how I managed to keep it together and reach the chain. The individual moves felt OK right from the start, but I really didn't believe things would go so well on the redpoint!"


20/11/2014 - Gabriele Moroni: from competitions to Goldrake, sport climbing in his DNA
Interview with Italian climber Gabriele Moronim from his first competitions to when he won bronze in the 2004 European Bouldering Championship in 2004, via his bouldering and sport climbing which recently netted him the redpoint of Goldrake 9a+ at Cornalba, Italy.


TOPO: climbing at Cornalba