Stefano Carnati climbs Coup de Grace 9a in Val Bavona, Switzerland
17-year-old climber Stefano Carnati from Italy has redpointed his first 9a sports climb, Coup de Grace in Val Bavona, Switzerland.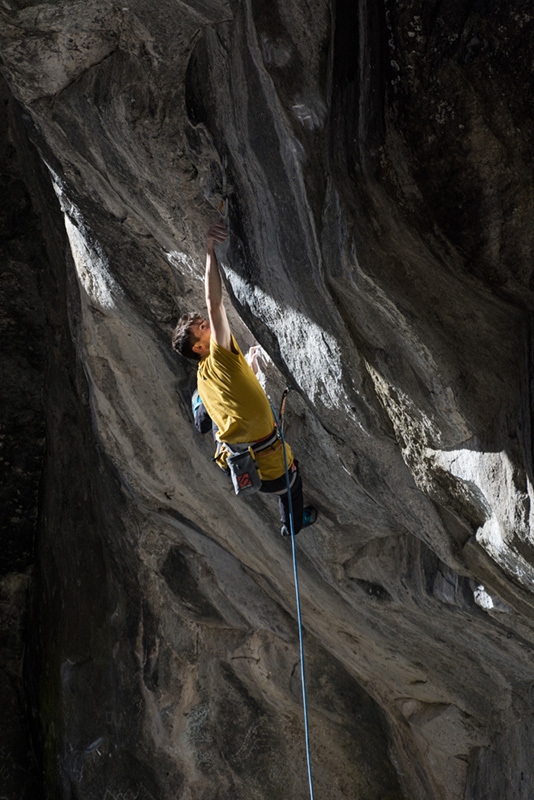 1 / 8
Sefano Carnati climbing Coup de Grace 9a in Val Bavona, Switzerland
Tomaso Viganò
Stefano Carnati
evidently has a weakness for Switzerland. Better still, whenever he travels to Switzerland he gets even stronger. It is in the Swiss Confederation that in February 2014, aged 15, he climbed his first 8c+ (
Deus Irae
at Cubo, Claro) and it is in the same canton of Ticino that the 17-year-old has now climbed his first 9a,
Coup de Grace
.
The route in question breaches the impressively overhanging prow on the enormous granite boulder close to the Sonlerto hamlet in Val Bavona, is circa 20m high and was freed in 2005 by America's Dave Graham and repeated in 2011 by Gabriele Moroni. Coup de Grace is marked by a difficult start - in the region of 8A boulder - that Carnati had attempted a few years ago, but at the time the moves proved too complex. A few weeks ago the Italian cracked the sequence and on Friday 13 November, making the most of the crisp autumn conditions, he pulled off the route's third ascent. Just to prove that he's no slouch on his home turf, a few days later the ace Ragni di Lecco youth team member also repeated the 8c+ Charlie and the Cats at Cimbergo in Valcamonica.