Silvan Schüpbach frees Ultimo Sogno on Parete d'Osogna, Switzerland
Swiss climber Silvan Schüpbach has made the first free ascent of Ultimo Sogno, a tough climb up the rugged Parete d'Osogna face high up in Switzerland's Ticino region.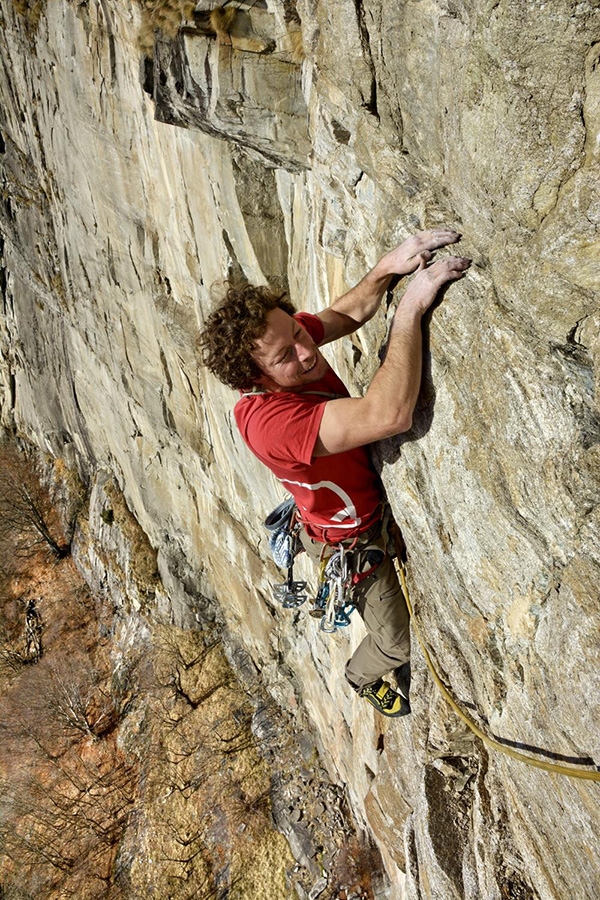 1 / 5
Silvan Schüpbach traversing after the roof during the first free ascent of Ultimo Sogno, Parete d'Osogna, Switzerland on 06/04/2016 together with Berne Emmerich
© Silvan Schüpbach
Ultimo Sogno breaches the obvious roof on the huge south face above the village of Osogna and had been established by Genesio Petazzi & partners with the use of aid in 1979. Due to its obvious difficulties and the arduous, 3-hour approach the route fell out of favor and only in more recent times has the entire face been experiencing a revival of sorts, led in particular by Luca Auguadri who managed to free the route Via Gabriele and Simon Riediker who established some bolted free climbs.
In December 2015 Silvan Schüpbach and Christian Ledergerber were enticed by the mountain's demanding climbing and solitude, made the 1000m vertical gain to the bivouac and then carried out the first ascent of Chris-chiubi, a four pitch 7a trad outing on the lefthand side of the lower face. They also checked out the roof of Ultimo Sogno, considered one of the last remaining challenges with a reputation of being "for the next generation".
Schüpbach soon realised that with a bit of effort the line could go free, but the greatest difficulties the Swissman encountered was finding a motivated partner. During a two-day stint with Simon Spori the duo managed to unravel the roof sequences, but then winter set in. Berne Emmerich proved willing enough to try the route in spring, and on 6 April Schüpbach freed the roof on his 4th try, having free climbed the lower pitches earlier that morning. The climbers continued up the next two pitches, but did not climb the final three pitches as they were put off by the thick vegatation the fact that the difficulties eased off considerably at this point.

"The first three pitches climb outstanding splitter cracks with difficulties estimated at 7a, 7b+ and 8a+" explained Schüpbach, before adding "then the route continues with a further two pitches, graded 6c and 7a+. We climbed the next two, then abseiled off since the last three pitches are extremely overgrown and dirty."

Those wishing to repeat the route should note that the crux pitch is a 10m roof crack, which is by no means easy to lead nor follow. The route is protected by original pegs and trad gear, and nothing was added to the line.

Ultimo Sogno
Parete d'Osogna, Ticino, Switzerland
FFA: Silvan Schüpbach, Berne Emmerich 06/04/2016
Grade: 7a, 7b+, 8a+, 6c, 7a+