Kalymnos climbing, new crags Arginonta Valley and Black Buddha
Aris Theodoropoulos introduces Arginonta Valley and Black Buddha, two new crags on the island of Kalymnos, Greece.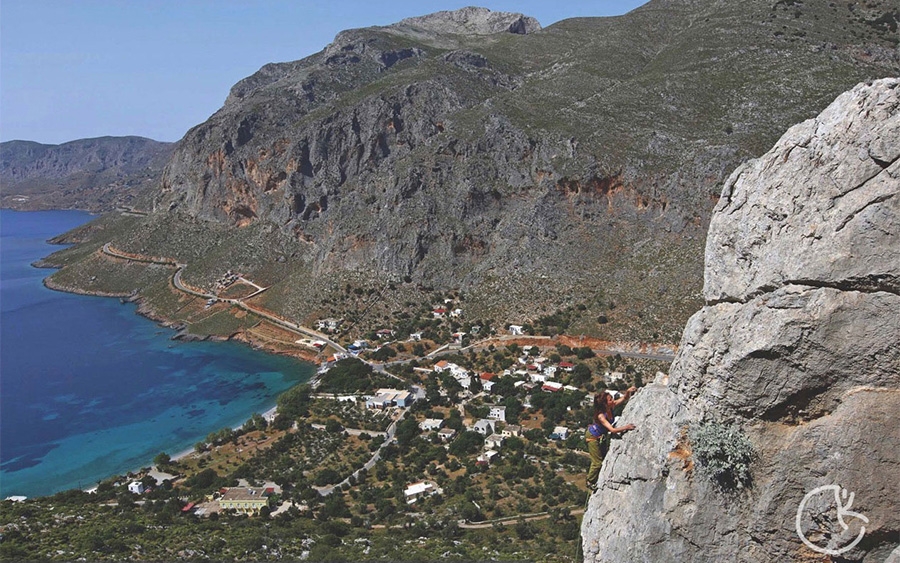 1 / 3
Francesca Canciani climbing Rintintin 5c+ at Black Buddha, Kalymnos
http://climbkalymnos.com/
Arginonta Valley and Black Buddha are two newly-developed sectors across the road from the popular red cliff of Arginonta. Both new sectors were developed as part of the 2015/16 EU-funded maintenance and equipping project. The new cliffs fill a need on Kalymnos for more mid-grade climbs and more shade. With the vast majority of grades between 5c to 7a and shade from 10:00-16:00 at Black Buddha or from noon until the end of the day at Arginonta Valley, both new sectors are expected to become increasingly popular.
Sector Arginonta Valley is above a valley with beautiful, centuries-old gnarled olive trees. The trees were completely neglected but the terrain around them has been cleaned and their shade can now be enjoyed freely. The sector's three distinct sections offer a bit of everything: steep slabs full of good holds and some horizontal streaks, juggy bulges, and steep overhangs with some colonettes. Most routes were equipped by Aris Theodoropoulos and Claude Idoux.
Sector Black Buddha is high above Arginonta Bay, with beautiful and unusual views over the village and the sea. With many hours of mid-day shade this is another good option for hot days; however, the approach path is in the sun. Routes are around 6a, on grey/black slabby rock full of small bulges and big holds often hiding overhead. Most routes were equipped by Claude Idoux in 2015/16.
Grades are not confirmed yet at either sector, as the routes are very new and have only seen a handful of ascents. As always, we welcome your grade suggestions. After climbing at Arginonta Valley or Black Buddha, the handful of small friendly shops in Arginonta are perfect for relaxing.

by Aris Theodoropoulos

KALYMNOS CLIMBING FESTIVAL
From 7-9 October 2016 the Kalymnos Climbing Festival will take place on the island, with special guests including Angela Eiter, Roger Schaeli and Urko Carmona Barandiaran. Events include the open climbing marathon, deep water solo, slackline, the children's "Marasi climbing", parties, and presentations by Urko and Angela on Friday and Saturday, respectively. For further information visit climbkalymnos.com


TOPO: Arginonta Valley, Kalymnos


TOPO: Black Buddha, Kalymnos


TOPO: Climbing on Kalymnos, Greece