Jakob Schubert & Domen Škofic climb two 9a+ at Flatanger in Norway
At the Flatanger - Hanshellern cave in Norway Jakob Schubert from Austria and Domen Skofic from Slovenia have repeated, respectively, Kangaroo Limb and Thor's Hammer. Both of these sport climbs are graded 9a+; on the same day Schubert then onsighted the 8c Nordic Flower.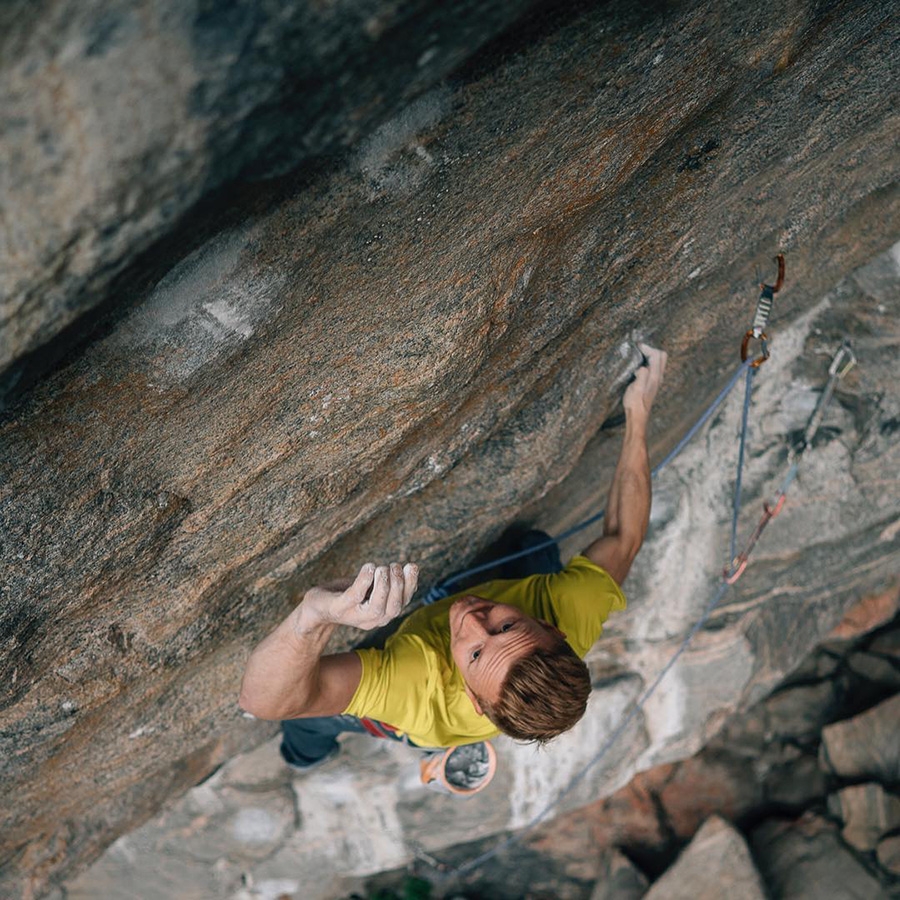 1 / 2
Jakob Schubert grabbing the second ascent of Adam Ondra's 'Kangaroo Limb' 9a+ at Flatanger, Norway
Elias Holzknecht
As it happens, while reporting about Stefano Ghisolfi and his quick repeat of Le Cadre Nouvelle at Céüse yesterday we mentioned the fact that 9a redpoint, for a select few, is in many ways little more than a formality. Not a warm-up in the true sense of the word, obviously, but certainly something that can be done in a brace of shakes.
Confirmation of this comes from two other of the world's elite, against which Ghisolfi will measure himself shortly in the upcoming Lead World Cup, namely Austria's Jakob Schubert and Slovenia's Domen Škofić. Yesterday, during a lightning trip to the Hanshellern Flatanger cave in Norway, the duo made fast redpoints of two 9a+, both first ascended by Adam Ondra. Schubert set the ball rolling with the first repeat of the shortest route up the cave, Kangaroo Limb, after just seven attempts this year and a quick reccie last year, while Škofić successfully made his way up the longest outing in the cave, Thor's Hammer, after four days of work.
Perhaps even more impressive, later that day Schubert then went on to on-sight Nordic Flower, a climb put up by Jorg Verhoeven in 2011 that Schubert describes as "one of the best 8c on the planet." To end the afternoon on a roll, Škofić then flashed the line. It's worth noting that Schubert had previously climbed three routes in the cleanest of styles - Sex after Climb at Otiñar, Aitzol at Margalef and Fish Eye at Oliana - but despite nearly 12 years having gone by since Yuji Hirayama made the world's first 8c onsight, those who are actually capable of such a feat are still very, very few indeed.
In recent summers the Flatanger cave at Hanshellern has evolved into the meeting point par excellence for the best climbers in the world who travel up north to escape the sultry heat and find perfect friction. Other routes waiting to be repeated by the likes of Schubert, Škofić & Co are two 9b's, Iron Curtain and Move, and obviously the first 9b+ in the world, Change. All three were freed by Adam Ondra, who seems intent on returning for an extended period this summer to try establish other new testpieces.
Jakob Schubert dealing with the crux section of Kangaroo Limb, 9a+ at Flatanger in Norway

07/10/2004 - Yuji Hirayama, the White Zombie 8c on-sight interview
An interview with Yuji Hirayama after the first ever 8c on-sight: "White Zombi", Baltzola Cave, Spain.