Heinz Zak & Separate Reality - the film of his Yosemite free solo
12 years ago Austrian climber and photographer Heinz Zak made the second free solo of Separate Reality, one of the most famous rock climbs in Yosemite Valley, USA. The film of this audacious ascent, which followed that of Wolfgang Güllich in 1986, is called 'Träume sterben nie', Dreams never die.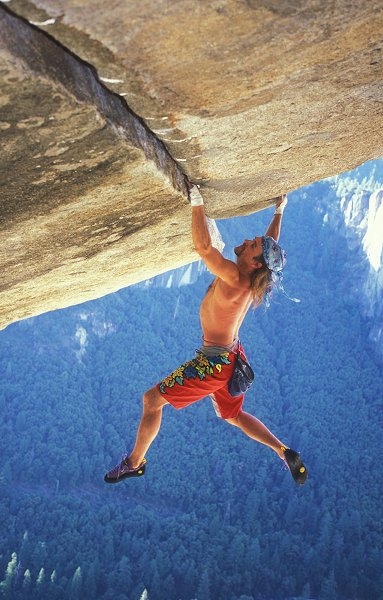 1 / 3
Heinz Zak making the second solo ascent of Separate Reality, 5.11d, Yosemite
Heinz Zak archive
Some say that ideas, that dreams, can turn into an infinite, magnificent obsession. That dreams never die. In German, Träume sterben nie. Which happens to be the title of the film made by Austrian climber, alpinist and photographer Heinz Zak that documents the realisation of his nigh 20-year-old quest to free solo the legendary Separate Reality in Yosemite.
The climb needs little introduction: it is considered one of the absolute milestones in crack climbing and the first ascent, carried out by Ron Kauk in 1977, proved absolutely groundbreaking. At the time, the horizontal 6m roof heralded new horizons that were only just being explored.
As it well known, German climber Wolfgang Güllich entered into a whole new dimension on this climb in 1986 when he made the first, absolutely astounding free solo. The ascent was photographed by Zak and although in that instant a solo "was completely out of my reach, not physically, but mentally", it started to fuel his inner desires. So much so that at a certain point Zak realised that the moment had come. He built a replica of the roof crack in his garage and after months of physical and mental preparation, in May 2005 he travelled to the valley to make his solo, suspended free 200m above the Merced river.
That was back in 2005 and since then the route has been free soloed by Dean Potter, Alex Honnold and Will Stanhope. Zak's film remains a pertinent document, despite being in German only unfortunately, and is well worth watching. For those who missed it, we highly recommend the interview we made with Zak immediately after his ascent, where he admits he climbed into a whole different dimension. 12 years ago.