Caroline Ciavaldini / Turkey Crack at Cadarese
In mid-May French rock climber Caroline Ciavaldini made a rare ascent of Turkey Crack, an 8a trad climb at Cadarese. This is the story of her rare ascent.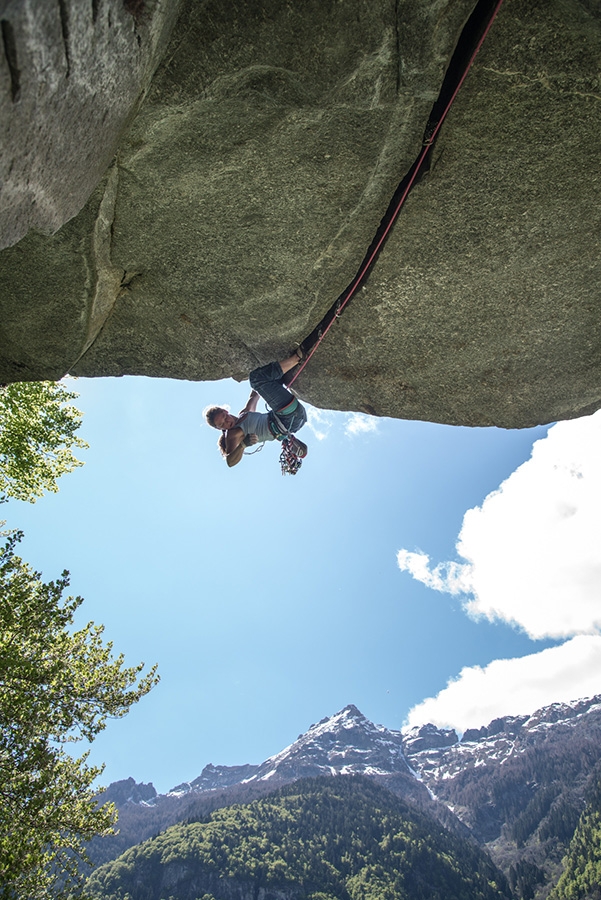 1 / 5
Caroline Ciavaldini repeating Turkey Crack, Cadarese, Italy
Riky Felderer
Turkey Crack at Cadarese in NE Italy has a fearsome reputation. First climbed by Belgium's Sean Villanueva six years ago, this steep offwidth sees precious little repeats, which makes Caroline Ciavaldini's fast redpoint all the more impressive. Especially since the French climber banks on a sport climbing background. While this redpoint was no doubt training for her greater objective, the Voie Petit on Grand Capucin, it was nevertheless interesting to see her transformation and progression as a climber.

TURKEY CRACK by Caroline Ciavaldini

It was that time of the year again, our friend Ricky Felderer had invited us to the "Cadda party" a friendly week end of climbing and drinking together in NE Italy. Never heard of Cadarese? Well you arrive at the car park in Val, and up there on one side of the valley there's this quite intensely vegetated granite crag. At first glance, you wouldn't believe there is any good climbing at all. But then, by a marvel of changes in perspective, you realise that first appearances can be deceptive. The crag forms several horizontal levels where trees prosper, like a very steep pyramid, each level split by a narrow ledge and a 15 to 30 meter wall of perfect, compact granite, broken by pristine vertical cracks.
I first visited Cadarese 5 years ago, in between two climbing World Cups while accompanying James on his trad wanderings across Europe. What do I remember from then? Granite. I had pretty much never climbed on granite before, and I didn't understand it. I found it very frustrating as the routes tend to be more bouldery, weird and less reliant on power endurance. And consequently less interesting as training for competitions than limestone crags such as Oliana. I was fairly impressed by the crag though and its very narrow, slopy ledges. On the upper levels you realise that a wrong step would send you tumbling and surely to you death 100 meters below. In fact, five years ago I didn't even walk to the furthest routes, I was simply too awestruck to continue.
At that time I belayed James on several trad routes, and in order to try and train I stuck my fingers into a very short trad 8a, Mustang. A 10 meter finger crack… Nothing like I had ever climbed before…. Ever seen a crack in a Lead World Cup? Well I hadn't. Still haven't.
At the end of the day though Cadarese didn't appeal to me, because I couldn't toprope anything in the 8th grade. And I certainly couldn't even consider leading a route, as I'd only just started learning how to place James' trad gear.
I've been back to Cada a couple of times, first to toprope Grazie Ricky (a bolted 8a+ at the start of the sectors), then to lead it on bolts (the bolts are quite far apart, and initially I'd simply been too afraid), and then finally to make the trad lead 3 years ago. I was really quite proud of myself.
And now, 5 years down the line…
5 years down the line I realise just now how much I have changed. I arrived at the base of Cadarese, and to tell the truth I still wasn't impressed. Yes, down from the road, it definitely doesn't look like much. And the walk is just as steep as I remembered it to be. And then there are those ledges…
What has changed most though is how I see the rock now… Granite. I have started to develop a relationship with it, while my old love for the never-ending steep limestone tufas has muted into nostalgia, boredom. Granite creates lines. At times perfect lines. Cracks dictate the line, not the bolts. I pass my hand across the rough texture, and it makes a promise for days to come.
On this particular week end, I really want to have a play on Mustang again. The same route where I couldn't even comprehend the moves on a toprope. I start up it, my harness heavy with Zero Friends and a rack of nuts. It's always impressive to place Friends in a small crack, to me at least. I still don't have that much experience with cracks, since the English trad I've done so far is more about face climbing… But I've been on Strawberries at Tremadog, London Wall on the grit…. I work my way up Mustang, learning the moves, what gear is needed, where my small feet should go. Why does it feel so different now? I place precise long tick marks for the exact gear placements, little chalk points for the small feet, and I know that I will just have to stay calm, breathe and relax when I place the pro. I climb perfectly on my first redpoint attempt, and really, it's fine. I am so surprised. Have I changed so much as a climber?
Another route on the agenda this weekend is Turkey crack. A 5 meter long roof crack, offwidth. I've climbed a small one in Val di Mello, a long vertical one at Yosesigo. But offwidths… I really am no master at them. But when I walk beneath Turkey crack on Sunday, with a solid hangover from all that wine during Saturday night's party, I decide I just want to get my hands dirty and see what it's like. It looks fun. So I set off, with all the big #4, #5 and #6 that I manage to borrow off everyone else… I've decide to try it "wide-pony" style. I've never done that before, but James thinks this might work, and I know this is how the wideboys do it, usually… And it works! Pretty easily even!
Why does Turkey crack work better for me than for the guys? Put simply, because I have smaller feet. I can slide them deeper into the crack, and on my onsight attempt things go quite well. But I am too slow and the little muscles that I never normally use, on the sides of my shin, cry for mercy just one meter from the top. Offwidth climbing is a bit of a masochistic game… but I already knew that from watching Tom Randall and Pete Whittaker, and I'm not afraid of pain. Talking of which - you might not believe it, but World Cup training is painful, too! A good rest, some laughs with every one grunting and panting up the various other crack climbs… and then I have another go.
The Friends are still in-situ since no one has taken them out after my first attempt, and this surely helps. But I know how to pony now, I just climb fast, avoiding that one place where my feet don't wedge in, and I even manage to go hands-free for an instant. Just as I begin to feel the fatigue I reach the jug at the end of the roof. The finish is easy now.
Why did Turkey crack go so easily? Because I fit. It is cut for my feet, and that makes a pleasant change from a lot of routes where girls have to use tiny intermediates, dyno to holds instead of reaching them statically…. Yes, it is morpho, just like any route is morpho. This time though, it is better for the girls.
Cadarese, the crag that I used to dislike… Judgement is often associated with performance, but why have I come to like it? Well, knowing that I can actually climb there helps, but I have come to respect it for the climbers that love Cadarese weekend after weekend, for the originality of it. And, quite simply, for its perfect granite.
I am definitely not any "better" than I once used to be. I have less power endurance, less core strengh. But during these last 5 years I have learned a lot. And I will keep on learning, there is so much that I still do not know in climbing, and that is exactly why I love it.