Alex Honnold free solo climbs El Capitan, Yosemite
American rock climber Alex Honnold has made a free solo ascent of Freerider on El Capitan, Yosemite. In doing so he has become the first person to climb El Capitan without ropes.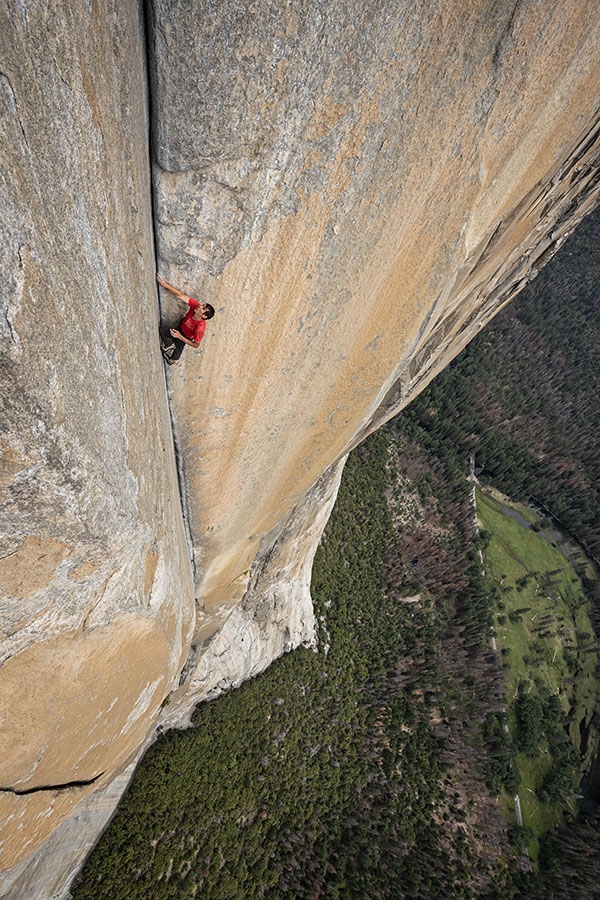 1 / 42
Alex Honnold free solo climbing Freerider, El Capitan, Yosemite, USA on 3 June 2017. In doing so he has become the first person to climb El Cap without ropes
Free Solo / Jimmy Chin
In what is being described as the "next level of solo climbing" and "arguably the greatest feat of pure rock climbing in the history of the sport", on Saturday 3 June 2017 America's Alex Honnold made an audacious, rope free ascent of the Freerider route on El Capitan in Yosemite. In doing so, Honnold has become the first person to free solo the nigh 1000 meter high granite monolith.
Free Rider was first "discovered" in 1995 by Alexander Huber, then climbed free in 1998 by the German and his brother Thomas Huber. The big wall is considered an extreme classic - it follows the line of The Salathé Wall and then, high up on the headwall, avoids the 8b crux and continues independently for 4 pitches, past difficulties up to 5.12d (7c).

In order to place Honnold's ascent in perspective, it's worth noting that in May 2007 Canada's Stéphane Perron carried out the first solitary ascent of the route, requiring seven days for his all-free, rope solo ascent. In 2013 Dutchman Jorg Verhoeven made a rope solo repeat over four days, resorting to aid at times, while in 2016 Britain's Pete Whittaker made an all-free rope solo ascent in under 24 hours.
According to Mark Synnott writing for National Geographic, Honnold set off at the break of dawn, at 5:32am and, climbing swiftly and steadily, topped out a mere 3 hours and 56 minutes later. Tommy Caldwell, who freed the most difficult route on El Capitan, Dawn Wall, together with Kevin Jorgeson in 2015, has described Honnold's Free Rider ascent as "the 'moon landing' of free soloing." Honnold had climbed the route in the past, most recently at the end of May together with Caldwell when the two blasted up the route in a mere 5 and a half hours.

Alexander Huber stated that at the time of his 1998 free ascent "it was still way out of the visible horizon to imagine that the wall of El Capitan could be free soloed one day. Chapeau bas... Alex Honnold did it. He free soloed the Freerider. A historic ascent!"

Hansjörg Auer, who in 2007 stunned the climbing world with his free solo ascent of the Fish route on Marmolada, Dolomites, told planetmountain.com "I have great respect for what Alex has just achieved. And am really happy for him, because I know how he feels. I can imagine that doing this on the Yosemite stage, where everything is amplified, is difficult to deal with. I think it would be wrong to compare my solo of the Fish route with Freerider. Although the overall demands are similar - length, height and exposure - the style of climbing is just so different. Every solo is simply unique. Congratulations to Alex!"

Honnold's Saturday solo comes in the wake of a series of other extremely difficult, extremely dangerous free solo climbs, predominantly in Yosemite where slowly but surely he has been pushing standards that have all led to this monumental climb. In 2012 he carried out a fast solo ascent of the Triple Crown in Yosemite, climbing Mount Watkins, El Capitan and Half Dome in under 11 hours, at times with the use of aid, and this came after his 2011 solos of the single pitch routes Heaven, Cosmic Debris and The Phoenix, while in 2008 he soloed the Regular NW Face on Half Dome. However remarkable in their own right, they pale in comparison to Freerider free solo.


Alex Honnold is Ambassador La Sportiva