Psycho Vertical, Torre Egger, Patagonia first repeat in 29 years. Interview with Korra Pesce
From 7 to 9 January 2016 Tomy Aguilo, Corrado Korra Pesce, Roland Striemitzer, Iñaki Coussirat and Carlitos Molina made the coveted second ascent of Psycho Vertical, the route first ascended in December 1986 up the southeast face of Torre Egger in Patagonia by the Slovenians Janez Jeglič, Silvo Karo and Franček Knez.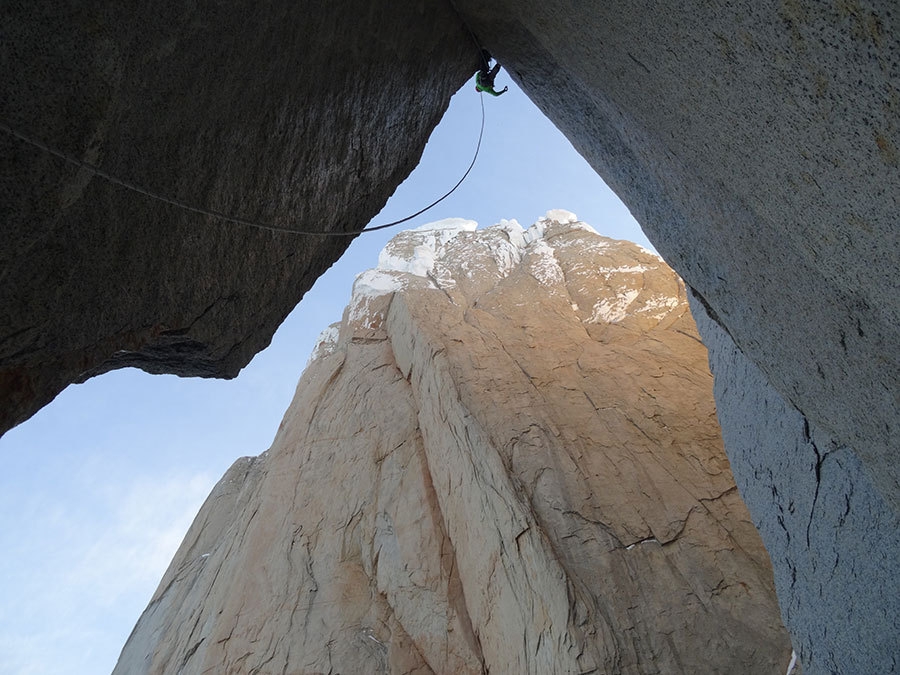 1 / 15
Corrado Korra Pesce climbing Psycho Vertical, Torre Egger, Patagonia
Roli Striemizer
Almost 30 years. 29 years and one month to be precise. This is how much time has elapsed since the first ascent of Psycho Vertical, the legendary climb established in December 1986 up the SE Face of Torre Egger by the Slovenian alpinists Janez Jeglič, Silvo Karo and Knez Franček. This superb trio is widely considered one of the strongest of all time, so much so that during these last three decades the bold ascent had never been repeated. That is, until early this January when, curiously and completely by chance, two teams gathered at advanced base camp gunning for the coveted first repeat. The first team was comprised of Argentina's Tomy Aguilo, Italy's Corrado Korra Pesce and Austria's Roland Striemitzer, while the Argentines Iñaki Coussirat and Carlitos Molina made up the second team. The five climbers set off independently from one another on January 7, but when they reached the summit at 22.00 on 8 January they had forged into a single, close-knit team. Before that though the five bivouacked on a ledge big enough for only two, breached plenty of aid and succeeded in the first alpine-style first ascent of this mythical route. After a second bivouac just below the summit, they five then began the descent at 5:30 on January 9 along the American route and returned to El Chalten later that day. A fairytale finish to this little jewel in mountaineering's crown, with which the three Slovenians left their mark, not only in Patagonian climbing history, and inspired generations of climbers.

Korra, first of all, why this route?
I first found out about the aura this route is shrouded in when reading the book Patagonia by Gino Buscaini and Silvia Metzeltin. Then, a few years ago, just before nightfall I found myself at the foot of the E Face of Cerro Torre and the SE Face of Torre Egger. I couldn't believe what I saw and felt overwhelmed by those two towers illuminated by moonlight. Just the thought of ​​attempting any of those super-routes motivated me to return to Patagonia again and again. But not only, they also motivated me to try to learn all I could in order to repeat a route like this.
What did you know about the climb beforehand?
The Slovenes Silvo Karo, Janez Jeglic and Francek Knez climbed the obvious line of corners and cracks up the SE Face of Torre Egger. It is one of four climbs established by this dream team of some of the best climbers of all times. We imagined that the rock might be better here than on their other routes, which to-date are still all unrepeated. Psycho Vertical was the line that seemed to offer the best chance of success when climbing light. In addition it has a really cool name, just like the others, so much so that Britain's Andy Kirkpatrick used it for his book, even though he never even touched the route. This suffices to explain how much this incredible route has captured the imagination of all those who love extreme climbs.
Did you travel to Patagonia specifically for this route?
I can't say it was the goal of the season. I traveled with my usual 23 kg of luggage, my dreams and crazy ideas weigh little so almost everything was possible. Especially since when Tomi and I team up we can aspire to climb difficult things. I don't know if this route had been attempted in the past. Rolando Garibotti suggested we give it a go and Ermanno Salvaterra had told me that he'd recommended it to others. So I guess they've been plenty of climbers who've had this route in mind.
Tell us quickly about your climbing partners?
My partners were Tomas Roy Aguiló who lives here in El Chaltén, he has an impressive list of ascents to his name and we get on really well. We have a similar climbing vision and this greatly contributed to our success. Roli is Austrian, has been a mountain guide for a year, and is a beast of a man! For personal reasons Tomi initially couldn't come so I contacted Roli, who was already here in Patagonia with other climbers, but he wanted to try Torre Egger since he hadn't climbed it yet. Tomi then managed to get some time off and so we immediately thought of doing something difficult. And Roli told us that he was game for anything...
How did things go initially?
Before we left we tried to figure out how to make best use of the good weather. Slap bang in the middle of several beautiful days the forecast was for a couple of days with strong winds. So we set off from El Chalten on 6 January in beautiful weather, approached the Norwegian camp and bivvied there. Our plan was to use the next windy day to climb the sheltered lower section of the route and use 8 January to summit. If all went according to plan, we'd have half a day on 9 January to descend before the wind picked up again, and in the end this is exactly what happened. We followed this timetable and this was crucial to our success.
After 29 years though, you suddenly discovered that you wouldn't be attempting the route alone, but instead you'd be sharing it with two other alpinists…
When we reached the Noruegos camp we knew we'd meet Carlitos and Iñaki, two highly talented and fearless Argentines. We didn't know what they wanted to climb but at least once before at El Chalten they'd mentioned they wanted to attempt the route, it was Carlitos' dream. They were worried they'd have to do some extreme mixed climbing, for which they felt they weren't good enough, but were nevertheless confident that the 5-day weather window predicted by the forecast service we usually use would suffice to complete the route. Our forecast though was less optimistic. In any case, we suddenly found ourselves at the Noruegos camp not only with the burden of having to climb an impressive, unrepeated route, but also the additional pressure of having to deal with another team… I told myself that this was just another problem to add to the equation. We packed our rucksacks and set off a few minutes before them, ours ropes ready to be uncoiled from our packs just like any other day on Aiguille du Midi, where beating others to a climb can prove vital. Let's just say I'm used to doing this sort of thing and my partners played along, knowing full-well that it was important for us not to get stuck behind another team.
So when did you decide to join forces?
Roli quickly climbed the first, by no means easy, 3 - 4 pitches in the gully, then at the foot of the face proper Tomi took the lead. Eight pitches of predominantly aid climbing slowed us down. The Argentines reached us and seeing that leading all the pitches after having waited for ages at the belay would have jeapordised their ascent, we offered to fix ropes on the aid pitches. And so we were five. Although this could have some advantages, I only saw the drawbacks and just the thought of hitting them with rockfall or a block of ice was really stressful.
But...
The fact that 65% of this double team was comprised of Argentines ensured that stress gave way to a very jovial atmosphere.
Tell us about the first bivouac…
It was late afternoon I tried to reach the first two places on this extremely vertical face we hoped would be suitable for a bivy. We decided to stop at the foot of an overhanging dihedral and while I fixed the ropes on the next pitch the boys cut a ledge that wasn't bad for two, but for five... no comment. It was a tough night, but we were happy because the clouds in which we found ourselves for several hours dissipated and the wind we heard howling through the Col of Conquest calmed down.
The difficulties of the route? You described it as "maybe the toughest route i have ever climbed."
The climb was difficult from start to finish and I've never had to climb so much aid. The countless wet and verglas covered cracks made us sweat and cleaning the ice out of the cracks on the upper section wasn't always obvious. I dry tooled my way along the upper corner, just like I often do at home on Mont Blanc and this proved extremely useful. If I'd have to give a grade I'd say 950m 6b A3 M8, 90° ice.
And then you reached the summit.
Once below the summit mushroom we knew we were close and I was overjoyed to reach the top for my second time.
The first ascent of the Slovenes in 1986... what do you think about it now, after having repeated the line?
It was impressive, just like all their other climbs. Theirs was definitely one of the best partnerships ever. It was an honor to be able to repeat their route, we feel extremely fortunate to have succeeded.
Silvo Karo wrote "Some day the routes may be climbed free, solo and in one day. This is a natural development, a kind of staircase where every new step follows the older one. " What is your next step in Patagonia.
Silvo Karo explained really well how things work with regards to mountain climbing and innovation. They'd perhaps realised that this climb, given the right conditions, could be done lighter style. Thirty years were needed. Which leads me to believe that there is little room to improve on what they achieved with great skill and ability. I'm happy to savor the fact that we managed to repeat their route, I don't think we did anything particularly innovative, for years now climbs, even difficult ones, have been done in light style. Since 2005 with El Arca de los Vientos, via the first ascent of Venas Azules by the Norwegians, it's been a few years now that alpinists can dare climbs of this sort. For me, the next stage is to add more problems to the already complicated equation that these titanic faces represent. Perhaps on Cerro Torre, where the rock is worse.