Nangpai Gosum II first ascended by Jost Kobusch
24-year-old German alpinist Jost Kobusch claims the first ascent of Nangpai Gosum II, the 7296 meter high mountain located on the border between Nepal and China.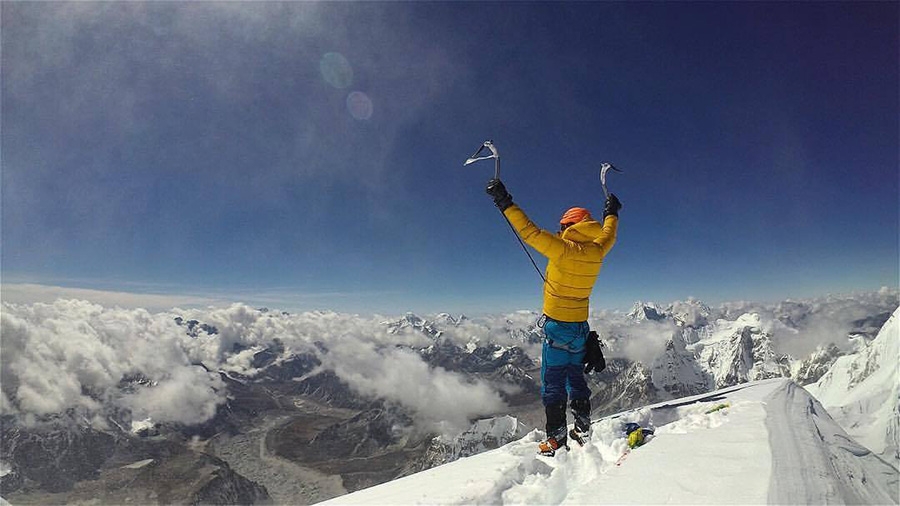 1 / 2
Jost Kobusch on the summit of Nangpai Gosum II 7296m
Jost Kobusch
Until only a few days ago the 7296 meter high Nangpai Gosum II was considered one of the highest unclimbed mountains in the world. Located on the border between Nepal and China, it may even have been the fourth highest virgin peak. News just in is that 24-year-old German alpinist Jost Kobusch climbed solo to make the mountain's coveted first ascent.
Kobusch spent 53 days on expedition, during which the most difficult moments were realising that Base Camp had been established 2 kilometres away from the base of the route, and also accepting the fact that the line chosen for a first attempt was simply too dangerous. Warmed by the sun, the sliver of ice he was climbing on was too thin and after having risked falling, he retreated.
The best moments were setting eyes on the mountain for the first time and, obvioulsy, reaching the summit. Having identified a second line of ascent, Kobusch climbed swiftly with only a harness and very little gear. Wading through deep snow shortly before the summit proved arduous but then came the "liberating" moment. Kobusch stated "all the pain, all the effort I'd put in beforehand disappeared. I think not even I believed I'd succeed, but instead there I was thinking, wow, I've done it!" A few minutes later he descended down the line of ascent.
Located just to the west of Cho Oyu, Nangpai Gosum is actually comprised of three distinct summits: Nangpai Gosum I (North) 7351 m, Nangpai Gosum II (Middle) 7296 m and Nangpai Gosum III (South) 7240 m. The North summit, also known as Jasemba, was first climbed on 12 October 1986 by a Japanese expedition via the NW Ridge from Tibet. Other notable climbs include the Slovenian ascent of the SE Face and South Ridge in 2004, the South Ridge ascent in 2007 by South Tyroleans Hans Kammerlander and Karl Unterkicher, and the 2009 first ascent of the SSE Face by Switzerland's Simon Anthamatten, Samuel Anthamatten and Michael Lerjen.

On 1 May 2016 Kobusch climbed Annapurna, his first 8000er, without supplementary oxygen.

Link: www.jostkobusch.com, FB Jost Kobusch