Felbertal, another big new icefall up Hochbirghöhe in the High Tauern
On 23/12/2016 the mountain guides Vittorio Messini and Isidor Poppeller made the first ascent of 'Pinzga Stier' (WI5, 1200m), a new ice climb up Hochbirghöhe in Austria.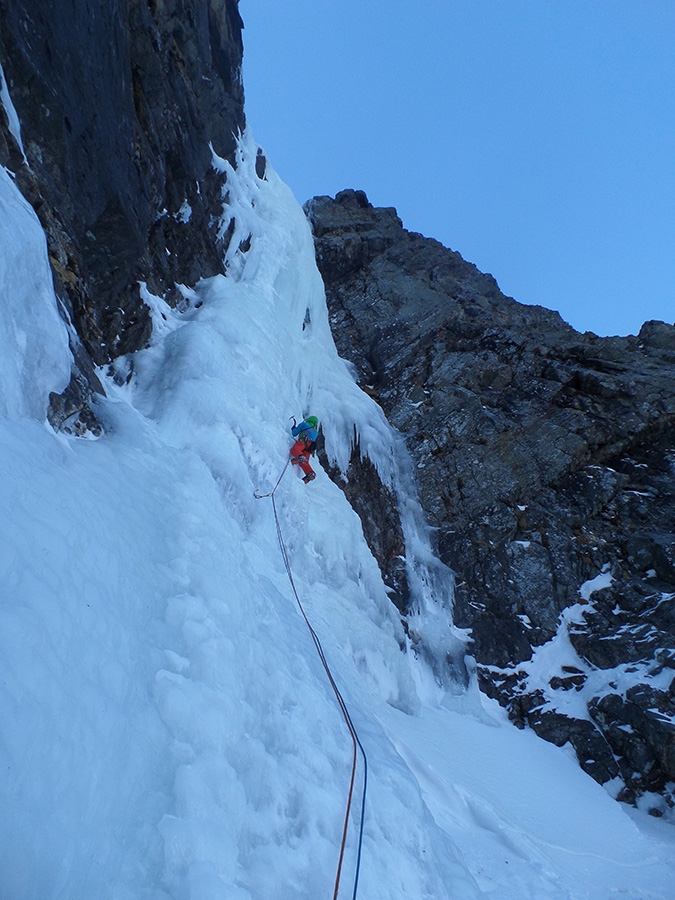 1 / 9
During the first ascent of 'Pinzga Stier' (WI5, 1200m, Vittorio Messini, Isidor Poppeller 23/12/2016) Hochbirghöhe (2767m)
Vittorio Messini, Isidor Poppeller
Inspired by my latest long route Mehr denn je Hintersee and by the two new big icefalls Peter Ortner and I first ascended (Goaskogelfall, WI6 200m and Turbine M6 WI6 180 - a mixed variant of Schleierfall), on 23 December Isidor Poppeller and I once again made our way into the Felbertal valley.
This time we had a "pure" ice line in our sights, a little further to the right of the Hexenkessel and Tauernwind, put up by Dani Arnold and Mario Walder. Since this route has some sections that require walking, it is very exposed to avalanches and therefore it rarely comes into condition. When it does, wading through the deep snow is often very hard work.
This year though conditions are ideal, little snow and what little snow there is, has been packed firm by the wind! After less than an hour's walk from Lake Hintersee (a perfect place to park our e-bikes;-)) we reached the base of the route.
A succulent pitch of ice, lower grade IV, got us in the right mood for the difficulties ahead. Blue sky and no wind, everything was perfect, we could concentrate fully on our climbing. Another steep step followed, marked by ice mushrooms and steep bulges, and once again we realized that things were a lot steeper than they looked from below. A few short WI3 steps led us to a hidden section of the route. In a narrow gully, the icefall steepened once again. Although structureless, the ice was nevertheless soft enough and a good 60m pitch paved the way for the upper section of the route.

A long scramble, and one small bulge, brought us to the last steep section, and grade 4 ice pitch led us to the somewhat flatter exit couloir. It was then that we realized we'd forgotten the Abalakov hook down in the car... We could have rappelled using some rigid cord or some webbing, but abseiling down such a long icefall using this "emergency method" didn't seem the most intelligent thing to do. Instead, we decided to head not directly up to the ridge, but to traverse leftwards towards the ridge and summit of Hochbirghöhe, and then abseil down "our" Mehr denn je Hintersee which had already been repeated several times. We reached the summit a lot earlier this time and fully enjoyed the last rays of winter sun before abseiling back down into the shady valley…

by Vittorio Messini

RELATED NEWS
14/12/2016 - Hochbirghöhe: new ice and mixed climb in Austria's High Tauern
The report by Vittorio Messini who together with Isidor Poppeller and Matthias Wurzer made the first ascent of 'Mehr denn je Hintersee' (800m, M7+ WI6+ 08/12/2016), a new ice and mixed climb up the NE Face of Hochbirghöhe (2767m), High Tauern, Austria.