David Lama frees the Compressor route… while Kruk & Kennedy's bolt chopping is hotly debated
Yesterday 22/01/2012 David Lama made the first free ascent of the Compressor Route on Cerro Torre, Patagonia. The news has been confirmed by David Lama's team. There are no further details but this update will certainly add fuel to the controversy which has followed the bolt chopping carried out recently by Jason Kruk and Hayden Kennedy.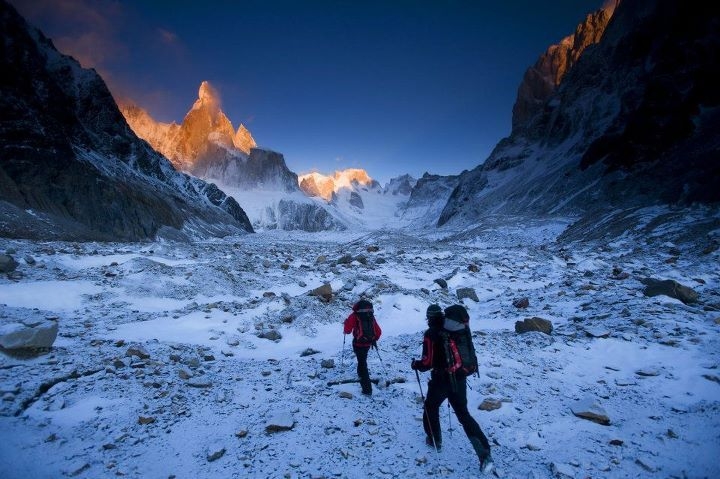 1 / 4
David Lama and Peter Ortner on their way towards the Compressor Route, Cerro Torre, during their attempt in February 2011.
© Red Bull
Latest news flash from Cerro Torre: David Lama has freed the Compressor route on Cerro Torre. Put in other words: reality seems once again to have progressed faster than all imagination. At present there are no hand-fast details to go on, bar the fact that the free ascent seems to have been done via Maestri's original line beneath the headwall. What is missing is written confirmation directly from David Lama himself who is currently - quite rightly - resting and sleeping after what seems to have been an authentic mountain marathon. A race, all free, on what has become - thanks to the recent ascent and above all bolt chopping by Hayden Kennedy e Jason Kruk - the route at the centre of all discussions and debates in the world's climbing forums.

Contrary to how we usually operate, this time we're bringing the partial news which still awaits confirmation (at present published on supertopo.com and confirmed by Lama's team this morning) because the Compressor Route, better still its bolt chopping, has become a hot topic for debate. Perhaps not even Kennedy and Kruk expected a reaction of this sorts and they confirmed this in an interview with La Cachaña - El Chatén's online diary. For the record: the actions of 24-year old Kruk from Canada and 21-year-old Kennedy from the USA were strongly contested by a group of alpinists at El Chalten and, what is more, they were questioned by the Policía Provincial who seem to have confiscated the pressure bolts (a hundred or so) removed from the route which Maestri established in 1970 up the SE Face of Cerro Torre. In the same interview, Kennedy and Kruk stated that their decision to chop the bolts on the Compressor Route was taken on the summit, and that they are ready to assume responsibility for their actions.

We mentioned the repercussions on the various alpinism forums (two stand out in particular, the Italian Fuorivia and the American SuperTopo) and these discussions have literally split the world of alpinism in two. Not only because many challenge the "by fair means" definition which was given when presenting Kruk and Kennedy's undertaking: the use of 5 bolts and A2 are at odds with the spirit of climbing mountains by fair means. But above all because many challenge and do not accept the ensuing bolt chopping on the Maestri route. Numerous reasons are given, some of which are powerful provocations. Such as the definition "American cowboys" who arrogate the right to "save the world" and decide for it. Much importance was given to the 2007 assembly of alpinists which decided, by a majority vote, to leave the Compressor route as it was. Using the same criteria applied to the Via Maestri, the provocations also include the proposal to chop the bolts off The Nose on El Capitan, the famous route established by Warren Harding with pressure bolts in direct contrast with the ethics which prevailed in Yosemite at the time. It's clear that these statements are intended to provoke. And it's also important to underline that there are many how defend the bolt chopping.

What seems more interesting to us is that those who dispute the bolt chopping and consider it unacceptable seem to be driven by a principle, if you want, of "guarantee of freedom". It seems to us that this bolt chopping has touched upon that principle of "anarchy" (if we're allowed to use this word) which lies at the very heart of alpinism. In short: anyone can dispute, be against and question an ascent, but no one can act on it and "forcefully" chop the bolts off a route. What many fear, and there is some truth in this, is that if this principle becomes the norm, anyone (groups or individuals) could decide (claim the right) to act, remove bolts and unilaterally and physically modify what others have done. This theme is by no means new to the mountaineering and climbing world and it has largely been resolved, for example, with a sort of veto to chopping bolt unless the first ascentionist has agreed to it first. It's clear therefore that a "forceful" action on a symbolic mountain on a 40-year-old route which, for good of for bad (definitely more for the bad), has been at the centre of various controversies, acquires a truly special, symbolic value. It is important to clarify at this point that many of those who challenge the debolting do so not to defend Maesti, on the contrary, many do not like the pressure bolts up the Compressor route. What is interesting therefore is that the mountaineering world, that each single alpinist, does not accept tribunals nor that someone makes decisions for them, because this would limit their personal liberty and that of everyone else.

In the midst of all this Cerro Torre has been hit by the incredible Lama "bombshell". His first ascent ascent together with Peter Ortner in perfect weather conditions with the crux on the traverse below the headwall... we hope to be able to give you more complete details soon. It's worth remembering though that in the past the extremely talented Austrian climber was himself at the centre of hot debate for his attempts to free the Compressor route, which resulted in bolts being added and gear deposited up the face (for a troupe which should have filmed his ascent). As is clear, in the mountaineering discussions "no prisoners are taken" ;-)


UPDATE 24/01/2012: David Lama talks about the first free ascent of the Compressor Route on Cerro Torre