Annapurna: Graziani and Benoist are safe and have been evacuated to Kathmandu
The two French climbers Yannick Graziani and Stephane Benoist who reached the summit of Annapurna via the south face on October 24th have been taken by helicopter to Kathmandu. Benoist is reported to have suffered frostbite. They may be back in France already by tomorrow.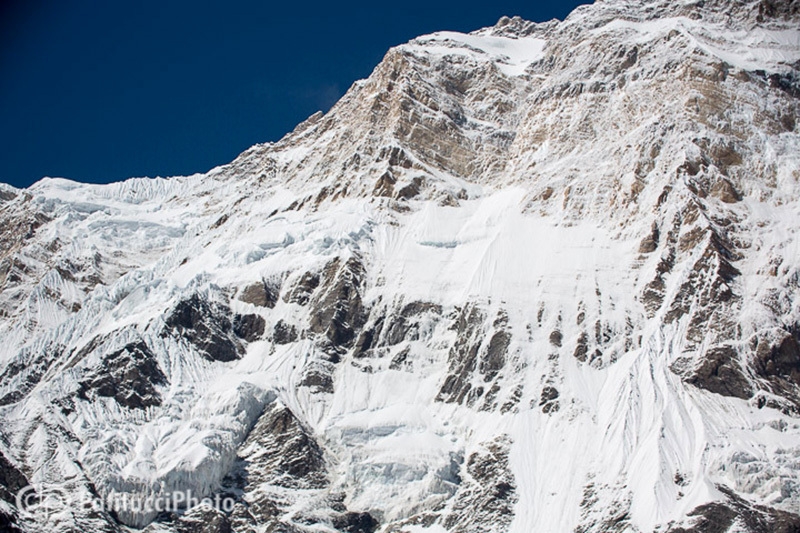 1 / 1
Ueli Steck and the first ascent of the direct line up the South Face of Annapurna.
©PatitucciPhoto
"The team descend the south face. Stéphane was frostbitten and the two climbers have been evacuated from below the moraine to the hospital in Kathmandou."
This was the news everyone was waiting for:
Yannick Graziani e Stephane Benoist
had been picked up from the moraine at the foot of Annapurna's south face (probably by a rescue helicopter) and taken to hospital in Kathmandu. The phrase in quotes (translated from French) was reported on the blog www.guides06.com by Nicolas Feraud, also an alpine guide and friend of the two French climbers. For the moment this brief but positive news is all we know.
On 24th October Graziani and Benoist, after 8 days' climbing, had reached the summit of Annapurna (8091m) up the huge, difficult south face, probably following the same route that
Ueli Steck had climbed solo
. But for the moment there is no confirmation of the route followed. We know only that the two expert French guides took 8 days for the climb, finding the face in bad if not terrible conditions, whereas Steck was up and down in only 28 hours.
It's clear that 8 days on the south face is right at the limit of what is possible. If you add to this the lack of news after the pair reached the summit (and this fact itself is still awaiting official confirmation) you begin to understand what Graziani and Benoist have been through. Tomorrow, if all goes well, Graziani and Benoist should fly back to France and this for the moment is the only thing that we care about. Later they'll have time to tell their story.
Yannick Graziani (Alpine Guide, Chamonix) - among his most important climbs the first ascent of Chomolonzo in 2005 (nominated for the Piolet d'Or), Pumari Chhish (7350m) in 2007, and the S face of Nemjung (7140 m) in 2009, Makalu SE crest in 2004.

Stephane Benoist (Alpine Guide from Nice) - among his most important climbs the N face of Thalay Sagar (6904 m) for which he was nominated for the Piolet d'Or 2003. In 2008 the new route on the S face of Nuptse for his second Piolet d'Or nomination.