Tra Nuvole e Sogni, Rolando Larcher and Herman Zanetti make difficult repeat on Monte Cimo
On Sunday 21/05/2017 Rolando Larcher and Herman Zanetti made the probable first repeat of Tra Nuvole e Sogni (200m, 8a max, 7b obligatory), the difficult climb put up by Nicola Tondini and Andrea Simonini in 2012 on Monte Cimo (Brentino, Val d'Adige, Italy).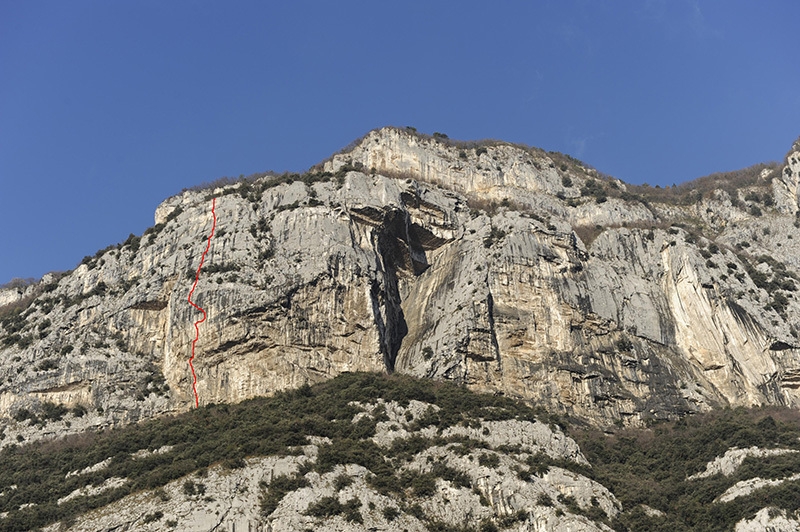 1 / 3
Tra Nuvole e Sogni (8a, 7b obb., S3+. Nicola Tondini, Andrea Simonini. First free ascent Nicola Tondini 10/2013) Sass Mesdì, Monte Cimo
archivio Nicola Tondini
"After having repeated practically all the most difficult routes in the area, I can say that the moves to the last piece of gear provide the most demanding obligatory climbing on all of Monte Cimo." With these words Rolando Larcher describes a pitch, the sixth and penultimate therefore, on Tra Nuvole e Sogni, the climb put up in 2012 by Nicola Tondini and Andrea Simonini on the Sass Mesdì face of Monte Cimo, high above Val d 'Adige.
Evidently this pitch is something special and although technically not the most difficult it unlocks the key to the rest of the route which, as it stands, must be regarded as one of the hardest in the entire Val d'Adige. Larcher climbed the line last Sunday together with Herman Zanetti and his is probably the first redpoint after Tondini's first free ascent in 2013. The details of this repeat come, as always, directly from Larcher who is extremely skilled on this type of terrain.

TRA NUVOLE E SOGNI by Rolando Larcher

"Beautiful and demanding climb, repeated together with my usual climbing partner and friend Herman Zanetti. I managed to onisght everything, apart from the 8a pitch, which I sent tiri go. The most tricky pitch wasn't the 3rd, the 8a, and not even the 4th a 7c+, but the 6th, graded 7b, which I tackled with superficiality, thinking that it was all over… The pitch has two psycho run-out sections far above the last peg, on an angle which isn't ideal for falling. The first one is manageable, if you remain calm... The second one less si, with poor smears for your feet and guaranteed "sparks" if you fall! It's a really demanding move, above all psychologically.
After having repeated practically all the most difficult routes in the area, I can say that the moves to the last piece of gear provide the most demanding obligatory climbing on all of Monte Cimo."


TOPO: Tra Nuvole e Sogni, Monte Cimo

Rolando thanks his sponsors: La Sportiva - Petzl - Montura