Sea cliff crags at risk: climbing ban or rebolting?
Maurizio Oviglia analyses the recent case of the sea cliff sports crag "Casarotto" at Capo Caccia, Alghero, Sardinia.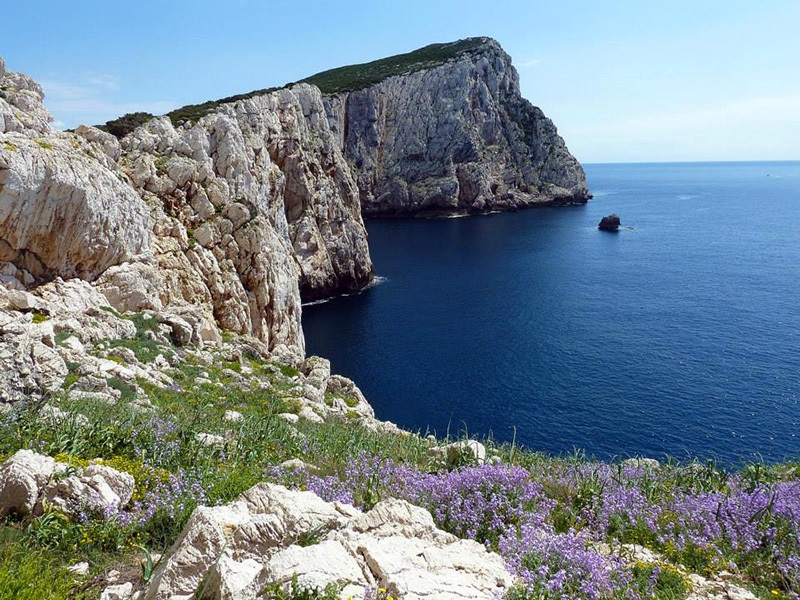 1 / 11
Spring view onto the crag Casarotto at Capo Caccia (Alghero, Sardinia)
Maurizio Oviglia
Casarotto at Capo Caccia close to Alghero is one of Sardinia's historic crags, first bolted back in 1987. While I helped create the first routes here, it was the Alghero-based group "Tecnica 1" that discovered it and continued to develop it throughout the years. In early 1987 I met Giorgio Trova and the other members of this great group and we started to bolt the first hard routes. The crag is comprised on a steep cave (routes were subsequently added to the either side) above a truly fantastic sea environment. The pumpy and athletic climbing was something new back then, and the crag quickly became popular with tourists and locals. Alos because it was the only crag (bar the small Placche di Pajer) in the Alghero region. In 1990 Germany's Thomas Fickert bolted some beautiful climbs, including Dolci Sardi, Here come the flood, Kaina and Daytona. In the years that followed the crag was almost completely rebolted with A2 grade stainless steel.
It is worth pointing out that this well-known crag is located in a marine environment that we could define as being "extreme". Despite not being at sea level but circa 50 meters higher, the Capo Caccia coastline is continuously exposed to violent swells and the rocks are often covered in a fastidious salt spray that, on windy days, renders climbing impossible. The rock is an excellent quality limestone but it tends to absorb and the humidity. Having said that, when conditions are good, climbing at Casarotto is fantastic and spectacular.
On 2 November 2012 I received an email from Swiss climber Christoph Abegg who reported that the second bolt of Daytona had broken (see photo). His partner had miraculously avoided breaking his back during the ground-fall. On a visit to the crag in 2013, some local climbers pointed out another two broken stainless steel bolts. Fabio Erriu and I removed, not without difficulty, some sleeves that had remained in the rock and we sent them to a researcher who offered to make some analysis. Apart from confirming the material (A2, not suited for a marine environment), the research highlighted a series of factors that were conducive to this type of internal corrosion of the stainless steel, very sneaky as it is not visible to the naked eye. The fact that the bolt is not exposed to rain water, coupled with the presence of magnesium in the rock, accelerates the corrosion process.
At this point I informed the Sardinian Mountain Rescue service. In my humble opinion I believed that climbing should be banned at this crag, or otherwise immediately rebolted with AISI 316L gear. Months pass by and nothing happens, so I took the initiative and suggested to the local climbers that we institute a bolt fund. Thanks to Giovanni Manconi and the Sassari-based Kena Lakanas association many climbers from Sassari and Alghero (and Cagliari) responded to this appeal. For my part I offered to rebolt (no mean task given the angle) at least the routes in the cave (those most at risk). For the remaining routes at the crag time will tell... I chose PETZL gear, 12mm bolts, because according to our analysis this is certified 316L. For the belays we chose hangers with two rings FIXE Marine (316L), connected to another bolt with a stainless steel chain. At some belays where two bolts were not subsittuted I added a third one in 316L plus rings. Despite the generosity of the climbers, due to its elevated cost we couldn't buy much gear, but nevertheless enough (thanks to repeated donations) to rebolt the routes in the cave.
At this point I would like to mention all those who contributed to this fund and, in doing so, helped do something concrete for everyone's safety and to avoid this beautiful crag from being "lost": Ermanno Silveri, Luca Melis, Pierfranco Frau, Barbara Dovarch, Martina Vacca, Nicola Putzu, Vittorio Fara, Enrico Murru, Graziano Dore, Donatello Scarpa, Giacomo Deiana, Luigi Gambella, Barbara Carboni, Ilaria Martinez, Fabrizio Doro, Filippo Derudas, Alain (Francia), Giovanni Manconi, Gabriella Melis, Sebastiano Salaris, Lorenzo Peotta, Giorgio Sedda, Caroline (Francia), Antonio Migheli, Ditta Pasquali and Massimo Fumi.
So here are all the routes that have been rebolted, during various work sessions spread out over various months. I would like to remind everyone that if the belays are comprised of three points and two rings placed close to each other this isn't superfluous gear, but serves to increase safety by threading the rope through both rings! It is also worth bearing in mind that great attention is required on the climbs that have not yet been rebolted!

- Via della Grotta (6a+) - new line
- Craxi Driver (6b) - partial new line
- Fritz (6c+)
- Daytona (7a+)
- Kaina (7b)
- Remote Control (8a)
- senza nome (project)
- Gandalf (7c)
- Microsintesi (7b+)
- Gea (7c)
- Naso Assoluto (8a)
- Segnali di disperazione (6b) – new route paid for by Maurizio Oviglia
- Dr. Ago & Mr. L (7a+)
- Here come the flood (7c) – only the first part rebolted
- Dolci Sardi (7b)
- Strip tease (6c)