Jonathan Siegrist = Jumbo Love 9b
American sports climber Jonathan Siegrist has repeated Jumbo Love, the 9b sports climb freed by Chris Sharma at Clark Mountain, USA in 2008 and repeated only by Ethan Pringle.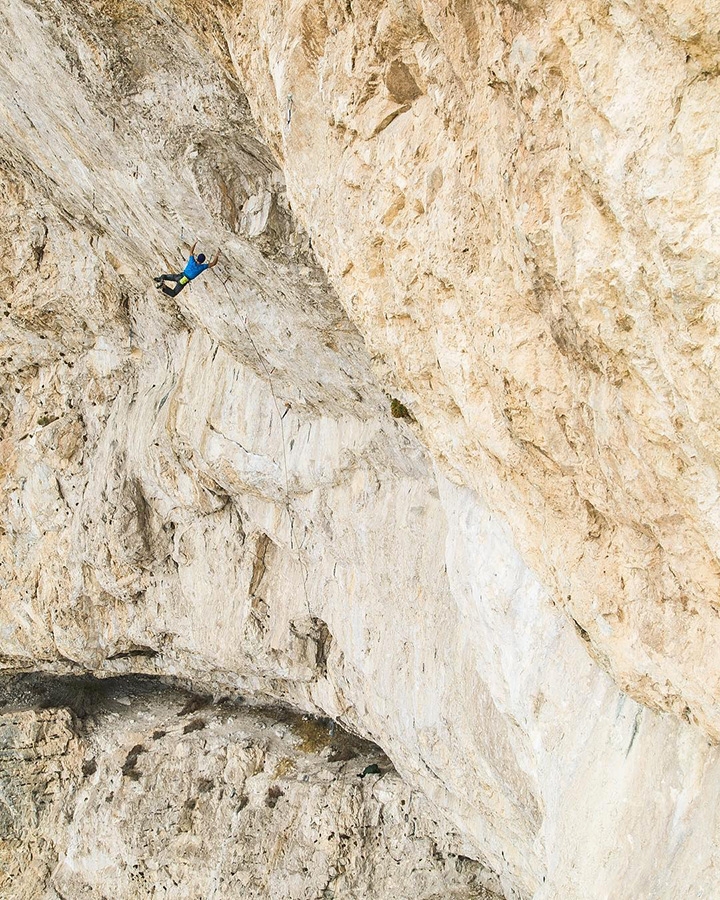 1 / 14
Jonathan Siegrist making the third ascent of Jumbo Love 9b, the route freed by Chris Sharma at Clark Mountain in 2008
Bearcam
A decade after its first ascent at the hands of Chris Sharma, the 70-meter stamina fest Jumbo Love has now been repeated for the second time only by American sports climber Jonathan Siegrist. Located in the "desert limestone palace" of Clark Mountain high above Las Vegas, this immense testpiece was originally envisioned by Randy Leavitt and climbed as three individual pitches. In 2008 Chris Sharma touted the route as a ginormous single-pitch, creating what was the hardest sports climb in the USA and, unsurprisingly one of the hardest in the world. It has remained such.
In 2017 Ethan Pringle ended his long affair with the the climb to make the long-awaited second ascent, while Siegrist now claims the third. Siegrist had attempted it for about 10 days in 2016 and put in the same effort this year prior to claiming his first 9b.
Talking to planetmountain.com, Siegrist said "The route is incredibly special because it's so beautiful and remote. The drive is about 1.5 hours with 30 minutes on an extreme dirt road (a truck is required) and then you have a ~600 meter vertical approach to this massive white cave overlooking the desert. I've always loved remote climbing areas and this route in particular has inspired the US scene ever since Chris opened it ten years ago."
With a flurry of 9a+ to his name Siegrist is no newcomer to hard ascents, but usually he specialises in routes with different characteristics. When asked, he explained "Yes you are absolutely right. Usually I excel at endurance routes with bad holds but this route, despite being around 60-70 meters long, is actually quite bouldery. And the holds are surprisingly good - it's not that important to have finger strength for this - mostly you need strength in your body and to be able to do huge moves! I had to switch my training styles this winter for sure. This was an extra challenge that made it even more interesting."


Links: www.jstarinorbit.com, Instagram Jonathan Siegrist, La Sportiva, Arc'teryx