James McHaffie climbs new Dinas Cromlech desperate
British rock climber James McHaffie has made the first ascent of House of Talons, an E9 6c on Dinas Cromlech, Llanberis Pass, Wales.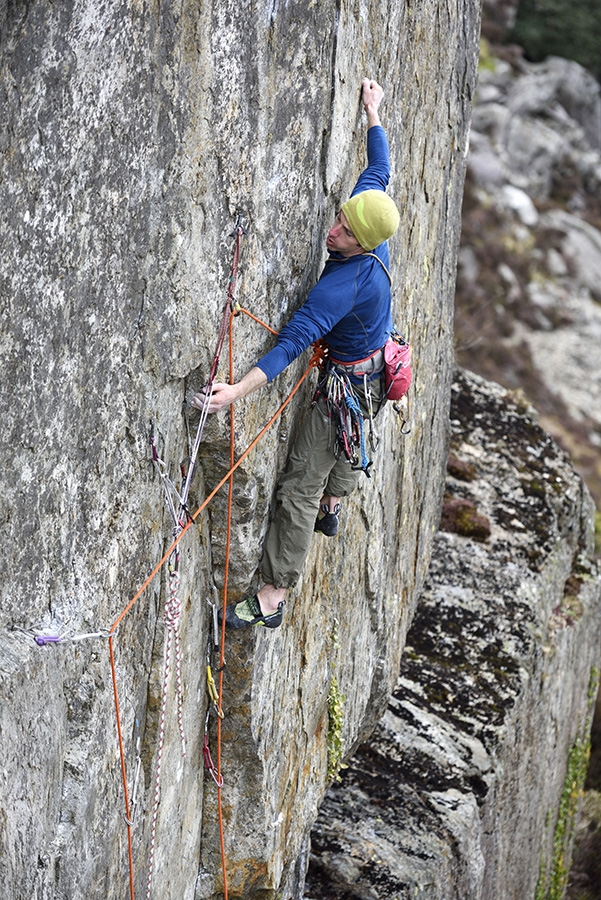 1 / 3
James McHaffie during the first ascent of House of Talons E9 6c, Dinas Cromlech, Wales. Note the 'nest' of skyhooks that protect the precarious climbing
Ray Wood
In many ways Dinas Cromlech is to British climbing what Wimbledon is to British tennis. So if playing at the All-England Club is the apotheosis for any tennis player, it's easy to understand why a new route high up in the Llanberis pass is an important addition, especially if the route in question happens to be towards the upper end of the trad climbing spectrum. The new route is called House of Talons and tackles a relatively short but fierce overhanging wall above the Cromlech's main wall, breaching difficulties up to E9 6c. With typical British understatement the first ascentionist James McHaffie plays down the climb's importance, but it's clear this is no ordinary route, for what makes it stand out is the fact that its dangerous climbing is protected with 12 skyhooks.

James, can you tell us about the route
The route is about 18 metres high, it climbs the face to the left of Rumblefish starting up an obvious groove and feels gently overhanging. Although there are 2 cruxes on the climb, it is mainly just sustained, precarious climbing. All the cruxes are only protected by skyhooks. There is 1 RP in a loose block at 2/3rds height but it would only be good to lower off. I placed 3 hooks above it so it wouldn't be tested should I have fallen.
The use of skyhooks sounds daring
I've used skyhooks a bit in the past and have fallen on them. After abseiling down the line last Sunday and Monday night I knew they were the only way to justify ascending the climb, or else I wouldn't have bothered. I climbed up 5 metres and stretched to place 2 hooks at the end of the short groove and carried an end of a rope to tie them down and stop them wobbling. They protect the bottom half of the climb.
Then there's the poor RP
Yes, and I also placed some more skyhooks above the roof to protect a hard rockover left and precarious moves back right. I placed 3 skyhooks there and some poor ones above, since they can lift off as you climb past. Safety in numbers.
No pegs?
I didn't really think about pegs. It might be possible to get some in at the roof, but I try not to leave crap in the rock.
Just to get an idea what we're talking about: what would it equate to were it a sports climb?
It wouldn't be technically too hard if bolted, say 7c+/8a, but as it stands the climbing is scary, precarious in nature and it's mentally demanding doing all the hard climbing with a few small hooks for gear. The position you place the 2nd lot of hooks over the overhangs isn't ideal, it's quite pumpy and the next bit involves possibly the hardest move.
How much did you prepare it beforehand?
As I said, I abseiled down it last Sunday to see if it would go and get rid of loose rock, I abbed again on Monday night to check if the skyhooks would work and decide wether it was even worth the risk, then abbed the Saturday before I did it to play on the moves on my grigri and check which gear went where.
So you didn't top rope it first?
I try not to top rope fully in order to leave a bit to the imagination. I climbed it with Calum Muskett. It's always going to be a nervous belay on these types of routes.
How do you yourself judge it?
The route itself isn't a big deal to be honest but it's nice to put up a route on Dinas Cromlech, a major Welsh cliff. It's got a lot of great trad routes: Spiral Stairs, Flying Buttress, Cenotaph Corner, Cemetary Gates, Left Wall, Right Wall, Lord of the Flies, Overlord. I used to climb here a lot, mainly soloing and had often looked over at the face wondering what one day it would be like.

Rock climbing in Wales - a choice selection
- Dinas Cromlech - some of the best extreme rock climbs in the entire UK.
- Cloggy - Clogwyn Du'r Arddu- the shrine of British rcok climbing.
- Vivian Quarry - the most popular slate crag in Wales
- Rainbow Slab - arguably the jewel in the crown of Llanberis slate.
- Gogarth - one of the best sea cliffs in Britain. Fullstop.
- Lower Pen Trwyn - simply the best sport crag in North Wales.
- Huntsman's Leap - one of the most popular sea cliffs in Pembroke, South Wales.