Hallucinogen Wall, first free ascent by Hansjörg Auer
Interview with Austrian climber Hansjörg Auer after the 22 April first free ascent of Hallucinogen Wall 5.13+/R in the Black Canyon, Colorado, USA.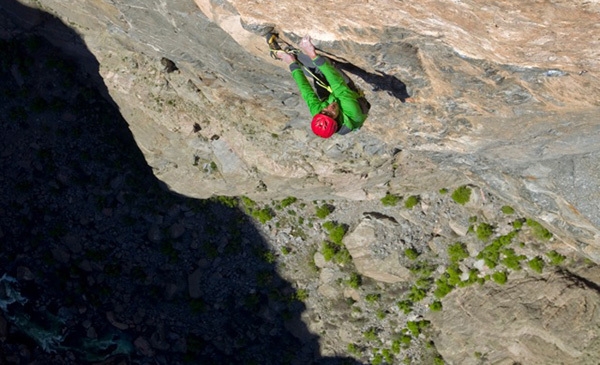 1 / 4
Hansjörg Auer during the first free ascent of Hallucinogen Wall 5.13+/R, North Chasm View Wall, Black Canyon, Colorado, USA.
Cory Richards
One of America's most notorious big wall routes, the Hallucinogen Wall in Colorado, has recently been freed by visiting Austrian climber Hansjörg Auer. The 16 pitch line had been established in 1980 by Bryan Becker, Ed Webster, Bruce Lella and Jim Newberry over a 17 day period with the use of aid and the A5 rating deterred most. As often happens, pver time the route's reputation grew but the grade softened down to 5.10 A3+ as new bolts were added to the crux pitch. In 2004 Hallucinogen Wall hit the limelight once more thanks to Americans Jared Ogden and Ryan Nelson who climbed the line free bar the 13th pitch which they drytooled using ice axes. The ascent was rated 5.13-R D10+, yet despite their efforts the obvious free challenge still remained.

In April 2011 Auer travelled to the Gunnison National Park together with talented Luxembourg climber Ben Lepesant - Auer's partner last year during the first repeat of Pan Aroma in the Italian Dolomites - and after working the route briefly freed the line on the 22nd in a sub 9 hour push.

Hallucinogen Wall the free ascent interview
Hansjörg: of all the routes, why this one in particular?

I originally received a phone call from Ben Lepesant asking me if I'd be interested in climbing in America's Black Canyon. He reckoned we could climb some classic routes, and I decided to find out more and noticed that Hallucinogen Wall hadn't been freed yet. Then I remembered a bit about its history and the story about the ice axes and it immediately became clear that we'd have to concentrate on this project. I obviously also wanted to climb some other classic routes there afterwards but then the weather turned bad.
Did you fly to the States with you axes?

No, I left them at home of course. I don't really see the point of climbing a rock route and combining it with some drytooling.
So tell us about the ascent

The original plan was to check out the route, ground up, over a five day period to see whether a free ascent was possible or not, then rest for a while before attempting to free the line in a two-day push.
That was the plan

Yes, but we reached the top after three days and realised therefore that it could go free pretty quickly. Ben knew from the outset that he wouldn't lead any of the pitches and that instead he'd give me his complete support. I didn't set off up the pitches with any big wall gear because I wanted to try and free them immediately. This proved fairly demanding on some section as there are some very long hook moves, but I prefer this approach as you get a better overall picture of the line and, above all, you certainly never get bored! I bouldered around on the crux pitches as best possible and memorised the moves.
Then it was time...

for three rest days, during which the weather was bad. Then we gave it a go: we set off at 5:00am from the campsite. It was snowing lightly as we descended the Cruise Gully and then we shot up the route. I climbed every pitch first go and Ben cleaned and jumared up after me. Soon we reached the point where we had left our portaledge for the bivy, but we pushed on. Things became tough on the last final pitches as I began to get tired and the pumpy crux pitch with its finishing dyno was really touch-and-go. But we reached the final belay unscathed, 8 hours and 41 minutes after setting off.
So you also broke the previous speed record

Yes but this came about completely by chance. Speed records don't really mean that much to me.
So how was that famous crux pitch?

I had originally thought I'd encounter a smooth wall with tiny crimps. But the crux pitch is really athletic, good holds with cool heel-hook moves. To free the pitch I swayed slightly from the original line on three occasions: immediately after the belay (where I added two pegs and a copperhead), in the middle of the pitch at the start of the bolt ladder and then just before the belay with a leftwards dyno.
The route was climbed in 1980 with aid, now in 2011 it's finally gone free.

Actually the route itself isn't all that difficult, but the pro is fairly alpine, with numerous copperheads above all in the middle section. It probably had to wait 31 years for the first free ascent because the Black Canyon isn't the place to be at the moment.
What did the wall give you?

I'm happy to have grabbed this little jewel, especially since there are so many talented and famous climbers living less than 5 hours away in Boulder. Yes, climbing it free in less than 9 hours, without a massive prior effort, is something pretty important for me.
Hallucinogen Wall Factsheet
Location:
North Chasm View Wall in Black Canyon/Colorado
Length:
16 pitches
First Ascent:
Bryan Becker, Ed Webster, Bruce Lella and Jim Newberry over 17 days in 1980 due to one storm and hard aid climbing
Original aid grading:
A5
Current Grading:
5.10 A3+
First winter ascent:
John Middendorf with partner
First one day ascent:
Alan Doak and Stefan Griebel in April 2005
Previous speed record:
Jared Ogden and Ryan Nelson in may 2005 in 8h59min
First free ascent:
Hansjörg Auer on 22nd of April 2011 belayed by Ben Lepesant in 8h41min
Free Grading:
5.13+/R