Gabriele Moroni ambles up Ambrosia highball at Buttermilks, Bishop
Italian rock climber Gabriele Moroni has repeated the famous highball boulder problem Ambrosia at Buttermilks, Bishop, USA.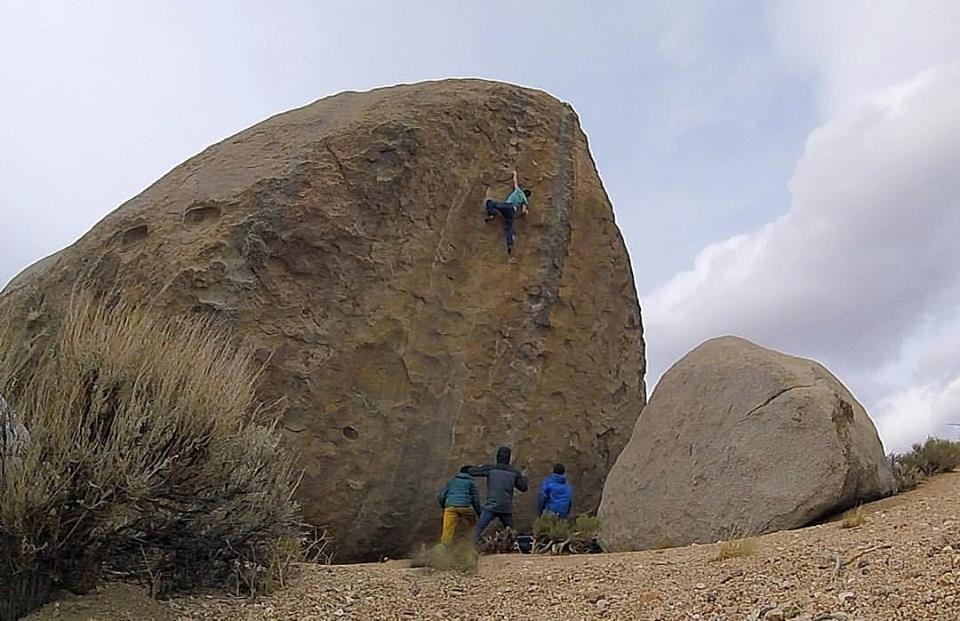 1 / 22
Gabriele Moroni repeating the famous highball boulder problem Ambrosia at the Buttermilks, Bishop, USA.
Gabriele Moroni
In order to climb a really tall boulder problem without a rope you have to enter into a particular state of mind. Where something "clicks", and you're willing to ignore all the obvious signs of risk and danger in order to carry out a sequence of moves. And where the motivations and sensations are so personal they're simply impossible to comprehend, share and explain.
This is what happened to Gabriele Moroni the other day when he ascended Ambrosia, the famous and extremely tall boulder problem that in some respects represents the essence of highball bouldering, not only at the Buttermilks close to Bishop, USA. These nigh 15m were first climbed in 2009 when the 24-year-old Kevin Jorgeson managed to stick the tiny crimps through the starting section that lead to the hueco - the characteristic pocket - circa 7m off the deck. From here Jorgeson continued up more moves, by no means easy, well beyond his comfort zone to claim the coveted first ascent of Ambrosia, the nectar of the Gods that provides immortality and eternal youth.
Described as being impressive, spectacular, scary and much more, in the past this line up the Grandpa Peabody boulder has been repeated by the likes of Alex Honnold, Isaac Caldiero, Enzo Oddo and Jorg Verhoeven, but evidently the V11 (8A) grade is simply too restrictive to explain what is really needed to push all the way to the top unscathed.
For years Italy's Moroni has been one of the world's leading boulderers, and he is certainly no newcomer to ascents of this sort. His extraordinary Rigatoni in Valle dell'Orco and The Trojan Horse at Outrefer in Valle d'Aosta imediately spring to mind; two ascents carried out without much fuss, during which he entered "into a bubble" where, for a few eternal seconds, he thought "only about the climbing."
Exactly like on Ambrosia: after having tried it on toprope and having brushed the holds he instinctively knew the time was right, despite the strong winds and conditions far from ideal. "Something clicked inside and I knew I was ready" explained Moroni "Leaving the ground I knew I was going to do it, no fears, no doubts, no regrets, just pure happiness and fun!"
The video below documents the ascent, but fails to transmit the personal and overwhelming sensations. Moroni puts these into words "Climbing Ambrosia felt effortless, I was in my bubble flowing in the air. It was definitely one of those moments I will hardly forget... "



RELATED NEWS
11/12/2015 - Gabriele Moroni claims Maestri di Vita at Metanodotto
09/01/2009 - Bishop bouldering: Kevin Jorgeson frees Ambrosia at the Buttermilks

TOPO: Buttermilks, Bishop, USA