Climbing in Sardinia news: Supramonte
May update by Maurizio Oviglia about the latest climbing news from Sardinia: three big new routes in the Supramonte massif.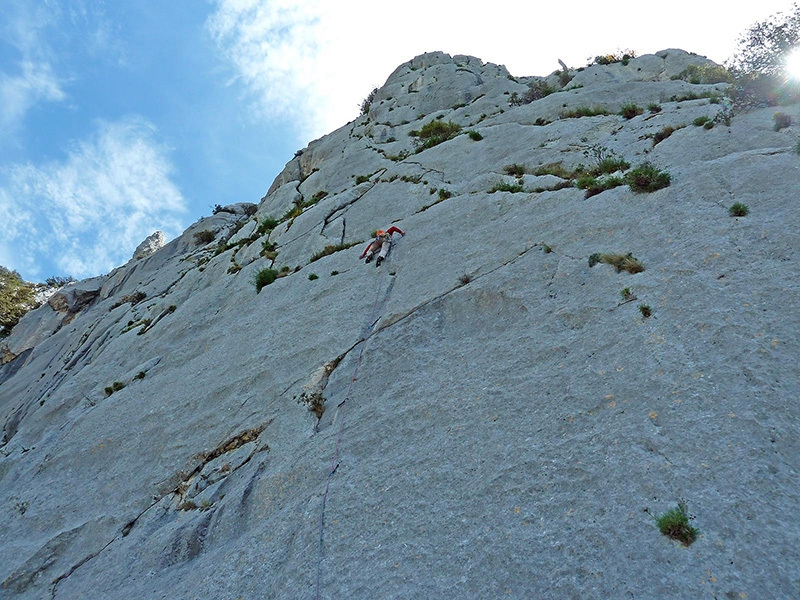 1 / 7
Maurizio Oviglia on the crux of Nati con la camicia (7b, 460m, Ivan Feller, Luca Ondertoller, 2010) Punta Cusidore
Manconi
Sardinia's spring began with unstable weather that then gave way to an high pressure system that has stayed with us since the 1st of May. Despite an exponential rise in the number of climbers visiting the island compared to other holidays and there being far more parties on Punta Giradili, Monte Oddeu or Aguglia di Goloritze, there are been relatievly few first ascents.
There are however two new routes on Punta Cusidore worth examining. The first came about thanks to the bond between the cities of Trieste and Piacenza and the two active first ascentionists Mauro Florit and Eugenio Pinotti who were joined by Leonardo Dagani from Cremona. At the end of march and the beginning of April they put up a 5-pitch bolt route, ground-up of course, that breaches fantastic rock on the lefthand side of Cusidore's rock bastion. Their route, Ghìnavu, is named after the river where you park the car, next to Pasquale La Pia who welcomed the two first ascentionists with open arms and, so they say, barrels of local Cannonau wine. Another example of Sardinia's legendary hospitality!
The second route was ascended in 2010 but details of it have become available only now. That summer Luca Ondertoller and Ivan Feller climbed a superb route to the right of the S'Angroni Mannu col and since some sections still needed freeing, they decided to wait before publishing information their Nati con la camicia. But Sardinia isn't exactly around the corner for these climbers from Trento and some time ago they invited me to repeat it. I did so a few days ago and during this first repeat I also managed to onsight the route, confirming difficulties estimated at 7b grade (indicated 7a/A2 on the topo) through the beautiful crux pitch. The route is an alpine undertaking, protected by some bolts on the most featureless sections, with demanding obligatory climbing around 6c+.
Another legendary Sardinian climbing partnership that has constantly put up new routes is comprised of Gianluca Piras and Luigi Scema and this duo has now established yet another route in the Gole di Gorroppu, initially climbed ground-up with natural pro, later partially bolted (this is uncommon but the style chosen by the first ascentionists). Schiavi senza padrone, slaves without masters, is the name of this long outing up slabs through the West Face of Punta Cucuttos, a peak that is growing in popularity despite its wild and demanding approach. At present, Piras assures, some equipped (and recently re-equipped) sections are in-situ to scramble past the lakes, meaning that this gorge can be visited not only by top climbers but also, as one says, "mere mortals".

For this Sardinia News I would like to thank Gianluca Piras, Eugenio Pinotti and Luca Ondertoller

by Maurizio Oviglia

TOPO: Schiavi senza Padrone, Supramonte, Sardinia

TOPO: Ghìnavu, Supramonte, Sardinia


CLIMBING IN SARDINIA NEWS BY MAURIZIO OVIGLIA
07/04/2014 - Rock climbing around the village of Orosei
21/01/2014 - Trad climbing at Regno di Onan, Capo Pecora, the Supramonte di Urzulei
28/12/2013 - Isili and Lanaitto
11/12/2013 - Doloverre di Surtana, the most popular multi-pitch climbing area in Sardinia
13/11/2013 - Capo Pecora, Jurassic Park and a series of new modern multi-pitch rock climbs