Atlantide at Baunei, new plaisir rock climb in Sardinia
Up the Sa Costa 'e Aidu rock face at Baunei in Sardinia, Maurizio Oviglia and Fabio Erriu have made the first ascent of Atlantide, 400 meters of plaisir climbing with difficulties up to 6a+.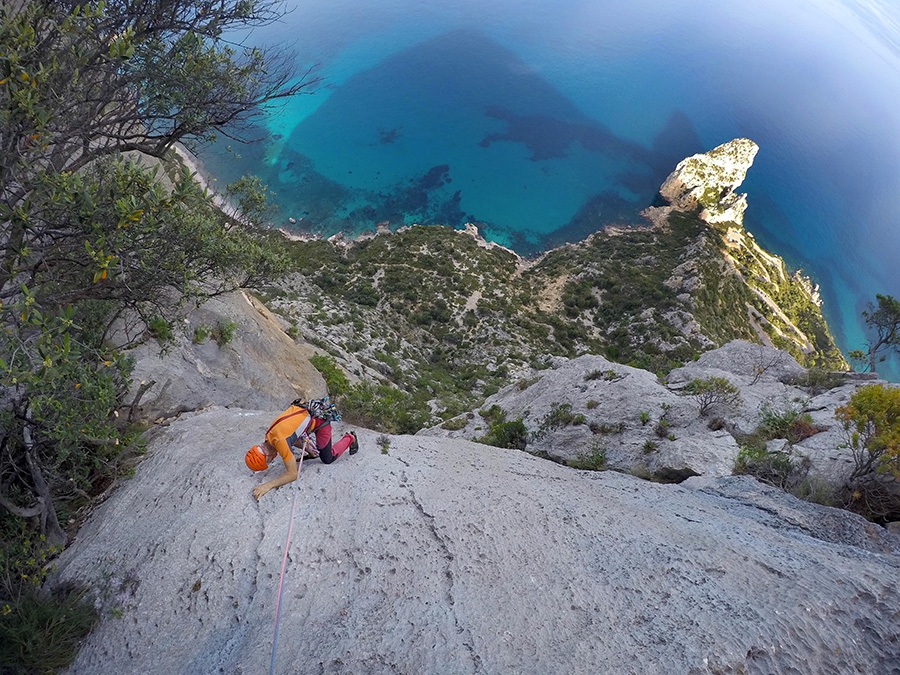 1 / 4
Fabio Erriu climbing Via Atlantide up Sa Costa 'e Aidu, Baunei, Sardinia, the 'plaisir' sports climb he first ascended with Maurizio Oviglia
Maurizio Oviglia
There are not many plaisir style rock climbs in Sardinia, even fewer those that are bolted as if they were a sports climb, despite being a multi-pitch route. And if you want ago climb a route that's really long, one of the longest on the island... and maybe with a view across the sea... then when counting them probably the fingers on one hand suffice. Maybe just a finger even… This is why Atlantide was created, to make up for this "shortcoming" , and provide an answer to the ever increasing demand for well-bolted climbs (read a bolt every two or three meters at most) past difficulties that are by all means acceptable.
Unfortunately the sea cliffs at Baunei, which are known to be some of the tallest in the Mediterranean, tend not to lend themselves to easy routes. Experience has proven that it's difficult to join slabby sections without ending up on ledges invaded by bristly perfumed Mediterranean scrub. And it's even harder to avoid those sections that make difficulties shoot up past 6c, forcing you to place bolts 30 cm apart in order to enable everyone to aid up it. No, I've never done this and I didn't want to do this time either, instead I'd have changed the route line. We decided we'd see how things turned out as the route evolved, because I also wanted to make the first ascent ground-up, as per mountaineering tradition and not abseil in from above.
I have to admit it: establishing Atlantis was a real undertaking, not because of the technical difficulties but because of the sheer amount of work needed to clean and make the line safe: a good 10 days of hard work, from morning to night, during which we got completely covered in earth, fleas, ticks and other summer pleasantries. And there was only one man who could join me in this venture, the 75-year-old real steel (or juniper if you prefer) Sardinian Fabio Erriu, who continued to clean and return to the route even when I had had enough. Bastaaaaa!
The route was repeated several times even before it was totally completed. It is not outer worldly beautiful, there are certainly many more beautiful climbs in Sardinia, it is not difficult, at least up to pitch 9, but the bolted is "chicken proof" (so they say) and the view along the coast and along the crystalline sea is fantastic.
Now he lives in Atlantis / With a hat full of memories and souvenirs
he's got the smile of a wise man / and a little spleen inside his soul
he drinks 24 beers a day / and at night he feel like a lonesome hero
This is a verse of a song that was stuck in my head during the long waits at the belays, while Fabio cleaned the route. For some reason it continually played in my mind, there must be a reason, perhaps even a dedication…