Ice climbing in Scotland – an Ines Papert perspective
German climber Ines Papert provides her report and views of British winter climbing after her first ice climbing trip to Scotland.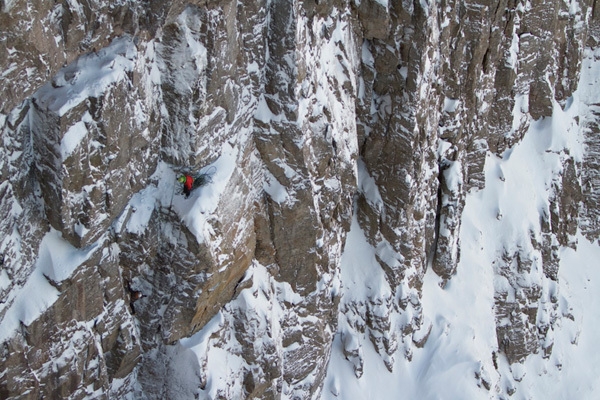 1 / 15
Ines Papert belaying Ian Parnell on 'Blood, Sweat and Frozen Tears' VIII, 8, Beinn Eighe, Scotland
Hans Hornberger
A few days ago we reported about Ines Papert and her first ice climbing trip to Scotland, which resulted in a series of hard repeats – the hardest a woman has ever climbed in this country – and the first ascent of a short route, aptly named Little Nipper (VI,8), together with Ian Parnell. Few female climbers have such impressive ice credentials – M13 drytooling redpoints, four-times Ice Climbing World Champion, etc. - but nevertheless the tripproved to be a stimulating eye opener to the possibilities and potential of ice climbing without bolts. Her short trip report is published below, as is a short interview by Parnell about what she described as being"one of my best climbing trips!"

Trad mixed climbing is the future! by Ines Papert
"You are so lucky, Scotland's winter climbs are in perfect conditions." This is how top British alpinist Ian Parnell welcomed us to Great Britain. Together with Audrey Gariepy and Mat Audibert (Canada) I experienced first-hand why there aren't enormous queues of people winter climbing in Scotland: long and arduous walk-in's, sudden changes in the weather and the difficulty of protecting routes with trad gear render climbing here still a real adventure.
Mixed routes protected by bolts often boil down to executing a series of acrobatic moves, on routes graded M13 a climber's physical form plays an important role. Since ice axes offer a good grip, routes can only get harder by being longer and steeper, and just like in sport climbing falling off a route onto bolts is an every-day occurrence. Things are very different in Scotland. This trip provided me with a glimmer of hope... for years new alpine- like routes have been first ascended, but many of these lack a real level of alpine commitment. What's up with our ethics?
I'm sure we can learn a lot from the Brits. Scottish climbers achieved a grade V mixed climb as early as the 1950's (1959 Route on Creag Meagaidh) and Dave MacLeod, representing the present, has shown the climbing world that difficult mixed climbs can be achieved using trad gear only. In Scotland bolts are never and have never been used, and even pegs are frowned upon. All climbers take their trad pro back home with them, there are no abseil stations since you descend with difficulty down the other side of the mountain. No wonder that this style of climbing is fairly un-modern. But surely it's adventures, challenges we're looking for? And if we're honest with ourselves, surely exploring our psychological limits is what we're after.
I reached my psychological limit at VIII. Apart from the technical difficulties of the actual climbing, one also takes into account the protection on the route. Unicorn for example, the dream 130m high enormous corner at Glen Coe, checks in at VIII, 8. "Blood, Sweat and Frozen Tears" VIII, 8 on Ben Eich (in the Northern Highlands) is rated as one of the harder testpieces. After our successful ascents of these two Ian told me that no woman had previously climbed harder than VI,6. Now I really know what VIII means. A thick layer of snow in the cracks makes protecting them with Camelots harder. Only nuts, peckers and hexes offer me the level of safety I had hoped for in these otherwise so perfect cracks. A difficult fight, an offwidth followed by a finish up a smooth slab (front pointing with my crampons) constitutes the crux – a tumble would have resulted in a 12m groundfall. Hold your nerves. I understand fully, why we chose to climb several grades lower than what we normally do.
Ines Papert, interview by Ian Parnell
Why did you decide to come to Scotland for some winter climbing?

Every time Audrey and I met in Colorado to celebrate the Ouray ice festival we had several ideas of what to do together and the idea of Scotland seemed to us the most crazy! In addition, after doing the full ice climbing competition circus for 6 years, I've begun to get bored of what I define as "monkey style" climbing on hard bolted mixed routes. I like new adventures and I've tried to to transfer the high level of climbing into the mountains (with first ascents in the Himalayas for example) and we were hoping for some local support, which worked out better than expected! I really like trad climbing, ever since my
last trip to the Cirque of the Unclimbables in Canda
, but I had never done hard winter trad routes. After my trip to Scotland I'm certain that that is the future. No bolts! It seems to me to be great training for bigger routes and unsurprisingly Scottish climbers are very successful on hard technical climbing in the Himalayas.
What were your expectations before you came ?

Long ground falls, broken bones and then selling all my climbing gear! Only kidding. To be honest, I'd had some crazy dreams, but I was also very curious and held the climbs in esteem and respect. I climb all year around and I'm trying to excel in all types of climbing. Except soloing… So this was still missing in my experience. I expected to sit and wait for better weather and I was told to bring climbing shoes for indoor bouldering, just in case the conditions were really bad. My guess was….if Scotland is in good conditions, we'll do lots of ice climbing… but I was wrong, we did lots of winter climbing! Not much ice…I didn't use my 14 ice screws a lot!
So was it what you expected, better or worse?
Different, but generally better! Thanks Ian for reminding me not to bring the power drill - to be honest I thought that, should we climb a new route, I'd need to to place bolts at the anchors…. With hindsight I can state this would have been superfluous and a stupid mistake.
How did you find the climbing, getting to grips with the hoar ice, trad protection etc?

Ice? There wasn't that much at all! But the climbing in general was very interesting, you'd never want to do any figure of fours, because you climb very carefully and very slowly indeed. It takes a while to find and place good pro and I often felt like a snail. Sorry! In some ways the climbing reminded me of Nepal, when we have climbed our new route on Kwangde Shar: perfect granite and good snow and ice, but the ice was never good enough for any pro.
I figured out that trad climbing in winter is the future of the high level mixed climbing. Winter climbing in Scotland its a step above of all ice climbing I've ever done in the past. It makes climbing so much more interesting and diverse...and harder! I wasn't surprised to climb routes at my limit which, if you simply comapre the grades, are a fair bit easier than what I'm used to climbing. My hardest mixed route is M13, and I have first ascended new routes up to M12 (alpine but without bolts!) But Scotland is different, you can't move fast. You can't just breeze up M13. I felt comfortable and challenged climbing five grades lower.
Favourite thing about Scotland?

The whisky! And it's not a rumour, Scottish climbers always bring a good bottle on a trip and Simon shared one of the best whiskies I have ever tasted. And another favourite think were the sunrises: usually I get up later, not like in Scotland at 4.00am. Crazy but necessary.

And worst thing?

Getting up early and the 2+ hour approach - this can feel long after a week of climbing. Your feet and back get sore but you don''t want to miss any climbing day. And also the weight of the heavy pack. The gear rack is heavy but necessary and I wouldn't leave a single piece behind. But this part of the greater adventure and, to be hones... we're just getting lazy from all the sport climbing and bolts.

Will we be seeing you again?

Yes, I hope to return next year. In the meantime I hope though that people will change their perception about climbing is in Scotland. Yes, there are no bolts, but what is important is how you deal with the gear and how you cope with yourself.