Cho Oyu, Nanga Parbat, Makalu and Everest
Mario Vielmo summits Cho Oyu. Blanc, Kuntner and Andres depart for Nanga Parbat. Everest and Lhotse summited, last chance for Moro and Urubko
Cho Oyu (8201m)
Strong winds and heavy snowfalls have severely affected almost all Himalayan activity this year, so much so that the first mountaineers successfully summited the Himalayan giants as late as mid-March. The most recent success is that of the Italian Mario Vielmo, member of an international expedition organised by Focus World Expeditions, who reached the summit of Cho Oyu despite terrible conditions throughout most of the season.

Nanga Parbat (8125m)
The Italian mountaineers Abele Blanc, Christian Kuntner and Stefan Andres are currently heading to Nanga Parbat (organised by Focus World Expeditions) where they plan to climb the route attempted by the Messner brothers last year. They intend to use skis for both the ascent and descent; a successful outcome would bring Blanc's tally of 8000m peaks to twelve, and Kurtner's to eleven. They plan to arrive at Base Camp on 26 May and their return to Italy should be in mid-July.

Makalu (8475m)
The Aquile di San Martino returned to Kathmandu on 20 May after 45 days of hard work on the mountain, which culminated in Giampaolo Corona's well-known successful summit bid.
(www.makalu2001.org - PlanetMountain e Makalu 2001)

It now seems certain that one person died on Makalu this year, namely the Austrian Erich Resch. He had shared the permit with various other mountaineers, but at present there are no other precise details.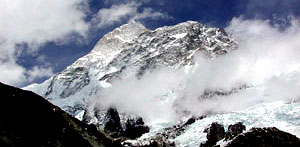 Everest and Lhotse
Bad weather has also hampered activity on Everest, but news just in reports of this year's first successful summit at the hands of Mingma Ongel Sherpa, Kami Sherpa, Danuru Sherpa, Lhakpa Nuru Sherpa, Terry LaFrance and Mike Otis. A few days ago the summit of Lhotse was reached for the first time this year by the Korean Young Park Lee, who has now climbed13 8000m peaks.

This is a good sign for all other mountaineers, including Silvio Mondinelli and Mario Merelli climbing Everest, and Simone Moro and Denis Urubko, who should by now be ascending the South Face for their second ("true") attempt at the enormous Lhotse-Everest traverse. Simone and Denis narrowly failed on their first attempt when, at 8100m, too much accumulated snow on Lhotse forced them to turn back. Now though the route has been opened and the weather is improving…

Further information about the Lhotse-Everest traverse on www.freeridespirit.com/


Information: Manuel Lugli
www.focusworldexpeditions.com

Makalu from Base Camp - Photo Manuel Lugli
Share