Ueli Steck interview after Matterhorn solo in less than 2 hours
Interview with Ueli Steck from Switzerland after his 13 January speed climb of the Matterhorn in a record 1 hour 56 minutes via the Schmidt route.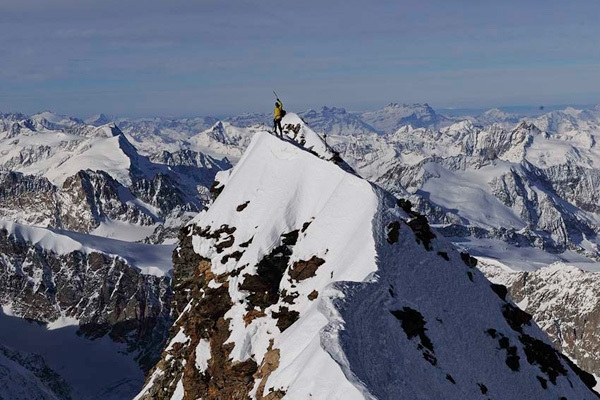 1 / 4
Ueli Steck on the summit of the Matterhorn after having climbed the Schmidt route in a record time of 1:56
Robert Bösch
In some ways it was to be expected: after his speed solo ascents of the
North Face of the Eiger
in February and the
Grandes Jorasses
in December 2008, on 13 January Ueli Steck completed the trilogy of the three legendary north faces in the Alps and climbed the Matterhorn, obviously in a startling record time, of 1 hour and 56 minutes!
Steck climbed via the classic Schmidt route (TD/ED, 1100m), the first route up the North face climbed in 1931 by Franz and Toni Schmidt. He set off off shortly after 8.00am and climbed in -7°C and found the "race track" to be in optimal conditions. In the upper section he exited vie the 1983 Michal Pitelka variation which leads towards the Hörnligrat and reached the summit in less than two hours.
In doing so the Swiss mountaineer has put a definitive end to his project which has seen him climb the great north faces in truly record time. He achieved this after an intensive three year training which enabled him to reach the summits in hitherto unthinkable times. 2 hours and 47 minutes for the Eiger, 2:21 for the Grandes Jorasses and 1:56 for the Matterhorn are times from outer space... How did he manage these? Certainly through his superb training, combined with his excellent mountaineering skills, the perfect choices on the wall and that little bit of luck which never does anyone any harm. But to find out more we checked in (very quickly, how else..) with the 32 year old...
TRILOGY EXPRESS, interview with Ueli Steck

Congratulations Ueli, with your ascent of the Matterhorn you've finally realised a 3 year dream...
Thank you! I'd thought about speed solo climbing the three great North Faces for the last 3 years and had prepared myself specifically for this goal. Climbing routes quickly was something completely new for me, it represented a challenge. 
A risky challenge

Yes, you are right, one mustn't forget the great risks associated with speed solo ascents. How much you decide to risk is up to each individual. I'm sure these routes can be climbed quicker, that I could have climbed them faster, but I was not prepared to take that risk. You know, it's a very fine balance. And of course, the more you do it, the more things can go wrong. That is why I now want to look for challenges elsewhere.
Can you say how much you risked with these ascents?
I can't answer this question, you cannot measure risk. But I can tell you that I never had the feeling that the ascent was becoming dangerous. I was always 100% convinced that I wouldn't fall. Otherwise I would have tied in.
How much did you push yourself physically when climbing?

I "raced" with a pulse monitor and constantly checked that I was working at the optimal cardiac frequency. I always do this to make sure I don't overdo things and work up lactic acid.
This sounds very scientific.

It is. Over the last few years I've carried out a specific training programme to improve my endurance, to be like a marathon runner. I'm stronger, faster, have more stamina that last year for example. With my dietician I set my ideal body weight for about 67kg. When I climbed the Matterhorn I weighed 64kg. Which means I was both lighter and faster. 
What about the psychological aspect?

This physical fitness is an important part of my overall training as it also gives me the confidence and mental strength necessary to attempt challenges of this sort. 
What do speed ascents represent to you?

Speed is a new terminology, but climbers have always checked and compared the speed of ascents. How fast a climber can be on a face depends obvioulsy on the difficulty of the route. For me it is simply interesting to know if one can gain 100m an hour, 50m or even 10m a minute. It's normal, I don't think this is anything new.
Perhaps what is new is the incredible speed compared to the past. What criteria did you use to select the routes?

My main project was to climb the three North Faces, then I asked myseld which would be the fastest in winter, that's all. Some might say this is marketing and from a certain point of view it's true, since I'm a pro. But you must realise that I did this driven above all by personal reasons. If it hadn't been for this, then I would never have been able to invest and risk so much.
Safety is an important issue, perhaps more so today than ever before

It's clear that if you stay at home and drink coffee you risk less than going into the mountains. But you also have less fun and the overall experience is less... Safety has always been my number 1 priority, if I've got difficult ambitions then I try to reduce the risks as much as possible. For me things become dangerous when one doesn't realise where the objective dangers lie. It's exactly at that point that things become dangerous.
You race begain in February last year with your ascent of the Eiger.

Yes. I had climbed the Heckmair a couple of times and admittedly knew the route well.
Unlike on the Grandes Jorasses in December?

Yes. I'd never climbed the Colton - Macintyre before. For me this ascent represented a next step, a new challenge. I was interested in entering unknown terrain and seeing if I could still climb quickly. 

Well, you definitely proved you can. What about the Matterhorn now in January?
The Schmidt route was the easiest of the three. But again, I didn't know the line. I had climbed the Bonatti route in 25 hours and originally thought of climbing it again because still today its a difficult, logical and grandiose line. Then I changed my mind because I wanted to climb the mountain as fast as possible. I took with me a 50m dyneema 5mm rope, 2 icescrews, 3 carabines, a belay plate, a liter to drink, an energy bar and some energy gels. Then I started climbing.
What next?

As I said, I now want to shift my focus elsewhere. I feel I've done my bit. I'm happy with what I've achieved. Now I'm interested in something more technical, in climbing something new, perhaps in the Himalaya where with this background I feel a new dimension is possible. We'll see.
Note:
Matterhorn North Face- Schmidt route
First ascent:
Franz and Toni Schmid, 1931
Length:
1100m
Grade:
TD/ED
Steck ascent:
13/01/09 - 1:56
Grandes Jorasses North Face - Colton Macintyre
First ascent:
Nick Colton and Alex MacIntyre, 1976
Length:
1100m
Grade:
ED2, WI6, M6
Steck ascent:
28/12/2008 - 2:21
Eiger North Face - Heckmair Route
First ascent:
Heinrich Harrer, Anderl Heckmair, Fritz Kasparek and Wiggerl Vörg, 1938
Length:
1800m
Grade:
ED2 V-, A0, 60°
Steck ascent:
13/02/2008 - 2:47