The Nose, Mayan Smith-Gobat and Libby Sauter set new women's speed record
Mayan Smith-Gobat from New Zealand and Libby Sauter from America have set a new women's speed record up The Nose in Yosemite, climbing the iconic route in 5 hours and 39 minutes.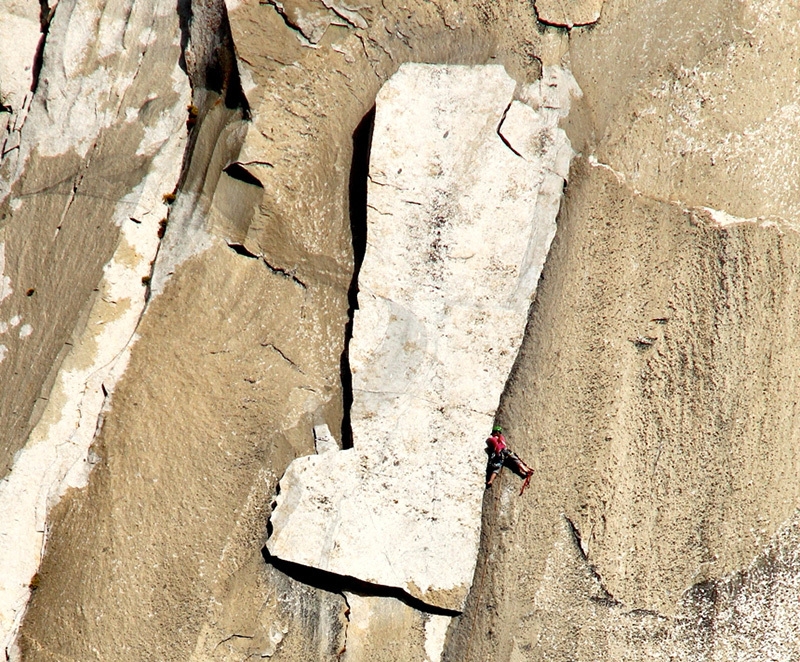 1 / 3
American climber Libby Sauter on the Boot Flake while setting the new women's Speed record up The Nose, Yosemite on 29/09/2013 together with Mayan Smith-Gobat in 5:39.
Tom Evans
It's that time of year again, autumn, and with it Yosemite valley suddenly becomes the centre of the big wall universe. As every year climbers flock to this valley in California with their sights set on a myriad of climbs, first and foremost though on
The Nose
, perhaps the world's most famous rock climb first ascended over 47 days in 1958 by the Americans Warren Harding, Wayne Merry and George Whitmore.
The Stoveleg Cracks, King Swing and Great Roof are but three of the iconic features on this nigh 1000m line which, in particular in recent years, has transformed into a real race for the fastest time possible. A competition that has also become a sort of testing ground for some of the world's most talented climbers.
While the current male record stands at 2 hours and 23 minutes and was set in June 2012 by America's Hans Florine and Alex Honnold, until yesterday the women's record stood at 7 hours and 26 minutes thanks to Mayan Smith-Gobat and Chantel Astorga who in September 2012 shattered the previous female record by almost 3 hours.
After that run Smith-Gobat told Planetmountain that she could envisage another "Nose Speed" chapter and she returned to the valley a few days ago to male a series of practice runs up The Nose, first with Sean Leary with whom she set the new mixed team record at 4:22, and then with Libby Sauter.
Sauter is a Yosemite Search and Rescue member and coincidentally set the record in 2011. On Sunday 29 September the two managed to blast a further 2 hours off last year's time, to set the new women's record at 5 hours and 39 minutes. Twice as fast as in 2011!
Temperatures are currently ideal in Yosemite and it wouldn't surprise us if there were further big news from valley this season. Having said that, the future of America's National Parks is currently uncertain as a direct result of last night's Federal Government shutdown since more than 800,000 federal workers, including those who run the parks, can now no longer operate. Should this continue then as per the Department of the Interior, all guests will be invited to leave the park within the next 48 hours... These are undoubtedly important moments for all US National Parks that were closed down for 5 days in 1995 and, in 1996, for 22 days.

THE NOSE SPEED
Women
09/2013 - 5:39 Mayan Smith-Gobat and Libby Sauter
09/2012 - 7:26 Mayan Smith-Gobat and Chantel Astorga
06/2012 - 10:19 Jes Meiris and Quinn Brett
09/2011 - 10:40 Libby Sauter and Chantel Astorga
2004 - 12:15 Heidi Wirtz and Vera Schulte-Pelkum

The Nose - Men
11/2010 - 2:36:45 Dean Potter and Sean Leary
10/2010 - 2:37:05 Yuji Hirayama and Hans Florine
10/2007 - 2:45:45 Thomas and Alexander Huber
10/2008 - 2:37:05 Hans Florine and Yuji Hirayama
07/2008 - 2:43:33.Hans Florine and Yuji Hirayama
09/2002 - 2:48:55 Hans Florine and Yuji Hirayama
2001 - 3:24:20 Dean Potter and Timmy O'Neill


Lynn Hill and The Nose

TOPO: The Nose, El Capitan, Yosemite

Climbing in Yosemite - 5 Super Classics