Malga Spora: another Brenta Dolomites climbing gem
Alessio Tait introduces the stunning crag Malga Spora at Croz of Giovan. Another little sport climbing gem in the Brenta Dolomites.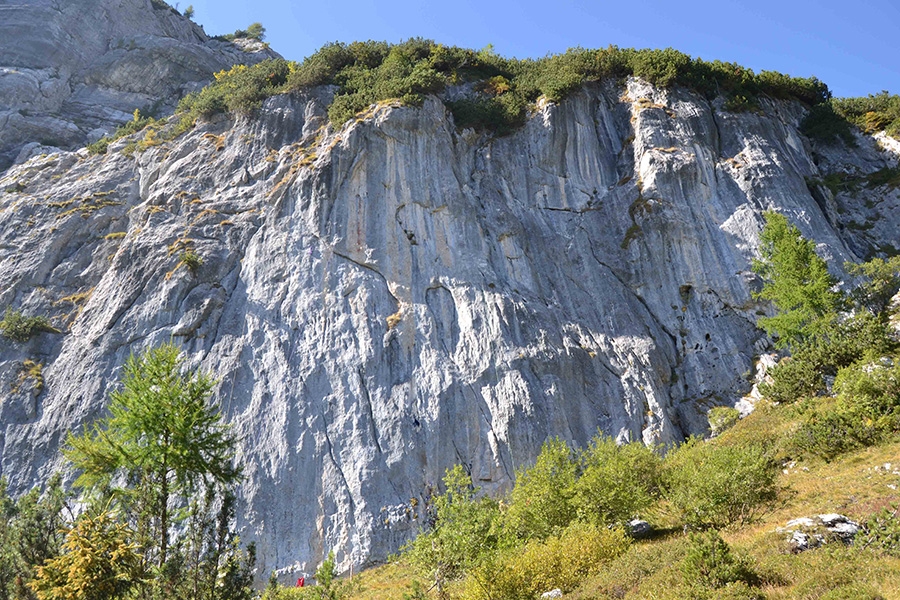 1 / 19
The crag Malga Spora - Croz del Giovan, Brenta Dolomites
archivio Alessio Tait
Everyone knows that the future may hold wonderful surprises in store, but it's only at the end of the day that you actually take stock. And so I find myself thinking about when I was fortunate enough to get to know a place in the Brenta Dolomites that until recently, due to the many other routes nearby, was still somewhat wild and unspoiled.
It all began three years ago, in 2013, when my friend Ugo finished bolting Il tesoro degli Elfi and asked me to start another route with him on the same face. Sasso San Giovanni, located below Piz Galin and Cima Dagnola and a mere 10 minutes walk from Malga Spora, faces East. Its gray featured limestone face provides a series of attractive cracks and weathered slabs.
I didn't need to be asked twice and immediately accepted Ugo's offer. We were so motivated that we completed our little project in just a couple of days: Rigole Bucoliche is a beautiful sport route which gracefully follows what we believe is the most logical and obvious line up the face.
During those long days bolting the route I often stopped to observe a portion of particularly compact rock a few hundred meters to the right; 40 meters of vertical rock, beautiful beyond belief and still virgin. So beautiful in fact I knew that, sooner or later, we'd be back.
In the following years, while ski mountaineering and walking in the area, I seriously began to fantasize about my project; bouts of enthusiasm were followed by huge doubts, as I worried whether a crag, so far from home and with such a long approach, would be worth the effort. But my love for quality climbing combined with my determination and stubbornness finally convinced me; early last summer I decided to start developing the crag.
From late June onwards I undertook numerous trips to and from Malga Spora, rucksacks full of gear and driven by my desire to forge some climbs. With Andrea Zanetti, Zio Claudio and Rossana we started the first real bout of new routing; during a pleasant weekend in July we established numerous routes and laid the groundwork for many others. Cristian and Davide lent a hand, we were then joined by Max and Manuel and invariably Rossana and Zio Claudio could be counted on as we added one route after the next and the crag began to take shape.
The more I went, the more I saw potential for new routes; the more I climbed, the more I wanted to return and deal with the face that was just waiting to be bolted. A prefect face, technical but not too technical, vertical but never obsessively so. The climbing is delicate and if you have careful footwork, you'll reach the belay with plenty of power to spare. But if you place your feet badly, you'll never reach the belay chain, not even on the easiest routes. Right up my street!
In the meantime interest for climbing in the area had grown, either due to word of mouth or thanks to the third Brenta climbing guidebook which, right at the start, mentioned this beautiful corner of the park. Everyone obviously likes beautiful things and, at 26 years of age, I certainly can't claim to have discovered something new. Having said that, I can't deny that I was happy to have been instrumental in developing yet another little climbing gem in the Brenta Dolomites.
In recent years many famous climbers added interesting routes to the area; Roland Larcher and Luca Giupponi added Fisioterapia d'urto, Luca Caldini & Co forged a line up the beautiful North Face of Cima Dagnola, Larcher, Giupponi& co climbed 50 anni son volati 25 regalati, that joined Villa Eden (U.Helfer, W.Tonincelli, D.Lunel 1994) and Supercrack (D. Kerschbaumer D. Fiammozzi 1993) on the East Face of Monte Fibbion. This year Danilo Bonvecchio Gianguido Dalfovo, Alessio Miori and Lorenzo Gadda created The Shark and Bonobo, two routes that run parallel to Rigole bucoliche up the East Face of San Giovanni.
Just like many others before me, I asked myself whether it was worth writing up about all this; things don't remain secret however, fortunately, otherwise I'd know little or nothing about the climbing potential close to home. Being enthusiastic and open-minded, I've decided to ignore the naysayers and provide detailed information about an area I love dearly. Just a stone's throw from Malga Spora, which no doubt you'll remember for its hospitality and the simplicity so typical of alpine pastures, it's now possible to enjoy a vast choice of classic routes, alpine sports routes and also a sports crag, just over an hour's walk from Andalo.
I'm convinced that anyone reading these few lines who chooses to climb at Malga Spora will fully the tranquility and beauty of this part of the Brenta Dolomites, while respecting nature and the local climbing ethics.

Happy climbing

by Alessio Tait


TOPO: Malga Spora - Croz del Giovan, Brenta Dolomites