Michi Wohlleben frees Stirb langsam, huge mixed climb in Austria
Alpinism: on 18/01/2017 German alpinist Michi Wohlleben, climbing with Lukas Binder, made the first ascent of 'Stirb langsam' (M11+/WI6+, 200m) a difficult new ice and mixed climb in the Wetterstein massif, Tyrol, Austria.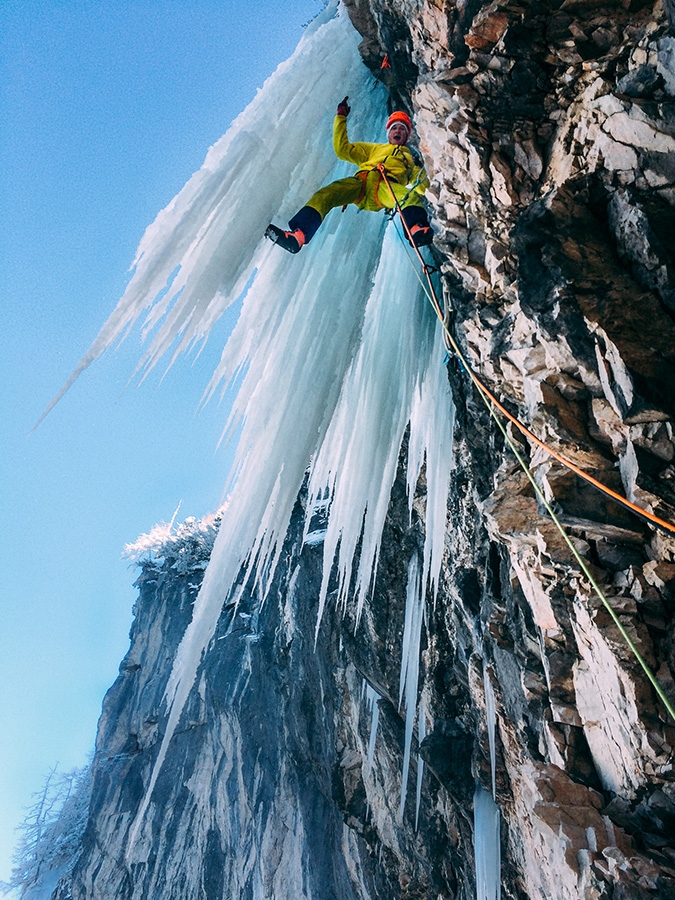 1 / 10
Michi Wohlleben during the first ascent of 'Stirb langsam', Tyrol, Austria
© Michi Wohlleben
Germany's Michi Wohlleben has successful completed his long term project below Lake Seebensee close to Ehrwald in Austria's Wetterstein massif. The stunning line tackles the huge overhangs to the left of the demanding Seebenseefall, which Wohlleben repeated in 2009 together with Peter Abert and Kathrin Winkler. On that occasion the German noticed the hanging drip high up to the left and immediately realized that this was his "dreamline". With Michael Bückers he set to work immediately, bolting a weaving line ground-up through the loose overhangs. Progress was hampered by warm conditions and injuries and the line was eventually completed in 2013, with the help of Binder, Fritz Miller, Markus Koch and Michi Wärthl.
The drip finally formed properly this winter and Wohlleben returned to the project with renewed vigor. After having worked the moves, on 18 January he tied in with Lukas Binder and made the first free ascent of the 200m outing. The route is called Stirb langsam - Die hard - and breaches difficulties up to M11+/WI6+.
Commenting after the ascent, Wohlleben told planetmountain.com: "Stirb langsam ascends through the most brittle section of the overhanging face, but I cleaned it really well and it now offers outstanding moves in a truly fantastic setting. It's a physical test, but also psychological demanding well as you climb way-out moves 200m above the huge void. This route really took me to my limit."