For Adriano Trombetta
In memory of Adriano Trombetta, who died Friday, Feb. 17, 2017 along with Margherita Beria D'Argentina and Antonio Lovato in an avalanche on Monte Chaberton (Val di Susa, Cottian Alps). By Elio Bonfanti.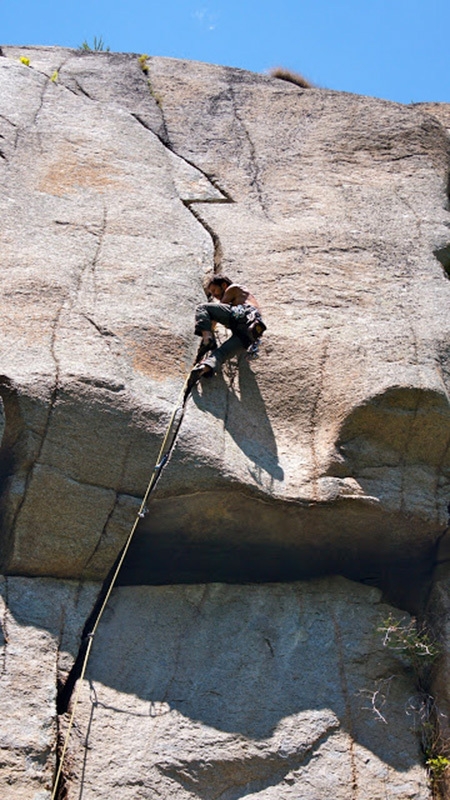 1 / 16
Adriano Trombetta climbing the splendid Sitting Bull, one of the most beautiful crack climbs in the entire Valle Orco
archivio Trombetta
His friends called him Tromba, Trombone, Trombacher. Although Adriano Trombetta was hardly ever really against things, he was often over the top and almost always outside the box. And despite often having fingers pointed at him for actions deemed, by traditional standards, unethical, he was equally beloved by his many admirers. Adriano was a great mountain guide and thanks to his job he managed to live decently without having to bow to current customs.
I told him on numerous occasions that with his way of living, in some respects a little naive, reminded me greatly of Giancarlo Grassi who instead of selling his accomplishments preferred to devote body and soul to the next climb. Regardless of whether or not the next undertaking would be met with acclaim. For Giancarlo, just as for Adriano, all that mattered was that what they were doing was big and beautiful enough for themselves.
A man with great human and cultural qualities, Adriano could easily entertain by talking at great lengths about Albinoni's adagio (no, not the Couloir on Mont Blanc) or about 17th century painters. He knew about the history of art and about women like few others, and his beloved grandmother took pride and place. Cooking was another one of his great loves, and I remember one evening at a friend's house at Dolonne in Valle d'Aosta where in less than an hour he successfully prepared a sumptuous meal for thirty people.
I believe the Italian Public Health Safety police corps was created to thoroughly investigate the bacteria that grew in his roaring Fiat Scudo, where he spent much of his time during his climbing escapades. The van's interior was equipped, so to speak, with all mod cons, with a kitchen, living room and bedroom fitted in just two square meters and autogenic training phrases scribbled across the walls such as "There is no such thing as a too hard route. Only too weak arms." I don't know whether he was a genius architect but the most amazing things were his performances once "fully launched" (i.e. at full speed) up a steep, icy slope that then re-deposited at the bottom after having skidded down to the left and right, without even a bruise to mention.
At times when he was a youngster the Turin mountaineering establishment, perhaps not fully comprehending him, neglected the young climber a little bit by sometimes "forgetting" to pick him up at the allotted appointments. But all this did was fuel his desire to impose himself even more. And so he became one of the most talented crack climbers in the Western Alps where, together with countless friends, he established difficult new rock climbs, ice climbs and dry tooling routes. A photo of him adorns the cover of Maurzio Oviglia's Orco Valley climbing guidebook. He was the irreplaceable route setter and speaker at the annual Ceresole Reale ice climbing meeting and his gift with words and proverbial nonchalance attracted the attention of the spectators for hours on end.
His way of establishing routes from ledge to ledge often infuriated repeaters, who more often than not had to deal with the enormous rope drag. But that's what Adriano was like, and he had to accepted for what he was.
Oh yes, I almost forgot, all the verbs in this text are in the past because unfortunately for us on Friday, February 17, 2017 (who still believes that Friday the 17th doesn't bring bad luck?) he decided to stop disturbing us for good, depriving us of the pleasure of loving him and that savouring the subtle taste we often got in criticising the million things he did.
So who can we criticise now? Adri, we miss you.